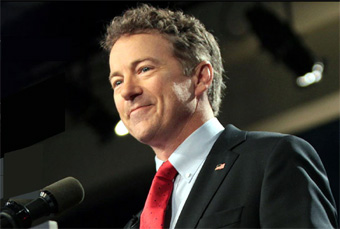 Image courtesy of Rand Paul for President 2016
Rand Paul, Carly Fiorina Demoted to Undercard Debate by Fox
| published January 12, 2016 |
By R. Alan Clanton, Thursday Review editor
Fox Business Network is hosting the next Republican Presidential candidates' debate this week, and for the first time in months Kentucky Senator Rand Paul will not be on the stage for the main show.

Fox announced its decision based on its guidelines, which state that candidates appearing in the January debate reach a level of polling of at least 5% in at five comparable recent national polls, or five recent polls in both New Hampshire and Iowa—the first states to conduct a major voting contest of a candidate's strength. According to Fox's polling analysts, Paul does not meet the criteria using either of these measurements, and must instead appear in the so-called undercard debate, which will take place hours earlier in the same venue.

Candidate Paul is none-too-happy with this decision, and has called the decision by Fox arbitrary and capricious. He went as far as to tell some in the media that he was declaring "war" on Fox News for its decision.

Former HP CEO Carly Fiorina has also been pushed from the main prime time debate, and has been invited instead to the lower-tier contest.

Fox, for its part, has characterized the number of candidates on stage in some past debates as "ridiculous," and suggests that voters would be better served by a more streamlined approach to the top-polling candidates. The network stresses that viewers with a deep enough interest in both sets of candidates can still shop and compare by watching both debates, and it points out that the line of questions will be very similar between the two forums.

Last week, the number crunchers at Fox originally suggested that this week's top-tier debate might have as few as six candidates, but because of a slight surge in polling for Ohio Governor John Kasich, he will round out the field as the seventh candidate on the main stage Thursday night.

Barring some change of heart or shift in policy by Fox Business Network, the prime time debate will now include businessman and billionaire Donald Trump, Texas Senator Marco Rubio, retired neurosurgeon and author Dr. Ben Carson, Florida Senator Marco Rubio, New Jersey Governor Chris Christie, former Florida Governor Jeb Bush, and Kasich.

The undercard debate will feature Fiorina, Paul, former Pennsylvania Senator Rick Santorum, and former Arkansas Governor Mike Huckabee. Former New York Governor George Pataki has dropped out of the race, as have several other Republicans, including one-time front-runner Wisconsin Governor Scott Walker and Louisiana Governor Bobby Jindal.

"I think they've [Fox News] made a mistake," Paul told the Washington Post, "I'm not willing to accept a designation as a minor candidate. We've raised $25 million. We've gotten on the ballot in every state. It's kind of ridiculous to arbitrarily rate the campaigns based on national polling."

Paul's candidacy once carried great weight in many polls. The Real Clear Politics (RCP) average once had him as high as 17% nationally, long before the days when the total number of candidates approached 20, and many months before Donald Trump entered the race.

Spokespersons for his campaign have taken to social media and press circles to point out that Paul's current polling numbers should be little impact on his eligibility to participate in the debate, pointing out that polls are mere snapshots of responses by variable forms of statistics, not on actual voter preference or votes.

Fox will hold the next Republican debates in the North Charleston Coliseum and Performing Arts Center in Charleston, South Carolina this Thursday evening. The event will be moderated by Fox News anchor and editor Neil Cavuto, Fox News global market editor Maria Bartiromo.

Though Trump still maintains a modest lead nationally, current polling shows a tightening race between Trump and Texas Senator Ted Cruz in Iowa. In New Hampshire, however, Trump holds onto a wider lead, with Rubio and Cruz in second and third place respectively.

Related Thursday Review articles:

Bloomberg Weighing Third Party Presidential Chances; Keith H. Roberts; Thursday Review; January 11, 2016.

Cruz Maintains Iowa Lead; R. Alan Clanton; Thursday Review; January 5, 2016.