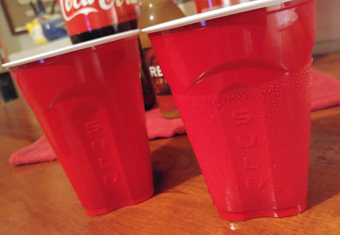 photo courtesy of Thursday Review
New Year's Weekend Sees Passing
of Inventor of Solo Cup
| published January 1, 2017 |
By Thursday Review editors
As the song goes, Red Solo cup, I fill you up, let's have a party, proceed to party. Words of wisdom for millions, but now, on New Year's weekend, there is mourning for those who love to tailgate or party or both.

Indeed, there was a sad irony but rueful charm in the way that Debbie Reynolds followed her daughter Carrie Fisher into the great beyond, the 84 year old mom dying only 36 hours after the 60 year old Carrie—most popularly known for her role as Princess Leia in the Star Wars movie series.

But there is also a sad irony in the death of 84 year old Robert Leo Hulseman, coming as it sandwiched between Florida State's wild and freewheeling win over Michigan in the Orange Bowl and Georgia Tech's shellacking of Kentucky in the Gator Bowl.

Who, in the name of The Force, is Robert Leo Hulseman, you might ask? On the heels of the deaths of John Glenn, George Michael, Reynolds, Fisher, and the usual glut of celebrity passings that seem to accompany the holidays each year, Hulseman's name does not roll off the lips with the same ease as that of other notable names. But his name should have meaning to those who love to party.

Hulseman is no less than the real deal inventor of the red Solo cup—one of the most reliable staple items of every football party, every back yard barbecue, every bar mitzvah, every birthday party, every tailgate event and every frat house for decades. Hulseman's career with his family's iconic company began when he was a teenager, and he eventually rose to become the firm's chief executive the same year Ronald Reagan was elected President.

The company he spent his life working for first developed those once inescapable little disposable paper cone cups which came in the metal or plastic tubes alongside water-coolers and water fountains in businesses and hotels from coast-to-coast beginning in the 1940s. Later, the company moved on to a variety of paper, cardboard and plastic variations of beverage vessels and products, adding immeasurable volume to thousands of landfills in North America.

Hulseman's passing on the eve of New Years' Eve should remind us that God has a sense of humor. Indeed, at a small holiday gathering only a day and night ago for several Thursday Review writers and editors, the subject of the ubiquitous red Solo cup's fame came up as we filled each plastic vessel with ice, orange soda, ginger ale, Diet Coke, beer, eggnog, and other beverages.

Features Editor Earl Perkins reminded those present at our little soiree of the well-known 2011 tune by country music star Toby Keith, now arguably the principal anthem of any serious party from San Antonio to Sarasota to Spokane. Keith wrote the words and music to the shockingly simple country rock ditty on a sort of dare: compose a catchy, likeable song based on some readily available thing one can hold in one's hand.

Thus Keith immortalized the already nearly immortal plastic cup, which first rolled off the Illinois production line at Solo in 1975 to effectively replace what was then the popular paper cups coated with wax. As the song indicates, the cups can be stacked, reused, or tossed aside, where they will decompose in about 14 years.

According to family legend, the teenage son of Hulseman, Paul, and his kid siblings helped pick the colors first used on the classic plastic cups—red, blue, yellow, peach. Though the company elders preferred blue in the early stages, the red cup quickly proved unstoppable in popularity, with sales of the red vessels outsripping al other colors combined.

Though red is the most popular choice—and some purists maintain the only genuine color option—Solo and its numerous competitors now mass produce them in a variety of colors, shapes and styles. In 2009, the company introduced a new improved version with square indentations and a grip like surface for ease of handling, an unspoken nod to the practical need for steadiness at frat parties and tailgate festivals every place beer is served.

Solo cups can be easily imprinted with company logos or team logos, and are now produced in various clear and semi clear variations. But red is the standard, especially for the backyard barbecue or the indoor New Year's bash. That means that over the course of this past weekend, Americans alone may have churned through about 2.2 million of the cups while watching back-to-back football games and enjoying fireworks celebrations and cookouts.

We at Thursday Review went through a modest 16 or 17 cups on Friday night, some festive in bright colors on clear plastic, but most in the standard red so beloved by partiers everywhere. This places us on the party spectrum at the extremely low end of cup usage, at least compared to the party depicted in Keith's music video, in which hundreds of revelers are squeezed into a small house seemingly only large enough to safely contain a few dozen, much less a camera crew and musical instruments.

May Mr. Hulseman rest in peace at the huge tailgate party, keg festival, and holiday cookout in the sky.

Related Thursday Review articles:

Reflections on the Death of John Glenn ; Thursday Review editors; Thursday Review; December 11, 2016.

Carrie Fisher's Death Brings Star Wars Full Circle; R. Alan Clanton; Thursday Review; ember 29, 2016.