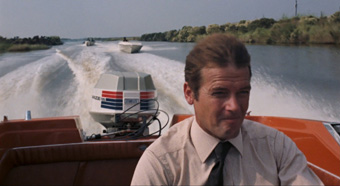 Shaken, Not Stirred:
Reflections on the Death of Roger Moore
| published May 24, 2017 |
By R. Alan Clanton, Thursday Review editor
In the old days, and among moviegoers of a certain generation, the longstanding debates over who was the best James Bond were like the pointless, unwinnable arguments over Coke versus Pepsi, or Cadillac versus Lincoln: such mental jousting was unlikely to change any minds or create conversion, even of a single soul.

There were the Sean Connery advocates. There were the Roger Moore adherents. The two groups rarely, if ever, agreed on the matter, and generally—in the British style and tone—agreed only to disagree.

But for many fans of the James Bond franchise of movies, now entering their second half-century of production and rooted in books even older by Ian Fleming, Roger Moore's passing brings to conclusion the hope that anyone resembling the "true Bond" will ever return to the big screen. Though largely an intangible advantage, Moore brought a form of suave aplomb and panache to the role which his advocates say was never again matched by later stars Timothy Dalton, Pierce Brosnan, or Daniel Craig.

One way to sum it up is by quoting Thursday Review web designer and writer Lisa Whitten: no other Bond could walk up to a bartender and say "shaken, not stirred" with the same combination of cool gravitas and sex appeal as the dashing Moore.

Other Thursday Review writers have weighed in on this issue in the past. Michael Bush, who loves all things James Bond, thinks that Daniel Craig makes the best Bond—gritty, battle-scarred, rugged, imperfect. Maggie Nichols, who has written reviews of Bond films in the past, prefers Pierce Brosnan—dashing, debonair, dreamy good looks. Contrarian John Herndon, longtime TR contributor (his writing dates back to our "print" days), perhaps inevitably, prefers Timothy Dalton—seasoned, complex, intellectual, dry. As for this editor, I have always expressed a lifetime alignment for Mr. Connery—just as able to take a punch as he is capable of delivering one-liners. Nothing against the others, but Connery was the original Bond (if you do not count David Niven).

But for many fans (most, in fact), Roger Moore remains the epitome of agent 007—cool, handsome, dashing.

Moore, who starred as the British secret service agent 007 in, appropriately, seven films between 1973 and 1985, died this week of cancer at the improbable age of 89—improbable since the vast majority of his fans regarded Moore as the sort of immortal icon cut from the same rare looks-imbued youthful double helix of DNA as Dick Clark or Carrie Fisher or Debbie Reynolds, immune to the ravages of time and living in a state of semi-permanent facial optimism.

Most famous for his role in classic 007 movies like Live and Let Die, The Man With the Golden Gun, and The Spy Who Loved Me, Moore was also a deeply committed spokesperson, organizer and point man for UNICEF, the non-profit United Nations-sponsored organization committed to providing outreach to children and communities—food, nutrition, education. He would remain connected to UNICEF for decades, and became its worldwide ambassador in 1991.

Still, it was his role as one of the United Kingdom's most skilled agents, in movies like A View to a Kill, which brought him the sort of box office power most coveted by actors. Among polls of 007 fans, films like For Your Eyes Only and Live and Let Die are routinely voted some of the best Bond films ever made, and an Academy Awards polls in 2004 and 2008 famously named Moore the Best Bond Ever.

Moore achieved some degree of film and TV fame long before he took on the role as James Bond, though it could be argued that he was hardly an A-List star. After appearing uncredited in several movies and television programs very early in his career, he signed first with MGM, then later Warner Brothers. His several years with MGM were a dismal period as he seemed permanently stuck with second or third-tier roles, often well under better-known names like Glenn Ford, Lana Turner, and David Niven.

His time spent with Warner Brothers was only a slight improvement, but gave him an opportunity to work on his craft. Moore picked up several single-episode appearances on highly-popular shows like Alfred Hitchcock Presents and The Third Man. He struggled with his acting, coasting for a while on that always-intangible combination of good looks and gravitas essential during the sometimes barren years when an actor is finding his or her footing and developing their voice and range.

Moore had a series of small breaks that went his way in the 1950s, including a stint in 37 episodes of The Alaskans on ABC, produced by Warner Brothers TV division. Though the show lasted only a little more than one year, it thrust him more-or-less directly into the TV mainstream. In 1960 he landed a gem of a recurring part on the U.S. TV show Maverick, portraying a British first cousin Beau Maverick to the American leads, Bret Maverick (played by James Garner) and Bart Maverick (played by Jack Kelly). The popular show was one of the top-rated westerns of its day, and the exposure greatly helped Moore's long-struggling career. Moore appeared as Beau Maverick in 14 total episodes, and it was his gift for dead-pan humor and comic timing which eventually thrust him into still more American western parts in mid-budget films and TV. (In a bit of strange Hollywood trivia, Sean Connery auditioned for the part of Beau Maverick, but may have rejected it as inappropriate for his style and method of acting).

Moore's next big break took him almost directly into the business of secret agents and spies, and most especially thieves and upscale skullduggery. In 1962 Moore was picked for the lead role as Simon Templar in the television series The Saint, produced by ITC in Britain but also hugely popular with TV audiences in Canada, Europe, Australia and New Zealand. The show met with fair-to-middling results in the U.S., where it was largely regarded as too eccentric and cerebral—not to mention morally complex—for American audiences then deeply committed to such top-rated shows as The Beverly Hillbillies, Gilligan's Island, and Gunsmoke.

Despite that, The Saint was a smash success in England, where—by the time the show closed out in 1969 had become Britain's longest-running TV drama. The Saint also propelled Moore to stardom, and the part of the debonair thief-with-a-heart-of-gold may have been the most instrumental device in the development of his Bond character of later years. Indeed, immediately after The Saint completed its last season, in 1969, Moore went on to star in two spy films, The Man Who Haunted Himself (1970), and Crossplot. Meanwhile, the Bond franchise was already growing, with Sean Connery nudging himself more deeply into the part. But Connery famously wanted out of the Bond series by the late 1960s, and—though Roger Moore's name was on the table for consideration as James Bond by 1967—Mr. Moore was already committed contractually to his work on The Saint and other projects.

Enter George Lazenby, who became Agent 007 for the 1969 film On Her Majesty's Secret Service. Lazenby got that one shot at Bond, but no more. Later that year the irascible Connery changed his mind and agreed to portray Bond again, this time for the 1971 Diamonds Are Forever. Connery had been the first choice of producer and franchise trustee Albert Broccoli, but by the time Connery began making remarks the second time around about exiting the Bond series, Broccoli decided that it was time to move on. Broccoli offered the part to Moore, who played Bond in the 1973 classic Live and Let Die—often regarded as one of the best 007 films ever made.

Moore, then age 46, not only made the best of the opportunity, he made it his defining role. Centered on drug-trafficking and narcotics corruption, the movie incorporates what many regard as the central threads of the 1970s so-called Blaxploitation movement in American cinema, taking the viewer through multiple scenes in New Orleans, Harlem, The Caribbean, and other locations. In this sense, the movie broke with the usual Bond plot fetishes for international intrigue, intelligence and counter-intelligence, and laser-beaming mega-mind villains, taking 007 into the streets and into the nitty gritty, even though the film also dragged audiences through a morass of cliches and 90 minutes of stereotyping. Live and Let Die also benefits from an exceptional soundtrack scored by George Martin, as well as the visceral and powerful theme song by Paul McCartney and Wings of the same name. (The song "Live and Let Die" is widely considered the best Bond movie theme song ever recorded; it received the Academy Award that year for Best Original Song).

Live and Let Die was followed up by six more James Bond films, including The Man With the Golden Gun, For Your Eyes Only, and Octopussy, to name a few. Though some critics charged the Moore era of Bond as being flirtatiously close to pure camp, others applauded the dry humor, the wit, the abundance of clever one-liners, and visual comic timing—all elements in one way or the other which played into Moore's skillset and style. In fact, Moore was in later life to often tell interviewers that he considered the comedic aspects of James Bond to have been the central thread upon which the "serious" plot elements were structured, not the other way around.

That the character of James Bond was a shameless womanizer who seemed bent on proving no woman—no matter how aloof—was beyond his reach of seduction remained an ironic feature of Moore's portrayal: in real life Moore was married four times, first to actress Doorn van Steyn, later to actress and singer Dorothy Squires, and the third time to the Italian actress and socialite Luisa Mattioli—to whom he remained married for decades until a nasty divorce in 1996. Later, Moore married Kristina Tholstrup, with whom he remained until his passing.

Related Thursday Review articles:

Welcome to my Secret Lair: A Look at Spectre; Michael Bush; Thursday Review; NOvember 26, 2015.

Our Favorite Villainous Giant; R. Alan Clanton; Thursday Review; September 11, 2014.