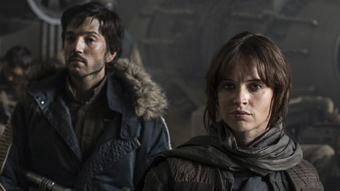 Image courtesy of Walt Disney Studios
Star Wars Rogue One Opens to
Mixed Reviews
| published December 14, 2016 |
By Thursday Review editors
A social media campaign led by a group of Alt Right conservatives has asked that people boycott the newest installment in the Star Wars franchise, Rogue One: A Star Wars Story, which opens this week amidst expectation that the movie will rake in a mountain of cash despite mixed reviews.

Critics have been sharply divided on the new Star Wars film, which previewed last week in selected cities and markets. Writers for the New Yorker and the New York Times have panned the stand-alone film as mediocre and pointless, while critics for Rolling Stone gave it rave reviews and described it as in keeping with the spirit of the original 1977 movie.

Despite the mixed reviews, industry experts and Hollywood analysts nevertheless expect Rogue One to immediately capture the top spot among the holiday releases, and they expect Rogue One's box office take to be substantial, right out of the gate. Many theaters are reporting early weekend shows being already sold-out, a strong indication that the movie will roll over any competitors, including its only major sci-fi challenger, Passengers.

The previous installment in the franchise—The Force Awakens—eventually claimed more than $900 million, and helped to spur additional revenue for its many prequels and chronological sequels in TV sales. Likewise, several networks have already been cashing-in on this latest bout of Star Wars fever by offering virtual marathons of older Star Wars material.

Besides, experts say, Star Wars is still Star Wars—one of the most potent and lucrative franchises in movie history. People of all ages will flock to see it no matter the reviews, mixed or not. The movie could pull-in as much as $350 to $450 million just on opening weekend, now only hours away.

But a social media campaign is asking that millions of people boycott the film for political reasons; the movie's plot and content, they suggest, is a thinly-disguised analog to recent American political and cultural developments, and some of the most evil characters portrayed in Rogue One are even more thinly disguised fictional versions of Donald Trump, Ben Carson, Hillary Clinton, et al.

Nonsense, says Walt Disney and a battery of writers, who argue that the basic plot—along with almost all its flourishes and characters—were developed more than two years ago, and that principal shooting began long before it was apparent that Trump or Clinton would secure their nominations. Disney's Bob Iger calls the rumors rubbish, and likens the talk to "fake news."

"Quite frankly, it's silly," Iger said of the social media campaign asking that Americans skip the film, "I have no reaction to this [news] story at all."

In the film, according to those now opposed to the movie's success, the proto-Darth Vader character and his evil overbearing minions bear a striking resemblance to Trump and his top surrogates—at least that's the scuttlebutt. Some of those backing the anti-Rogue One social media campaign suggest that the movie is crafted to instill loathing of Trump and his supporters, and likens Trump's grassroots appeal as an insidious social disease, which—in this case—paves the way for the rise of the Empire.

The plot involves an attempt by rebel forces to steal the plans for the Death Star and turn the weapon against the Empire, meaning it's plot dovetails with the 1977 Star Wars, later rechristened as Episode IV. Rogue One is a story exterior to the original blueprint as envisioned by writer George Lucas, this the term most commonly applied to it: a stand-alone.

Rogue One stars Felicity Jones (The Theory of Everything), Diego Luna (The Terminal), Alan Tuduk (Wreck it Ralph), Donnie Yen, Wen Jiang, Forest Whitaker, and Mads Mikkelson (Doctor Strange). Rogue One opens Thursday night or Friday in most U.S. markets.

Related Thursday Review articles:

Doctor Strange: Dazzling Visual Fun; Cameron Dale; Thursday Review; November 12, 2016.

Star Wars: The Force Awakens; Michael Bush; Thursday Review; December 20, 2016.