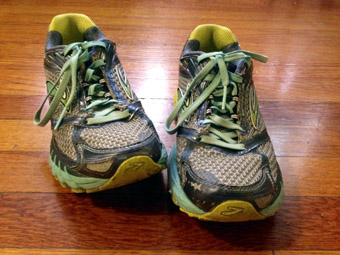 Run Chicken Run: My Kit
| published October 5, 2014 |
By Sarah Herrin
Thursday Review contributor/running blogger

Every hobbyist, enthusiast, advocate and weekend warrior has his or her special tool kit. And in keeping with that principle, this week's Run Chicken Run installment is a close inspection of my kit as a runner.

Shoes: Brooks "Ghost;" $130.00.

Shoes are the most important tool of any runner, indeed, the wrong pair of shoes can cause a lot of problems and a lot of pain. When I decided at New Year's that one of my resolutions was to become a runner, I made plans to go to the local running shop and get fitted for shoes. If you think it's a little intimidating to walk in as a not-even-runner-yet, bring a friend along like I did. My cousin is an Ironman, so she was very supportive of me getting into the sport and agreed to meet me on her lunch break. The employees were actually very nice and happy to help. First, the employee who helped us had me follow him outside and watched my foot strike as I jogged up and down the sidewalk. Then, he explained that I have a neutral foot strike and don't need any extra support, unlike those with over pronation or under pronation. That meant I had a larger selection of shoes to choose from. I picked out a couple that I liked the look of and took turns jogging down the sidewalk in each of them. I was surprised at how comfortable and light they felt opposed to my old "running" shoes from a department store. The way the shoe hugged my foot was perfect and the prices were comparable as well. So, it came down to design. And, for an artist, this was an important decision. In the end, I chose Ghost because of the oceanic colors. I felt faster already!

Socks: Target brand, $10 for 9 pair.

There's a lot of fancy running socks out there, but I haven't found the need for them yet. I'm sure I'll get there. As for now, I'm using Target Brand athletic socks and they work just fine.

Sunglasses: Foster Grant, $15.

Even in the Pacific Northwest, where it "rains all the time," it's very important to have a pair of running shades. I found a pair of affordable sunglasses at that same running shop where I got my shoes. They fit great and do their job well.

Clothes: LuluLemon, $100 per outfit.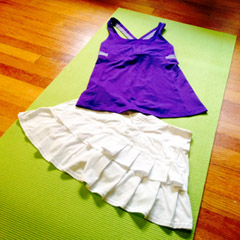 I saved the best for last because, not only do I love the look and feel of LuluLemon, I think it's incredibly important to have a runner uniform. A uniform is something you wear for doing a specific job, right? When you put on your sexy form-fitting, super comfy running uniform, your brain knows it's time for business. Knowing that you look good and that you look like you know what you're doing even as a newbie helps build confidence and therefore, skills to back up that self-fulfilling prophecy. LuluLemon is amazing in that it's cute and practical. There are pockets in places you didn't know existed, like in the small of your back to keep your key or in your sideboob for stashing money. Like many spandex running clothes, LuluLemon is double-lined and doesn't require you to bother with underthings, which makes running more comfortable, and makes doing laundry even easier. I usually wash my clothes in the shower right after my run, then hang them up to dry—they rarely see the inside of a washer and they dry quickly, so there's no need for a dryer. LuluLemon is great for online shopping as well. Their sizing charts are accurate and they ship super quick (returns take a lot longer though). As for pricing, there are a lot of other options besides LuluLemon, like Fabletics, and I encourage you to check them out as well.


You can read Sarah Herrin's blog, RunChickenRun.net by following this link.

Related Thursday Review articles:

Run Chicken Run: My Motivation; Sarah Herrin; Thursday Review; October 1, 2014.

Run Chicken Run; My First Injuries; Sarah Herrin; Thursday Review; September 23, 2014.