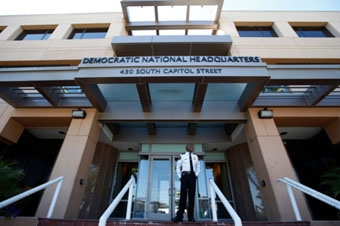 Image courtesy of NY Mag
Russians Linked to Democratic
Party Cyber Breach
| published June 18, 2016 |
By R. Alan Clanton, Thursday Review editor
The FBI and cyber investigators hired by the DNC now say that they have confirmed that hackers in Russia were responsible for the year-long breach of the computers and networking system of the Democratic National Committee.

That data breach, as it turns out, was much worse than originally reported: the cyber breach gave hackers access to files, financial data, emails, spreadsheets, and a variety of documents, including reams of opposition research on presumptive Republican nominee, businessman and real estate mogul Donald Trump.

Russian hackers also targeted other major political groups and candidate campaign teams, including those of the Republican National Committee, Donald Trump, and possibly Bernie Sanders, but it is not believed those cyber-attacks were as successful or penetrative as the intrusions into the computer systems at the DNC.

The hackers may have maintained their access to the DNC's computer system for nine months or more, though DNC officials and cyber security sleuths have since closed off access to outside parties, resolved all vulnerabilities, and implemented new, tougher security measures. Officials in Moscow dispute the claims of hacking, and deny that Russia had any part in the cyber breach.

Though the hacking of the DNC and the Clinton campaign by Russian intelligence agents may seem implausible and counter-intuitive to some, Russia experts suggest that it is routine for Moscow to want to gather as much intelligence as possible on U.S. political leadership, including especially those at the top. In Russia, Moscow-sponsored cyber thieves might be particularly interested in the opposition research files on Donald Trump, developed through the lens of the top Democratic strategists.

Indeed, in Trump's case—someone who has perhaps only recently come to the attention of top officials in Moscow—the Clinton files on Trump would be a particularly valuable trove of data and intelligence, ready-made for easy consumption by top Russian policy makers and analysts.

Other DNC files—on candidates ranging from Jeb Bush to Marco Rubio to Ted Cruz—may have also been purloined by Russian hackers, though it would now be that material on Trump which would be the most valuable.

The hacker believed to be largely responsible for the DNC's data breach is known as Guccifer 2.0. Two days ago he took credit for the cyber breach, and leaked digital copies of some files and materials to a variety of online sources. Among those items leaked: a 231-page dossier on Trump, developed painstakingly by DNC officials and hired consultants. The file appears to also contain strategic planning and strategic recommendations by those working for DNC—basically the Democratic Party's playbook on a presumed Clinton versus Trump general election matchup in November.

According to an article in PC World magazine, the materials stolen by Guccifer 2.0—some of which are now being disseminated across the web—also include lists of major donors, contribution amounts (though technically this information is not private), email correspondence between heavy hitter donors and bundlers and DNC staff, correspondence between Clinton campaign officials and the DNC, and talking point papers on foreign policy and military matters.

Russian hackers have been busy in the last two years searching for vulnerabilities in the computer networks and databases in the United States. Two separate hacking incidents in 2015 have been linked to hacking groups inside Russia—cyber thieves with close, direct connections to Moscow. Those cyber breaches, one on the White House and the other on the State Department, have been linked to a group called Cozy Bear. Other Russian hackers have been linked to breaches at the Pentagon, The New York Times, and several major banks.

After being identified by the security firm Crowd Strike as the principal hacker of the DNC, Guccifer 2.0 offered a more modest reaction on the internet, suggesting that his breach of the DNC was neither complicated nor difficult.

"I'm very pleased that the company [Crowd Strike] appreciated my skills so highly," he wrote, "but in fact it was easy. Very easy."

Despite Guccifer's claim that he worked alone on the hack, the FBI and Crowd Strike insist that all evidence points to the fact that the cyber breach was the work of Russian authorities, not a lone wolf like Guccifer 2.0.

Guccifer 2.0 takes his name from Guccifer, a well-known Romanian hacker now in prison but awaiting possible extradition to the U.S. for his role in several major cyber breaches, including the theft of information from Hillary Clinton's email account and private server—the source of much political trouble for Clinton over the last year.

Meanwhile, Julian Assange, the WikiLeaks founder who became an international fugitive, tells British journalists that he has information potentially so damaging to Democratic front-runner Hillary Clinton that it will almost certainly lead to her indictment by U.S. prosecutors.

But Assange stops short of suggesting that he thinks Clinton will go to jail, telling those same British writers that he does not believe—under the current administration of Barack Obama and under Attorney General Loretta Lynch—that federal authorities will pursue Clinton into a courtroom.

Related Thursday Review articles:

Inspector General: Clinton Violated Govt Email Rules; Keith H. Roberts; Thursday Review; May 25, 2016.

Trump: IRS Audit May Not be Complete by November; R. Alan Clanton; Thursday Review; May 11, 2016.