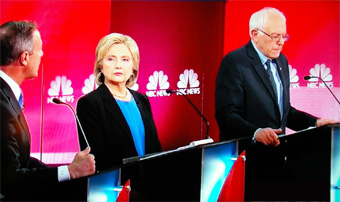 Image courtesy of NBC News
Sanders' Lead Widens in New Hampshire
| published January 20, 2016 |
By R. Alan Clanton, Thursday Review editor
According to a new CNN/WMUR poll, Vermont Senator Bernie Sanders now maintains a substantial lead over former Secretary of State Hillary Clinton in New Hampshire, the second state to hold a contest to decide the Democratic nominee for President in 2016.

The CNN/WMUR pool shows Sanders pulling-in 60% support from Democrats in the Granite State, and Clinton pulling-in roughly 33%. Former Maryland Governor Martin O'Malley receives about 4% of support in that same poll. The new polling indicates what other polls have shown in recent days—the race between long-presumed front-runner Clinton and her closest challenger Sanders is tightening.

Sanders was already widely expected to win in New Hampshire, a New England state next door to his current home in Vermont. But Sanders' widening lead could spell trouble for Clinton as she seeks to find a way to seal the deal before the nomination fight becomes a lengthy, complex battle lasting many months. Political observers suggest that if Clinton is not able to knock out Sanders early in the primary and caucus season, the fight for the nomination could drag on deep into spring—a replay of what Clinton faced in her epic struggle against Barack Obama in 2008, a nomination battle she eventually lost.

Polls in Iowa show that the race between Clinton and Sanders has tightened to within only two to four points—effectively a dead heat. Iowans vote in only a matter of days, and Clinton strategists worry that two losses in a row—Iowa and New Hampshire—might trigger widespread defections from among Clinton supporters elsewhere in the country. Clinton's strategy has been to build a firewall in South Carolina and in Nevada, where support for Sanders has been weaker. But Sanders has begun to take the fight to Clinton even in those states, including some across the Deep South. Sanders spoke at a massive rally in Alabama only days ago where a standing-room-only crowd drew tens of thousands.

Though Sanders will still no doubt face an uphill battle in many states, especially in the South, nationally-conducted polls show that among Democrats in all states, stock in the Vermont Senator is slowly rising, inching up even in Clinton-friendly states like Alabama, Georgia, and Florida.

Clinton and her team have, of late, begun using heavier ordnance in their attacks on Sanders. Last weekend's debate in Charleston, South Carolina highlighted the intensity which may define the next few weeks of campaigning among Democrats. The debate featured much more aggressive language by both Clinton and Sanders, and several intense exchanges where their differences on gun control, health care and Wall Street became the centerpiece of arguments.

The CNN poll in New Hampshire is one of several recent polls which show how fluid the race has become. The Real Clear Politics (RCP) average—formed by merging the results of a dozen major polling organizations—shows Sanders leading Clinton in the Granite State, 49% to 43%, with O'Malley trailing with about 4%.

Related Thursday Review articles:

Democratic Candidates Spar in Charleston; R. Alan Clanton; Thursday Review; January 18, 2016.

Democrats Debate ISIS, Iraq, Syria, Wall Street; Keith H. Roberts; Thursday Review; November 16, 2015.