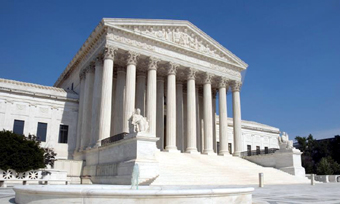 Image courtesy of Microsoft/Fotalia
Sandoval Excuses Himself from
Short List for Supreme Court
| published February 25, 2016 |
By R. Alan Clanton, Thursday Review editor
Brian Sandoval, the Republican Governor of Nevada and just days ago a leading potential candidate to fill the Supreme Court vacancy left by the death of Antonin Scalia, has removed himself from the running.

Sandoval issued a statement telling followers, friends and media that he did not want to be considered for the post.

"Earlier today, I notified the White House that I do not wish to be considered at this time for possible nomination to the Supreme Court of the United States," Sandoval wrote in the statement. "I have also spoken to Senators Reid, Heller and McConnell and expressed the same desire to them."

On Wednesday, Sandoval's name was floated as a likely candidate for the court vacancy, and sources close to both the White House and Senate leaders say that the Nevada governor, who has had previous federal court experience, was at the top of the list. Sandoval was seen as a strategically savvy choice for President Obama since the White House faces the possibility of an intense political fight on Capitol Hill over whether the vacancy should be filled by an Obama appointee, or if the decision should be deferred to the next President.

Sandoval's demurral leaves the issue wide open for a political and constitutional battle. Though some Republicans were privately happy to see Sandoval's name floated—he is a moderate-to-conservative Republican with Latino ancestry—others worried that his nomination was a bait-and-switch, a tactic to draw GOP lawmakers off of their recent insistence to refuse even to hear discussion about a replacement for Scalia's seat on the court.

Scalia died in his sleep on February 13 during a weekend hunting excursion in Texas. Others attending the hunting vacation said that Scalia had complained of not feeling well on Friday night, and retired to his room early to take a nap. When he failed to show up for breakfast the next morning, his hunting party proceeded without the justice. Two hours later, the hunting resort's proprietor went to check on Scalia and found him dead in bed. Scalia's physician said that the judge suffered from high blood pressure, cardiovascular problems, diabetes, and weight-related issues.

An intense war of words broke out between Senate Republicans and the White House in the hours and days after Scalia's passing. Republicans worry that Obama will nominate the sort of liberal or progressive who might alter the balance of the court, ushering in a far more liberalized series of rulings on issues ranging from health care to abortion to marriage rights.

At the same time, however, Democrats this week expressed deep concern that at the top of Obama's short list was a Republican. Candidates Hillary Clinton and Bernie Sanders both expressed a desire to see Obama pick instead a bona fide progressive with a track record of liberal decisions and votes. Many liberal Democrats worry that the court has been locked in a slight conservative majority for far too long. Conservatives fret that any appointment (other than Sandoval) would result in the Supreme Court making a dramatic tilt toward the left.

Sandoval's brief statement did not offer an explanation as to his reasons for declining the appointment, but he added that he was "humbled" by the offer and grateful to the White House and Senate leaders for placing him at the top of the list.

Sandoval is considered a quiet but potentially important rising star in the GOP. A moderate-to-conservative on most issues, he has been seen as an important symbol of the party's outreach toward Latinos in the U.S., a segment of the electorate which has been moving steadily into the Democratic column for a decade or more. Sandoval is also the governor of a critical swing state in the Electoral College, and someone mentioned previously by GOP Presidential candidates as a likely VP or cabinet pick if a Republican is elected in November.

Sandoval was given a prime time speaking slot at the 2012 Republican National Convention in Tampa, Florida.

Related Thursday Review articles:

Brian Sandoval Being Vetted for Supreme Court Spot?; R. Alan Clanton; Thursday Review; February 24, 2016.

West Texas Judge Consulted With Scalia Physician; R. Alan Clanton; Thursday Review; February 16, 2016.