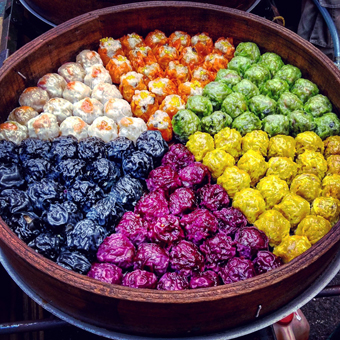 All images courtesy of Michael Bush
Scared as Kuala Lumpur: Or, Tourism in the Age of Terror
| published March 13, 2016 |
By Michael Bush, Thursday Review writer
One of the benefits of being a stay-at-home parent is spending more time with the kids. One of the benefits of having a spouse that teaches for an international school abroad is that sometimes, as the stay-at-home parent, you get to tag along when your spouse is sent to away for a conference. My wife is a real teacher-nerd. She loves to teach, she loves to learn, and she gets very excited about these conferences. There are other like-minded individuals for her to chat with, there are courses and lectures she can attend, and the networking is abundant. Meanwhile, I get to slog through the city toting around the kids, engaging in sightseeing adventures, eating the local street food, and snapping loads of pictures. It's a tough life.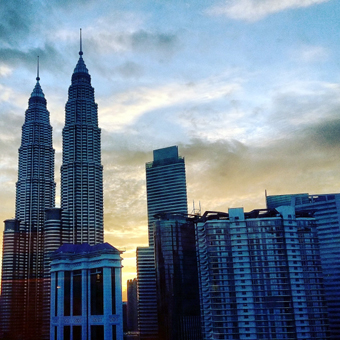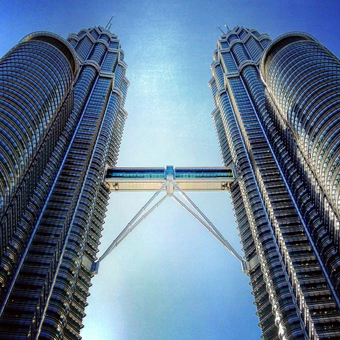 One conference brought us to Bangkok, Thailand. We instantly fell in love with that beautiful country and its hectic capital. I'll be returning to Bangkok soon for my good friend's bachelor party (think Hangover 2 and you'll get a tiny taste for what we're planning. No face tattoos, drugs, or cutting off fingers, I promise mom!)

Another conference brought us to Jakarta, Indonesia. We fell in the love with the people there, too, as they were some of the most kind and happy people I've ever met. The food was okay, and the city was a traffic jam nightmare. Plus, its nickname, "The Big Durian" is well earned, as that particular fruit is so stinky that it is banned on all public transport and hotels in most of Southeast Asia, and much of Jakarta smelled like a rotten foot dipped in burning durian juice that just ran 100 miles through raw sewage. But I digress.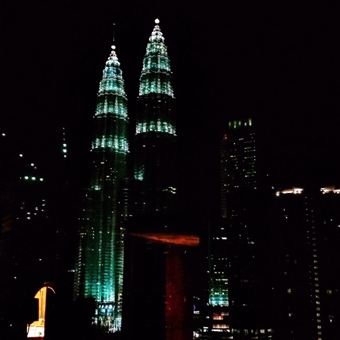 The most recent conference my wife attended had her going only a short hop away from our current home in Penang, Malaysia over to Kuala Lumpur, Malaysia. She had already visited the city on a school trip, but the kids and I had yet to go to the Malaysian capital. So, we bought tickets and tagged along once more to do some sightseeing and eat some amazing vittles (that's food, in case you ain't Southern). After the tickets were bought, and once the trip was only a couple of days away, we received a message from a well-traveled friend.

"Be careful in KL," he advised us, "The Australian government has issued warnings to not visit Kuala Lumpur unless it is absolutely necessary. The terror threat level has been raised to the highest degree."

That was because on January 14, some IS suicide bombers blew themselves up near a Starbucks at a shopping center and hotel cluster in downtown Jakarta, Indonesia. A second bomb went off near a police station, and at least one incident involving gunmen near a high rise building also caused injuries and at least one death. All told, eight people died in the attacks.

As a result, the KL government quietly began putting more police in the streets and increasing their terrorist investigations. As they did so, four IS members were caught in the city, including a suicide bomber who was reportedly only six hours away from detonating a bomb at a Kuala Lumpur shopping mall. To make matters worse, the city was on edge, and had a massive increase in reported "suspicious packages" being left in shopping malls; luckily all turned out to be things like South Korean luggage, a bag of clothes, and a school science project. Still, the fact that all of this hubbub was going on in the city we were about to visit as a family made me nervous—very nervous—and I could only think of only one response.

"Well, crap."

It's at these times when living internationally that you have to stop and think, "How important is this trip? Do we go? Is it worth it?"

But my wife HAD to go. The school had paid for the conference, and she was pretty much required to attend. Now, the school had a trip planned to KL for some students, and then cancelled it because of the threat level, so I assume if she made a fuss they would have no choice but to let her take a pass on this trip. But, as I said before, she is a teacher-nerd to the nth degree, and decided to go anyway. The question was, do we take the kids or do I stay back home with them? But I couldn't send my wife off into danger while I stayed behind. But I also didn't want to put my kids in harm's way. It was a tough decision.

But one thing I've learned while living overseas is that you cannot live your life in fear. Maybe it's a stupid way to think, or maybe not. But I refuse to give up the chance to go and see and do just because someone might do something bad. I won't rush headlong into danger with my kids and wife by my side, though. So we talked it out and did some research. The reports said that there was a possibility that the terrorists would be targeting westerners (like us) and the popular places that Westerners visit in Kuala Lumpur.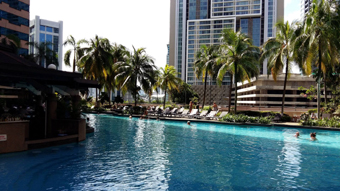 We started by making a list of places that were not ideal, such as shopping malls and crowded tourist sites. Now, the whole point of the trip was to see the tourist sites, right? Well, yes and no. It's also just nice to be at a five star hotel and sip adult beverages by the swimming pool with a view of the city and the famous Petronas Twin Towers, which were only a block away from us. The plan was to visit the places we wanted, but at non-peak hours. This way, we could rest assured in the knowledge that we would be safe from attacks, because what terrorist wants to blow up five people when he could come back in three hours and blow up 150? I realize that this thinking is probably flawed, and sounds dumb. But, again, I refuse to give in and keep away from seeing and doing the things I want.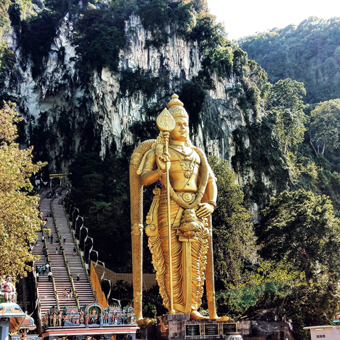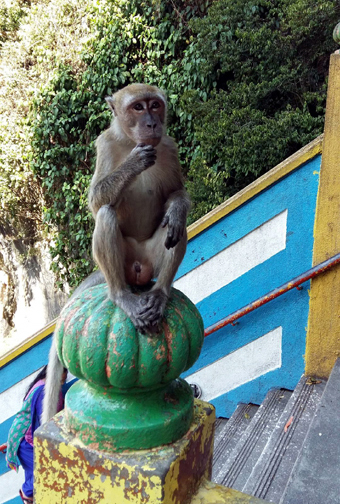 With careful and attentive eyes, we went to the Batu Caves, where the world's largest statue of Lord Murugan stands guard over the 250 or so steps up into the caves. All along the path we were terrorized repeatedly...by greedy monkeys. These creatures will steal any bag you hold in your hand, so you better hide yo wives and hide yo kids. It was hot and stressful, but not overly crowded. It was safe. We walked from our hotel to the Petronas Towers, went inside, ate at Wendy's...yes they have a Wendy's and I felt like the luckiest man in the world! Until I noticed that they only sell vanilla Frosties. I almost caused a scene. But I didn't. And it was safe.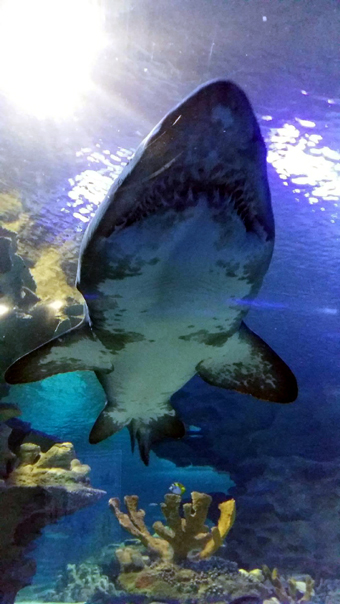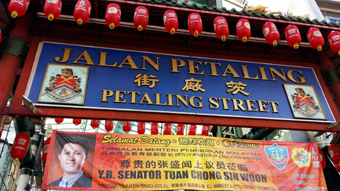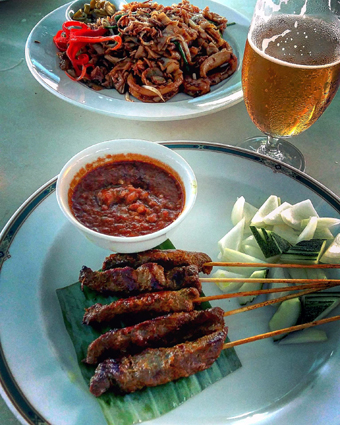 We went to the aquarium, which has the creative and unusual name Aquaria. I can't figure out where they got that name from, you know? Anyway, we did the whole aquarium thing, and the kids loved it. It's not as good as the Atlanta one, and about the same as the aquarium in stinky Jakarta. It was safe.

We went to Chinatown and walked down Jalan Petaling, where hawkers sold everything from peanut pancakes to char siu to watches to toys to traditional Chinese medicine (think powdered deer penis). It was like coming home! I almost felt as if the boys and I had returned to Shanghai's eccentric city lanes. It was safe. We went to the famous food street, Jalan Alor, and ate at Wong Ah Wah, a very famous food stall that takes up about five storefronts and has a massive menu. And every single item on the menu is incredible. We went early, and the crowds only started showing up as we packed up and headed back to the hotel. It was safe. Are you seeing a pattern here?

Despite the warnings from foreign governments, KL never raised their own terror threat levels. Some say that is because they don't want to scare off the tourists and lose out on all that money. Others claim it is because Kuala Lumpur has never had a terrorist attack due to the diligence and skill of their police force, who it must be said, did capture those IS members before anything bad happened. I don't know what the real answer is, but I do know that we felt and were safe in Malaysia's capitol. The food was amazing, though not as good as Penang's, and everyone was friendly, helpful, and warm. The weather was hot, the pool was freezing, and the beer was just right.

All in all, I'd say it was a damn good trip, people. Don't let the bogeyman scare you away. Get out there. Go. See. Do. But also don't pretend the bogeyman doesn't exist. Just be smart and plan well, and you'll be fine.

Related Thursday Review articles:

All The Tea in China; Michael Bush;Thursday Review; February 18, 2016.

The Joys of Orange Chicken; Michael Bush;Thursday Review; January 24, 2016.