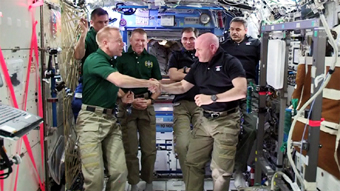 Image courtesy of NASA/NASA TV
Kelly and Kornienko Return to Earth
| published February 29, 2016 |
By Keith H. Roberts, Thursday Review contributor
Earthlings will miss his amazing photographs and his continuous stream of social media—a sort of running commentary on Earth and the way it appears as seen from outer space. His vast collection of photos may one day be considered some of the most remarkable images of our planet ever taken—cities, mountain ranges, rivers, oceans and seas, cloud formations and spiraling storms, islands, inlets, gorges, ice and desert. Indeed, there was nothing that escaped the keen eye of one of the two humans who just spent one full year in space.

NASA astronaut Scott Kelly, along with Russian cosmonaut Mikhail Kornienko, left the International Space Station on Sunday to return to Earth after spending one year in space circling the Earth. Kelly and Kornienko were part of a long range project not only to test the limits and endurance of humans in space for long durations, but to also gather scientific and medical data about the effects of weightlessness on the human body.

Kornienko and Kelly will now return to Earth to be studied, poked and prodded for major changes in body mass, bone density, blood count, tissue elasticity and muscle mass, vision and hearing, mental alertness, liver and kidney functions, respiration, and even DNA. NASA and ESA scientists and doctors want to know what to expect when deep space missions begin in the next decade, voyages which may include manned missions to Mars as early as 2024 and missions to the asteroid belt and the moons of Jupiter in 2032.

Kelly, who has served as commander of the Space Station since last year, officially turned over command to NASA astronaut Tim Kopra on Sunday at 3:15 p.m. (EST) in what NASA describes as a change of command ceremony, an event which was broadcast on the cable and satellite channel NASA TV, and on television stations in scores of other countries, including Russia. Kopra now leads what is known as Expedition 47 as Kelly and Kornienko return to Earth aboard a Soyuz spacecraft after having spent 340 days in orbit around the Earth.

In this photo taken aboard the space station, Kopra is in the left front (green shirt), and Kelly is in the right front (black shirt).

Related Thursday Review articles:

Tim Peake, British Astronaut, Spacewalker; Thursday Review staff; Thursday Review; February 23, 2016.

A New Record for Time in Space ; Thursday Review staff; Thursday Review; October 16, 2016.