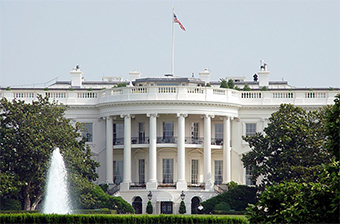 photo courtesy of Thursday Review
Senate, White House Confer on
North Korea in Secret Briefing
| published April 27, 2017 |
By Keith H. Roberts, Thursday Review contibutor
With tensions running high on the Korean Peninsula and along the 38th Parallel which separates North and South Korea, top White House officials requested a rare full meeting with all 100 members of the U.S. Senate this week. Though the precise content of the meeting was—and remains—classified, White House and Senate spokespersons told members of the media that the subject of the briefing was North Korea.

In addition to all members of the Senate, the detailed briefing also included several members of the Joint Chiefs of Staff, along with Secretary of State Rex Tillerson, Secretary of Defense James Mattis, the top members of the National Security Council, and Dan Coats, Director of National Intelligence. The meeting took place amidst heavy security, including multiple layers of security for the several large tour buses used to shuttle Senators from the Capitol to the White House.

The rare all-Senate briefing was an attempt to illuminate the threat, growing daily, posed by a heavily armed and often unpredictable North Korea, headed by young dictator Kim Jong-un. In recent months, along with its typically bellicose language, North Korea has engaged in an unprecedented spate of missile and rocket tests, and may be only days away from conducting its fourth test detonation of a nuclear device.

Though intelligence and weapons experts have long believed that North Korea lacked the technology to combine its atomic weapons with missile capability, Pyongyang's aggressive and accelerated program of heavy rocket testing and weapons technology means that the country may be very close to possessing the capacity to launch an ICBM. Several White House and Pentagon officials have confirmed that the U.S. military now believes that Kim Jong-un possesses ballistic missiles capable of carrying a nuclear warhead at least as far as Hawaii, and possibly further. North Korea has in recent months tested both medium-range and long-range missiles, and in March tested a heavy rocket engine believed powerful enough to carry a missile more than 1500 miles.

Also discussed at the meeting: possible U.S. rapid responses to a sudden North Korean threat—including hostile moves toward South Korea or missile launches against the U.S. and its allies, and supplementing such military options with increased diplomatic pressure on China—in effect North Korea's only ally.

Several top officials with knowledge of the content of the meeting suggested that State Department strategists believe that China may be one of the few countries able to exert influence over the Kim regime in Pyongyang. Also under discussion are ways to ratchet-up economic and financial pressure, most notably through banks and financial institutions.

The combined forces of the U.S. and South Korea engaged in annual exercises earlier in April, drills and maneuvers which often produce bellicose language from North Korea, but which this year spurred Pyongyang to issue threats against U.S. aircraft carriers and destroyers, and prompted the North Korean military to test multiple missiles, two of which failed.

Last week, on the final days of Vice-President Mike Pence's tour of several Asian countries, North Korea denounced Australia and New Zealand's willingness to cooperate with the United States and its allies in the region. North Korea said that it would punish one or both countries through a pre-emptive nuclear strike. North Korea has also issued threats against American aircraft carriers, one of which is steaming toward the Korean Peninsula this week.

On Thursday, North Korean media released an elaborate propaganda video depicting the White House and the U.S. Capitol Building in the crosshairs of North Korean military, alongside images of American ships being exploded and scenes of white crosses in a cemetery. The video also contained recent images of massive military parades held last week in Pyongyang to honor the birthday of Kim Il Sung, grandfather of North Korea's current leader. Among the things displayed in that huge parade: several full-size versions of what are believed to be new ICBMs capable of reaching Hawaii.

On Wednesday, the White House released a joint statement from the Departments of State and Defense to the media regarding North Korea and the special briefing at the White House. Calling North Korea's nuclear program "an urgent national security threat," the statement went on to stress that the U.S. will work with its allies to reduce the problems posed by Pyongyang.

"The United States seeks stability and the peaceful denuclearization of the Korean Peninsula," the statement reads. "We remain open to negotations towards that goal. However, we remain prepared to defend ourselves and out allies."

Related Thursday Review articles:

Australia, New Zealand Fire Back After N. Korea Issues Threats; Thursday Review staff; Thursday Review; April 23, 2017.

Missile Test in North Korea Ends in Immediate Failure; Thursday Review staff; Thursday Review; April 16, 2017.