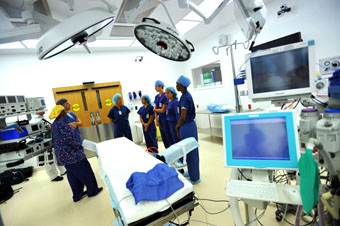 2001 U.S. Navy file photo of students being given a tour of
an operating room at the Naval Hospital, Jacksonville, FL
Retired Sailor's Vegetative State Triggers Lawsuit
| published July 28, 2015 |
By Earl H. Perkins Thursday Review features editor
When you give your entire adult life to the United States, a decent and healthy retirement should be almost guaranteed. That is evidently not happening for Shon Hollis, a retired Navy chief petty officer who left U.S. Naval Hospital Jacksonville with severe brain damage following a colonoscopy and endoscopy to locate the source of some internal bleeding, according to his wife, Christina Hollis, and reports in the Florida Times-Union.

"We were empty nesters and we were supposed to have this time together," she said Tuesday, while wiping tears from her eyes. "This was our bonding time because most of our relationship, he served his country.

"So I was OK to sacrifice that because that was the job he chose, always thinking that we would have this time—and now we may not."

The couple have three children and a grandson, and were looking forward to spending quality time together and with family. That is definitely not going to happen, because Hollis' condition has improved little in the past year, according to her attorney, Sean Cronin.

"Shon is unable to talk, unable to move his arms, legs, feet, hands," Cronin said. "The only motion he has is that his head will move side-to-side and that appears to be more involuntary than voluntary."

You might think the U.S. Navy and the government would apologize and insist on paying for the man's care, but that is not the case. Hollis entered the facility July 8, 2014, yet today remains in a long-term care facility, which has placed his family in a financial bind.

"Mrs. Hollis has had all kinds of problems over the last year with maintaining him in the facility," Cronin said. "The Navy refused to continue paying for the care, and now he's on Medicaid as a result of this. I think that is shameful that one of our veterans is on Medicaid after something like this happens at a Navy facility, so I'm working to rectify that."

Family and friends are hoping his condition improves, but a miracle is probably not in the offing. To quote a worker's compensation booklet, maximum medical improvement has been reached. That means his condition has stabilized, and no major or emotional change should be expected.

"From a medical perspective, it's been a year and he's been in this state and there's no end in sight, is the fair way to put it," Cronin said. The lawyer is hiring experts to assess Hollis' needs and how much it will cost to provide care for the remainder of his life.

Hollis took a job at Mayo Clinic following retirement from the Navy, but opted for Naval Hospital Jacksonville when deciding who would perform his procedures. He had used the facility previously and was always satisfied with the results, according to Chrissy Hollis.

"I remember asking him why he didn't want to do it at Mayo and he said, 'No one is going to take care of a sailor like another sailor,' " she said. Numerous health-care providers at the hospital had worked in Afghanistan and Iraq, along with volunteering for humanitarian missions worldwide.

"Our thoughts go out to the Hollis family," hospital spokeswoman Tami Begasse said. "We are passionate and deeply committed to providing the best possible care to each and every patient entrusted to us."

The hospital had bounced back from several lawsuits in the early-to-mid 2000s, including some which involved deaths. Cronin handled many of those cases, but told the Times-Union last year that the facility was showing marked improvement. There are approximately 500,000 visits handled annually at hospitals and clinics in the Jacksonville hub, which stretches from Key West to Albany, Georgia.

"They're clearly doing something right," Cronin said at the time. "I don't have any pending cases against them right now." That fact changed Tuesday morning when Cronin's firm filed the Hollis' case in federal court. "This case is the worst I've ever seen," he said.

Evidently, hospital staff members were unaware that Hollis suffered from sleep apnea, although his electronic medical records clearly stated that fact. Cronin claims the staff did not take proper precautions, and because they didn't check his chart, failed to use proper resuscitation equipment.

"In this case, he was diagnosed with (obstructive sleep apnea) in 2008 at the Naval Hospital," he said. "Incredibly, during this procedure, the health-care team was unaware of this condition."

Cronin readily provided a copy of Hollis' sleep study report, noting it came directly from his electronic medical records.

"Nowadays, with electronic medical records, it means no one on the health-care team bothered to read the section in the medical records entitled, 'significant health history,' " he said. "If you look in the significant health history, it's listed right there: obstructive sleep apnea since 2008."

Had the staff known about Hollis' sleep apnea, they would have placed a plastic tube down his windpipe to keep his airway open (intubation). Instead, sleep apnea took over and his airway became partially blocked, which slowed oxygen flow to his brain, Cronin said.

About 15 minutes into the procedure and still under anesthesia, Hollis' oxygen saturation levels began to drop substantially.

"Anything below 90 is considered abnormal—his dropped below 90," Cronin said. "They allowed him to continue through the procedures and at the end of the procedures, they continued until he went into complete cardio-respiratory failure."

Christina Hollis and her attorneys announced a lawsuit last week. Cronin told reporters that the goal of the case, since Hollis' wife has been left as his primary caretaker, is simply to "get him taken care of, long term."

Related Thursday Review articles:

Despite Spending Increase, VA Blames Budget Shortfalls; Earl Perkins; Thursday Review; July 5, 2015.

Moving a Torpedo, Carefully; Thursday Review staff; Thursday Review; July 10, 2015.