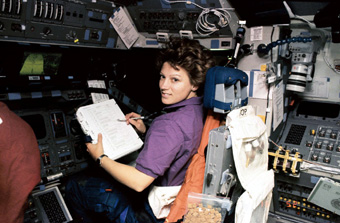 Photo courtesy of NASA
A Shuttle Milestone:
22 Years Ago This Month
| published February 17, 2017 |
By Thursday Review staff
Twenty-two years ago this month, U.S. astronaut Eileen M. Collins became the first female to pilot a Shuttle. In this February 3, 1995 photo, Collins works through a checklist in preparation for a "hot-firing" engine test aboard the Shuttle Discovery in advance of its non-docking rendezvous with the Russian space station Mir that week. Collins guided Discovery and its crew to within about 37 feet of the Mir, and though there had been no planned hard-docking of the two orbiting platforms, the test was a successful step toward the development and completion of the International Space Station. Collins and her fellow crew-members were participating in what NASA designated as mission STS-63, the U.S. space program's official numerical nomenclature used for each of the space shuttle missions.

Collins, now retired from NASA and from the Air Force, rose to the rank of Colonel, and broke two space-ceilings, becoming not only the first female pilot of the Shuttle, but also the first Commander of a Shuttle mission with her July 1999 flight aboard Columbia.

Related Thursday Review articles:

Spacewalk: Making Room for Rendezvous; Keith H. Roberts; Thursday Review; Deceber 22, 2015.

Earth Aurora and a Solar Array; Thursday Review staff; Thursday Review; November 5, 2015.