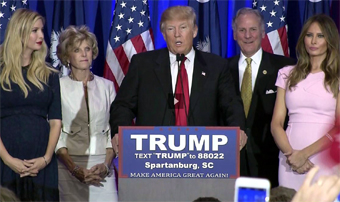 Images courtesy of C-Span
Trump Wins South Carolina;
Clinton Takes Nevada
| published February 21, 2016 |
By R. Alan Clanton, Thursday Review editor
Former Secretary of State Hillary Clinton pulled off a big win in the Nevada caucuses on Saturday, beating back a last minute surge by her one remaining rival, Vermont Senator Bernie Sanders. Despite late polls on Thursday and Friday showing Sanders pulling to within one point of Clinton in the Silver State (some polls showed them in a tie), Clinton was able to solidify support from Nevada's large Latino and African-American communities to burnish her win.

In the end, Clinton won Nevada by about 52% to Sanders' 48%; still a close race under normal circumstances, but in the increasingly narrowing battle between the two Democrats, Clinton's victory gave her campaign team reason to breathe a sigh of relief. Clinton's campaign strategists will now turn their attention toward Super Tuesday, on March 1, when they hope to galvanize even more support for larger wins.

Sanders says he intends to battle forward, and told his supporters that he reads into the relatively close Nevada outcome a reason to continue to carry his progressive message into future primaries and caucuses. The stakes are high for both Democrats, as many recent national polls now show Clinton and Sanders in a virtual tie.

On the Republican side, Donald Trump scored a big win in South Carolina on Saturday in a hard-fought battle to solidify his role as the Republican front runner, pulling in some one third of the votes in a state historically considered crucial in choosing GOP presidential candidates. Trump ended the night with a solid 32.5% of the vote. Florida Senator Marco Rubio came in second place with 22.5%; Texas Senator Ted Cruz came in a very close third place with 22.4%. By the time the votes were fully counted, only a few hundred votes separated Rubio and Cruz.

Trump sounded a victorious and jubilant theme when he spoke to a massive room of supporters in South Carolina, effectively claiming the high ground in the race and imploring his would-be backers in future states to help him "put this thing away." He also ridiculed the media and reporters, gesturing toward the cameras and photographers in the back of the room as some of his supporters booed. Trump said it was folly for the pundits to assume that votes for other GOP candidates equal firm anti-Trump sentiment, as was the prevailing narrative after the demise of several other candidates (Scott Walker, Chris Christie, Carly Fiorina, Rand Paul, Mike Huckabee, Lindsey Graham, Rick Santorum, George Pataki and Bobby Jindal have all suspended their campaigns).

"These geniuses," he declared, pointing at reporters, "They don't understand that as people drop out, I'm going to get a lot of those votes also. You don't just add them all together."

Trump thanked his family and extended family, many of them on the stage to his left and his right, and he thanked his top supporters and staff and volunteers, including South Carolina's Lieutenant Governor Henry McMaster, who had endorsed Trump even as the state's Governor, Nikki Haley, had endorsed Rubio.

The primary produced one major casualty. Former Florida Governor Jeb Bush, who finished in a disappointing fourth place in South Carolina (Bush pulled-in about 8% of the votes), opted to use his speech that night to announce that he was suspending his campaign. It was an emotional speech in which he thanked his family members, campaign staff, thousands of loyal supporters and volunteers, donors and fundraisers, and especially his wife Columba. Bush said he "respected" the decisions of the voters of Iowa, New Hampshire and South Carolina.

"I've had an incredible life," Bush told the audience, "and for me, public service has been the highlight of my life. No matter what the future holds, here's the greatest landing you can imagine: tonight, I'm going to sleep with the best friend I have and the love of my life."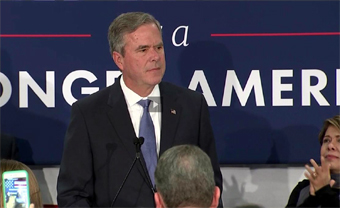 Bush's withdrawal came after a week of intense speculation that the coffers of his campaign and his PAC were each running on virtual empty. It was a heavy blow for Bush, who had a year ago entered the Republican race as the de facto front-runner, a favorite with millions within the GOP, and a PAC able to raise cash faster than any other campaign—Republican or Democratic. Despite leading in many major polls last spring, Bush saw his fortunes fall rapidly in a crowded field which quickly became overshadowed by Trump.

Bush also faced difficulty getting his establishment-lane message heard clearly in a field of some 17 candidates, and struggled to reclaim support even as many of those candidates withered or withdrew. Experts suggest that Bush was damaged by crowding in the "governors' zone," a field of mostly traditional-executive-conservative candidates all of whom had experience leading their respective states (New Jersey's Chris Christie, Wisconsin's Scott Walker, New York's George Pataki, Arkansas's Mike Huckabee, Louisiana's Bobby Jindal, to name a few).

Jeb Bush had seen a small surge in his candidacy after his modest, but better-than-expected, fourth place finish in New Hampshire. But though Bush's campaign spending remained high in February, much of it directed toward TV advertising, he was not able to effectively channel enough support to solidify the party's most reliable base of voters, even in South Carolina, a state considered Bush Country by historical standards.

Bush may have also faced the difficult challenge sparked by the entry of Florida Senator Marco Rubio into race, effectively fracturing Bush's long-established firewall in the Sunshine State (which he had originally hoped to win handily), and setting in motion a damaging feud between the former mentor and the former protégé.

Late on Saturday, Rubio again was able to claim a moral victory of sorts—as he did with a strong third place in Iowa—for pulling in what amounted to a surprise second place in South Carolina, edging out Cruz by a few hundred votes statewide. Speaking to a room of enthusiastic supporters, Rubio congratulated Donald Trump, but also immediately offered well wishes to Jeb Bush and his family, thanking his former mentor, calling the Bush family wonderful public servants, and praising Bush as "the greatest governor Florida has ever known." Underlying Rubio's words were clear appeals for support from those who had previously supported Bush.

Rubio also declared that the race, newly shorn of Bush, has now become a three-man battle for the nomination (in fact, Ohio Senator John Kasich and retired neurosurgeon Ben Carson have said they intend to remain active as candidates). Rubio told his supporters that even though there had been doubts about his ability to make it as far as South Carolina, he proved the experts wrong by pulling off a better-than-expected showing and by rallying conservatives. Rubio spoke of a transformative change in American politics, echoing his theme of a "new American century," and he also invoked the legacy of Ronald Reagan, telling supporters and those watching on television that a new generation of conservatives is now ready to take the torch of leadership into the future.

Ted Cruz, finishing in third place slightly behind Rubio, came out on stage shortly after 9:30 p.m., and—speaking as if he too were the nights big winner—also offered praise to Jeb Bush, thanking the former Florida Governor for his campaign based on ideas and a narrative free of insults and gutter language. Cruz also asked everyone in the room to offer a moment of silence for Supreme Court Justice Antonin Scalia, who died one week earlier. Cruz congratulated Trump on his victory in South Carolina, but asked those voters considering voting for Trump reconsider the value of their votes, and to look instead more closely at the themes and messages that he, Cruz, is offering. Cruz reminded those watching that Trump's campaign has been built too largely on insults and bullying, rather than ideas and consistent ideology.

The Texas Senator also said that his is a campaign which flies in the face of the Washington establishment. He thanked his thousands of volunteers and supporters, and thanked a bevy of South Carolina elected officials who had backed his candidacy as well.

Analysts suggest that Cruz rightly sees a wide path toward victory stretching most notably through the Super Tuesday states—also frequently called the SEC primaries—where evangelical support runs higher than what the previous primary and caucus states have produced so far. Cruz never mentioned Rubio's name, but most observers suggest that the fierce fighting between the two second-tier candidates will intensify as each seeks to become the central challenger to Trump, and each seeks to galvanize anti-Trump Republicans into a single, cohesive column.

John Kasich wrapped-up the night in single digits, behind Bush—a poor showing after his surprisingly strong second place finish in New Hampshire earlier in February. Kasich had not expected to perform as well in South Carolina, but expectations had run high that he might continue to draw support from the establishment lane of voters. Kasich and his campaign officials sharply disputed Rubio's assertion that the race has now come down to only three candidates.

Recognizing the deep overlap between the two candidates, Kasich and his team will now no doubt concentrate some efforts on attracting as many former supporters of Bush as possible. Those inside the Kasich campaign say that he—like Cruz—sees opportunity on Super Tuesday. The Ohio Governor hopes also to cash in on conservative Midwestern state support in what may soon become a delegate battle for the nomination.

Trump, though he lost in Iowa, has seen his political fortunes rise again after a resounding first place win in New Hampshire—a state in which he had led in polls for months. South Carolina, however, was long considered the real battleground among Republicans, as its electoral makeup and more diverse voting blocs are considered much more representative of the GOP as a whole, and because of the state's more valuable delegate count. Trump won in nearly every county and Congressional district in the Palmetto State, meaning he will walk away with the lion's share of the delegates. Trump will take at least 44 of the state's 50 delegates, leaving a small handful for the second place finishers Rubio and Cruz.

As for Dr. Ben Carson, he says he does not intend to drop out of the race… just yet. Carson said he wants to remain active in the race to make the point that the founding fathers never intended for the political process to become the exclusive realm of lawyers and professional legislators.

"What we need," Carson said, "is recognition of the fact that the way our country was designed…it was designed for citizen-statesmen, not career politicians."

Related Thursday Review articles:

Is South Carolina Jeb Bush's Last Stand?; R. Alan Clanton; Thursday Review; February 20, 2016.

Question of Cruz Eligibility to be Heard in Chicago Court; Keith H. Roberts; Thursday Review; February 19, 2016.