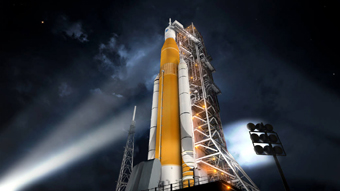 Artist rendering courtesy of NASA
A Look at SLS and Orion
| published October 22, 2015 |
By Thursday Review staff
No, this is not a photograph—it is merely a hyper-realistic artist's conception of the soon-to-be-built Space Launch System (SLS) rocket configuration, the largest U.S. built rocket since the Apollo missions and the huge Saturn V which took Americans to the moon.

The SLS is the first fully man-rated U.S. rocket system since the end of the space shuttle era, and the SLS's massive size and power is intentional: it will be used within the next decade to take humans into deep space explorations to Mars, the Asteroid belt, and beyond. Unlike the impressive Saturn V, the SLS will take humans far beyond the orbit of Earth.

The SLS is being designed and built to carry the Orion spaceship into deep space. The ambitious Orion program, envisioned by NASA decades ago, will enable larger crew to travel great distances—with the most immediate goal of the Martian surface sometime within the next decade. The first mission, tentatively named Exploration Mission 1, will launch an unmanned Orion spaceship into Earth orbit in early 2018, catapulting it much further into space toward Mars. This first non-crewed mission will enable scientists and engineers to test every aspect of Orion before the first crewed missions begin in 2019 or 2020.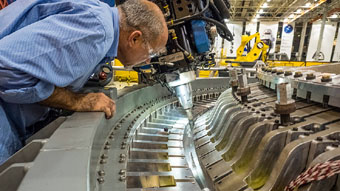 Image courtesy of NASA
Engines for the SLS have been tested several times on the ground at the Stennis Space Center in Mississippi, including two major tests this past summer. Engineers with NASA, Boeing and other contractors are working around the clock at NASA's Michoud Assembly Plant in New Orleans to construct the massive hydrogen fuel tanks needed to lift the SLS into space.

Last week, engineers in New Orleans reached a critical milestone—the welding together of two major components of the Orion spacecraft, the central barrel section and the aft bulkhead. Once all parts are completed and correctly assembled, Orion will be transported from Louisiana to Florida to prepare it for launch.

Related Thursday Review articles:

Resupply Mission for Space Station; Thursday Review; August 20, 1015.

Orion is Older Than You Think; R. Alan Clanton;Thursday Review; December 9, 2014.