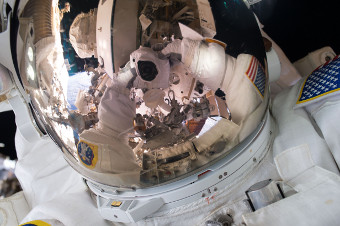 Photo courtesy of NASA/Scott Kelly
What's Different About This Selfie?
| published October 29, 2015 |
By Thursday Review staff
One of the great achievements of pedestrian technology is the classic selfie—the ubiquitous grist for the mill that is social media and the internet. Hundreds of millions of selfies are taken every day in every part of the world, from the Grand Canyon to the Great Wall of China, from the burger joint in Atlanta to the pizza place in Detroit.

But how many selfies have been taken in outer space? In actual…outer…space?

NASA astronaut Scott Kelly may be one of the very few who have had the opportunity to do just that, and not merely from the confines of a Soyuz spacecraft or from inside the International Space Station, but outside the relative safety of a space ship. Kelly took this photograph during the early stages of his Wednesday spacewalk outside the space station, later sharing the image on Facebook, Twitter and other social media.

"Great first spacewalk yesterday," Kelly posted overnight with the photo. Kelly is commander of Expedition 45, one of the concurrent NASA and ESA missions deployed to the ISS, and part of the team which will ultimately spend one year in space. Kelly has already surpassed records for time in space, and will break the additional record for most continuous uninterrupted time spent in space this week.

Kelly joined astronaut Kjell Lindgren on a marathon 7 ¼ hour EVA to make adjustments and repairs, and to inject lubricants to the Canadarm2 Robotic Arm. Kelly and Lindgren also worked on the first stages of installation of new electronic cables designed to facilitate a new docking port, which NASA hopes to install next year. The docking port will enable new spacecraft—some still under construction, such as the SpaceX Crew Dragon and the Boeing Starliner CST-100—to make their first arrivals to the space station within the next few years.

Look closely at the photo of Kelly, and in the wide, curved reflection on the surface of his visor, you can see his gloved hands holding aloft a camera wrapped in white plastic, its dark lens visible in the center.

Related Thursday Review articles:

Juggling Weightless Citrus in Space; Thursday Review staff; Thursday Review; October 20, 2015.

Space Station View: The Nile at Night; Thursday Review staff; Thursday Review; October 5, 2015.