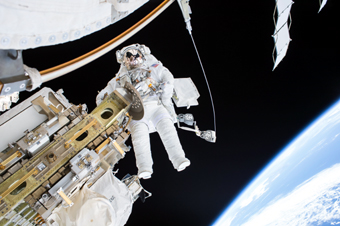 Image courtesy of NASA
Spacewalk: Making Room for Rendezvous
| published December 22, 2015 |
By Keith H. Roberts, Thursday Review contributor
Just days ahead of an arriving Russian cargo resupply spaceship, NASA astronaut Tim Kopra and Expedition 46 commander Scott Kelly suited-up and went outside the International Space Station to make adjustments to a mobile transporter rail car, the goal being to make space for the successful docking between the space station and the cargo craft. The exterior reconfiguration required moving the transporter rail car some six inches.

Kelly and Kopra also performed other tasks while outside the space station, including the installation of new Ethernet cables, control cables, and the retrieval of several tools stored in outside storage compartments. Some of the outside work is in preparation for the arrival of future resupply missions and future docking maneuvers.

The spacewalk lasted more than three hours. It was the second for Kopra, and the third for Kelly. Kelly is roughly nine months into his planned one year in space. This photograph shows Kopra working along the exterior of the space station, with the tip of two solar arrays visible near the upper right, and the Earth in the background.

Related Thursday Review articles:

Space Station View: The Nile at Night; Thursday Review staff; Thursday Review; October 5, 2015.

Spacewalk to Repair Cooling System; Thursday Review staff; Thursday Review; November 10, 2015.