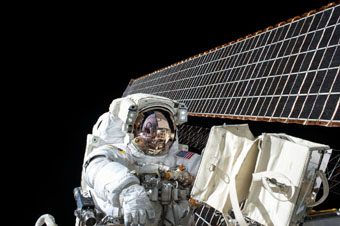 Photo by Kjell Lindgren, NASA
Spacewalk to Repair Cooling System
| published November 10, 2015 |
By Thursday Review staff
NASA astronauts Kjell Lindgren and Scott Kelly—working to restore the port truss ammonia cooling system which has been non-operational for several years—spent nearly eight hours on November 6 (last Friday) in outside activities, extra-vehicular work on the International Space Station. Repairs to the cooling system were long overdue, and the work by Kelly and Lindgren will restore the system to its original configuration and with some improved elements.

Kelly and Lindgren, crew members of Expedition 45, completed two spacewalks last week, and their work on Friday brings the total number of hours spent by astronauts and cosmonauts outside the space station to 1,192.

This photo shows Scott Kelly at work on the port side cooling system, with part of the solar array visible behind him. Lindgren took this photo during their spacewalk.

All told, humans have spent some 15 years at work aboard the International Space Station, which orbits 250 miles above the Earth and travels at roughly 17,500 miles per hour. At that speed, sunsets and sunrises come every 90 minutes.

Related Thursday Review articles:

What's Different About This Selfie?; Thursday Review staff; Thursday Review; October 29, 2015.

Juggling Weightless Citrus in Space; Thursday Review staff; Thursday Review; October 20, 2015.