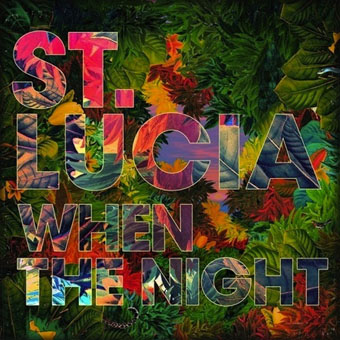 St. Lucia; When the Night
By R. Alan Clanton | published Saturday, November 16, 2013 |
Thursday Review Editor
It's rare indeed that I buy a debut album with little more to go on than one or two songs, and especially rare after not having given myself time to let the tunes grow on me. The debut release by a performer or band had better hit a solid, out-of-the-ballpark homerun—the kind that sails effortlessly past the stadium lights and up into the dark sky like those homers of the fictional Roy Hobbs in The Natural.

When The Night, by St. Lucia (also known as Jean-Philip Grobler, a South African-born musician and producer who now works in the U.S.), has achieved that rare purchasing event for me—like Boston's first album (me and only about 500,000 others that first month) or the debut by Three Doors Down. I also bought the Eagles' self-titled debut, but I waited about 20 years for that one.

When The Night also crosses that strange threshold I have regarding certain types of not-easily-labeled music. My pop music and rock music taste can be eclectic, and it stretches across the decades: The Who, Led Zeppelin, Peter Frampton, Moody Blues, Yes, U2, all pretty traditional hard rock—but I also like everything Green Day and Pennywise, along with Arcade Fire, Coldplay, Creed, Collective Soul, Foo Fighters, The Strokes. But St. Lucia's sound wanders far beyond even those comfort zones.

I'll probably take a beating from my hard rocker friends and those who know I enjoy alternative rock and indie rock, but this album is great stuff. Instantly likeable from the very start, it features admittedly lightweight lyrics, but a pleasing wall of exotic, layered sounds, all written and orchestrated by Grobler, an obvious virtuoso of digital engineering and studio mastering and mixing.

The first cut, "The Night Comes Again," sets the tone and mood for the album with a tsunami of sounds and instrumentations, but it is the second song, the insistent and dazzling "The Way You Remember Me" that really drives in the hook. From that point forward you can't stop listening to this collection of slickly produced but approachable songs. "Elevate," the album's third track, increases the friendliness of a collection of songs which have brief but pleasing echoes of the 1980s and early 1990s. "Wait for Love," the fourth track, keeps the momentum going with a great dance-beat cut. Part of what makes this album work well is the cohesion of the musical sounds; there is a seamless quality to the arrangement of cuts—the sign of an album-oriented writer, performer and producer.

Most of these songs were recorded at various studios in New York, but the liner notes indicate an international touch, with some songs recorded in Norway, with various studio musicians adding to the percussion, horns and other instruments, and female vocal layering by Patricia Beranek. Much of the mixing was done by Andy Baldwin in Brooklyn.

The 80s resurgence is in full-swing at various times on this album, another indication that some things never completely go away (see Maggie Nichols' review of Capital Cities, Atlas Genius, et al; Energetic Eighties Revivalism) and upon their return we can have just as much fun, but without the old baggage.

Other highlights on this album include "We Got It Wrong," the insistent, driving dance-track "September," and the title cut "When the Night." Not for the hard-rockers amongst Thursday Review's readers, perhaps, but what the heck. Sometimes you just have to let the music have its way. This is highly recommended, and Pennywise fans can send their threats of lawsuits to us at thursdayreview@aol.com.