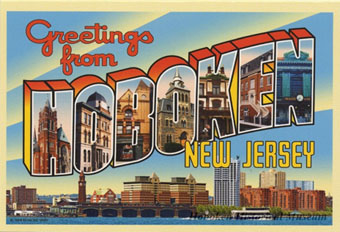 A Super Storm in Jersey
| published Monday, January 20, 2014 |
By R. Alan Clanton
Thursday Review Editor
What started out around New Year's as being frequently described as a "very difficult week" for New Jersey Governor Chris Christie has turned into a very difficult month, certainly the most challenging of his political career. First, the bridge; then, the accusation that he misused Hurricane Sandy relief money to produce what amounted to slick political ads. The damage was severe, and became the central thread of national political conversation.

Is it possible, however, that he could emerge stronger for this ordeal?

One could argue that the storm surrounding Governor Christie is mere piling-on by vindictive political opponents. One could also argue that a pattern has emerged, that of a widely popular governor who is, nevertheless, a behind-the-scenes bully and garden-variety vindictive political hack.

Make no mistake: the super-storm swirling circle around Governor Christie is a test, not just of his honesty and veracity, but also of his stamina. Whether they like it or not, all Republicans are going to be required to weather this same storm.

Until last month, Christie was arguably the presumed front-runner for the GOP's next cycle of presidential primaries and caucuses. And having been recently selected to become chairman of the Republican Governor's Association, the party of Teddy Roosevelt, Abraham Lincoln and Ronald Reagan had high expectations for both Christie's national political clout and his ability to raise money for GOP candidates in all fifty states.

The good news for Christie is that, according to several polls conducted within the last few days, his standing nationally has remained constant, the result perhaps of the typical ebb and flow as some Americans lower their opinions of the governor, while others rush to his defense. Some of this is the usual Red Blog versus Blue Blog dynamics at work: some in the GOP will want to protect Christie's honor and reputation just as some liberal Democrats will defend Hillary Clinton in the face of still more troubling questions about the attacks in Ben Ghazi.

But for Chris Christie, this balance could prove to be short-lived if things get any worse.

New Jersey politics is not for the wobbly-kneed or the faint-of-heart. And Chris Christie would not have made it to the governor's office by shying away from tough, sometimes brutal fights. The test he must now face is relatively simple: after that nearly two hour press conference, and his seemingly sincere mea culpa in his address to his constituents last week during his state of the state speech, will any of the newly expanding charges make their way directly to his desk, his emails or his phone calls.

Hoboken Mayor Dawn Zimmer, an elected official with a record of frequently praising the governor, has said flatly that Christie threatened to withhold Hurricane Sandy relief funds if the mayor would not endorse a huge development project supported by a key Christie ally. She says the proof can be found in a journal entry she wrote later that same night, and over the weekend she insisted that the Lieutenant Governor, who was the bearer of the alleged threat, if properly summoned to testify, will corroborate the account. She also showed those journal entries to investigators from the U.S. attorney's office.

Lt. Gov. Kim Guadagno, according to Zimmer, made the threat in a quiet, sidebar conversation in the parking lot of a supermarket earlier this year, the location of a ribbon-cutting event which both the Lt. Gov. and the Mayor were attending. Zimmer say's the gist of the conversation was simple: support the big development project, or you will have difficulty getting those Sandy Relief dollars.

But, like the other elements in this growing brouhaha, there is almost nothing in the trail of words, emails or text messages that leads directly to the governor. And despite the grimy portrait that it paints of politics in the Garden State, no laws appear to have been broken.

Hardball politics—dismal, depressing and disappointing, but, no smoking gun, right?

Christie's office is now pushing back. Lt. Gov. Guadagno has now flatly denied that she had any such quid pro quo was being suggested or offered with Mayor Zimmer. Guadagno went further, saying that Zimmer's version of the conversation is "illogical."

"Any suggestion that Sandy [relief] funds were tied to the approval of any project in New Jersey is completely false."

Mark Ferzan, whose current job as chief of the rebuilding and recovery office in New Jersey, has said that at no point was Hoboken treated differently than any other town or municipality in the Garden State. Ferzan also discounted the possibility that Sandy relief funds were used as leverage for projects the governor or his allies may have supported. Ferzan told reporters that despite $14 billion in requests, he has about $300 million in discretionary funds available for cities, and that Hoboken had requested $100 million. The implication by some Republicans is that Zimmer is acting out of bitterness for having received less money than what she had requested for Hoboken.

Still, Democrats smell blood in the water surrounding Christie. And with hundreds of reporters now on the case, as well as several separate official investigations now under way, even a few Christie allies see a difficult path ahead for the governor.

What began as an apparent act of petty political payback—the perhaps deliberate closure of access lanes on the George Washington Bridge, and the ensuing four days of backed up traffic between New Jersey and New York—has now turned into a blow-blown shark feeding frenzy. It's hard to see a scenario in which this frenzy passes quickly. And the blowback extends now into other parts of the country, even into sunny Florida, where Christie had already scheduled several days of campaigning and fundraising in support of Florida Governor Rick Scott.

Scott is moving into what may be the most contentious gubernatorial race the Sunshine State has seen since Lawton Chiles edged out Jeb Bush in their bitter 1994 battle for the governor's mansion. Scott will face (former Republican, former governor) Charlie Crist this year in a race with high stakes for both Democrats and Republicans, and much of the national media has establish the Scott-Crist faceoff as a barometer of what to expect in terms of spending and strategy from both parties in the run-up to the 2016 presidential election.

Chris Christie's appearances in Florida were considered crucial for Scott's fundraising efforts.

Some of those who know Christie well say that his public persona—that of a tough-talking, straight-talking, honest broker—is the real Chris Christie. And Christie has said he was misled and betrayed by a few of those around him. Others suggest he has a pattern of bullying and strong-arm political tactics, and that this attitude is inevitably passed along to those work for him.

If evidence emerges that he was directing those around him to engage in political vendettas and cheap payback—even if these acts fall technically within the law—his presidential ambitions may have to wait, at least until he can repair and rehabilitate his tarnished image. And his hopes for 2016 may be gone completely.

If, however, he is able to weather this hurricane, firing the scoundrels and hacks responsible for the bridge fiasco and perhaps demonstrating along the way that there are some Democrats who will stoop to virtually anything to inhibit his particular brand of political toughness, then he could emerge stronger.

For Christie, who may have been the only Republican to lead Hillary Clinton in some of the early straw surveys and national polls, the question becomes an existential one for his presidential hopes in 2016. Can he weather this super storm?


Related Thursday Review articles:

Chris Christie: A Bridge Too Far; Thursday Review, January 13, 2014.