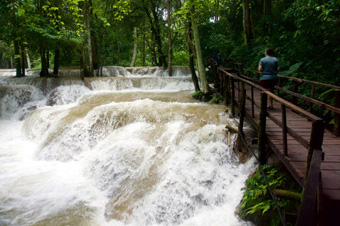 all images by Krista Tani
The Tad Sae Waterfall, Tuk Tuks, Boats, and Elephants
| published October 11, 2015 |
By Krista Tani, Thursday Review writer
I teach English in Laos. And if you've ever talked to me about Laos, seen any of my photos, or read any of my blog posts, then you already know that Laos is absolutely stunning. This whole place is like one giant postcard/National Geographic magazine/Jurassic Park (but substitute geckos, spiders, and neighborhood chickens for dinosaurs). Luang Prabang is surrounded by lush green mountains that are practically begging to be reveled in and explored. The Mekong River and its tributaries weave their way through every province, lending their fresh fish, river weed kai phaen way more delicious than seaweed), and scenic picnic locations to each city, town and village they pass through. Water is everywhere. Downtown Luang Prabang is situated on a peninsula that juts out between the Mekong and Nam Khan Rivers and if you head a little ways up the Nam Khan, you can get to one of the first places I visited upon arriving in Laos: Tad Sae Waterfall.

A day at Tad Sae begins in a tuk tuk and ends in a waterfall, with boats and elephants in between. After a short tuk tuk ride outside of the city, we hop in a boat and cruise up the Nam Khan to get to the base of the falls. With the motor humming, the jungle looming along the banks, and the sky blue and clear, it's hard to picture a better way of getting around.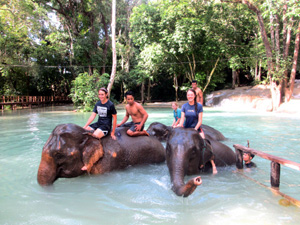 After entering the falls, one of the first things you see is a herd of Asian Elephants, flapping their ears and munching on bananas. There aren't many of these guys left in Asia, let alone Laos, but there are some awesome conservation efforts taking place (check out Elephant Village, a sanctuary just outside of Luang Prabang), and tourism plays a central role in keeping these beautiful animals around. Last year I got the chance to be repeatedly dunked into Tad Sae waterfall by a mischievous elephant who also tried to steal a poor, unsuspecting Lao person's picnic. It was incredibly fun.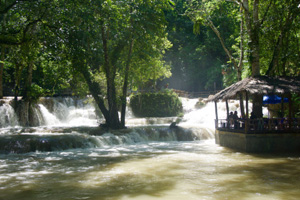 This year, I passed on the elephant ride, but still got to experience the best part of Tad Sae: the water. Laos is hot. Like really hot. And ridiculously humid. So jumping into a pool of cool, swiftly flowing water is unbelievably refreshing. Tad Sae only has enough water to swim in for the few months when rainy season fills its countless tiers with cascading water, but thankfully there are other places to cool off during dry season.

At the end of our visit, I'm always reluctant to get out of the water to start the trip home, but at least I have another boat ride to look forward to.

Editor's note: For more about Krista's travels, go to her Tumblr blog, Kristainlaos.tumblr.com

Related Thursday Review articles:

That Time I Locked a Student in My House; Krista Tani; Thursday Review; June 7, 2015.

Learning in Laos; Krista Tani; Thursday Review; November 23, 2015.