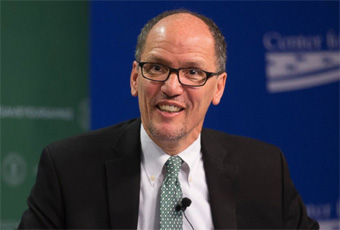 Image courtesy of Democratic National Committee
Perez Elected New DNC Chair
| published February 26, 2017 |
By Keith H. Roberts, Thursday Review contributor
After a contentious and narrow vote which pitted establishment centrist candidates against party progressives, the Democratic National Committee elected former U.S. Labor Secretary Thomas E. Perez as the party's new chairperson, replacing interim chair Donna Brazile who took over the reins after the forced resignation of Debbie Wasserman-Schwartz last fall.

Perez narrowly won out over U.S. Rep. Keith Ellison of Minnesota, a former acolyte of progressive Senator Bernie Sanders. Despite deep divisions and a contentious vote for control of the party, Perez immediately announced that he wanted Ellison to serve as deputy chairperson—an effort to mollify dissidents within the party and bring about quick healing for a party still deeply divided.

The vote in Atlanta was close and not without controversy, with progressives battling for control of the party mechanism. In a squeaker, Perez fell just one vote short of a clear win on the first round of balloting, triggering an attempt by Ellison and his supporters to wrest control of the momentum. But on the second round, Perez narrowly prevailed, triggering a wave of catcalls and boos from the more liberal components of the party members present.

Perez is considered a strong mainstream, establishment figure—with direct links to both former President Barack Obama and candidate Hillary Clinton—but one which party leaders hope will unify a Democratic Party reeling from election defeat and the loss of the White House to Republican Donald Trump.

Though in his victory speech Perez stressed the goal of challenging new President Trump and developing a contingency to take back the White House, he said that the party must redirect it efforts on pushing Democratic candidates at all levels, including local and state races. One central complaint by some Democratic analysts and operatives was that the DNC spent too much of its resources and finite political capital on the presidential race, with not enough emphasis on congressional, state and local races nationwide.

"We're no longer simply the committee that helps elect the president," Perez declared, "we also the committee that helps to ensure we're electing people up and down the Democratic ticket."

The fight for control of the Democratic National Committee had been a boisterous and often contentious process in the months since its electoral loss to Trump and a net loss in both the U.S. House and U.S. Senate. Adding to the strategic problem: an aggressive populist agenda by new President Trump which includes many proposals and plans antithetical to Democratic policy, and a sharp reversal of some Obama-era initiatives and policies. DNC leaders have been sharply divided over whether to take on the day-to-day initiatives by the Trump administration or to accept a strategic retreat in favor of concentrating on regaining control of Congress in 2018.

DNC members have also been sharply divided along some of the same ideological lines present during the 2016 primary and caucus season, when Clinton battled Sanders for control of the map and the two candidates fought a bitter campaign for control of the narrative, with Sanders and his supporters pushing for a much more liberal agenda.

Ellison had been seeking support for his candidacy to helm the DNC almost immediately after Republican victory on Election Day months ago. Gathering momentum early, he cast himself as the person who could shepherd the party leftward toward the ideals of its younger and more liberal backers and supporters. But party regulars balked at the notion of pushing the Democratic Party further to the left, and rallied around Perez as an alternative to the progressive Ellison.

Though DNC members are in almost universal agreement in battling the policy initiatives of President Trump, there are still deep differences in how to guide the party toward gains in 2018 and 2020. The party must also shed much of the negative baggage from 2015 and 2016, including a hacking and email scandal, and allegations that the DNC and Wasserman-Schultz were in effect operating as a semi-official campaign organization for Hillary Clinton, a charge made repeatedly by some of Clinton's Democratic foes, including former Maryland Governor Martin O'Malley and the progressive Sanders, who often attacked Clinton's close ties to big business and Wall Street.

Related Thursday Review articles:

Wasserman-Schultz Resigns as DNC Chair; Keith H. Roberts; Thursday Review; July 25, 2016.

Clinton Emails Show a Pattern of Donor Access; Keith H. Roberts; Thursday Review; August 25, 2016.