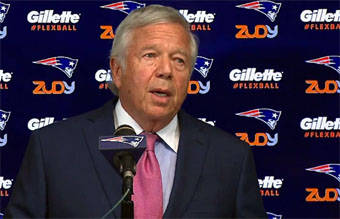 Patriots' owner Robert Kraft addressing reporters/image courtesy of New England Patriots/NFL
Deflategate Becomes Cell-Phone-Gate
| published July 30, 2015 |
By Earl Perkins Thursday Review features editor
The National Football League has upheld its four-game suspension of New England Patriots quarterback Tom Brady, meaning the Deflategate scandal could stretch out and adversely affect both parties, according to CNN.

NFL Commissioner Roger Goodell oversaw all facets of the investigation and some observers felt a deal might be imminent, but he was evidently incensed when he learned that Brady had his cell phone intentionally destroyed instead of providing it to investigators. The league's representatives claim his phone contained more than 10,000 text messages, some of which may have held key evidence associated with the case. So here comes Cell-phone-Gate.

Depending on what route the Patriots pursue, the case could land in federal court and Brady might face another loss. The NFL claims Brady and Patriots personnel broke rules and stonewalled the Ted Wells-led investigation, but the quarterback and Pats owner Robert Kraft remain defiant concerning their innocence.

"To suggest that I destroyed a phone to avoid giving the NFL information it requested is completely wrong," Brady said in a verified Facebook posting. Kraft also weighed in with a prepared statement to the press on Wednesday, saying he regretted cooperating with the NFL's probe.

"I was wrong to put my faith in the league," he said.

The controversy first boiled to the surface during and immediately after January's AFC championship game between the Patriots and the Indianapolis Colts, and later culminated in the NFL's accusation that the Patriots used under-inflated footballs to gain a competitive advantage in the game. Brady led his team to victory that day and has continuously denied involvement since then.

On Tuesday, Goodell affirmed the four-game suspension he handed down in May, claiming new information showed Brady attempted to hide information by breaking his cell phone. The commissioner claimed the league requested copies of text messages but lacked subpoena power to compel the quarterback's cooperation. Without the phone, the messages evidently can no longer be retrieved, according to a letter from Brady's cell phone provider.

"I did nothing wrong, and no one in the Patriots organization did either," said a Wednesday Facebook posting by Brady. The quarterback says he replaced his broken Samsung phone with a new iPhone 6 after his attorneys told the league "my actual phone device" would not be investigated. The superstar says his representatives were forthcoming with cell phone records and emails that were requested, and he also unsuccessfully attempted to obtain text messages from his old phone. The carrier's records showed who made and received the texts, but the contents were unavailable.

Brady says handing over his phone to investigators would have set a bad precedent for fellow union members, and he claims investigators never told him discipline would be handed down if he didn't provide the phone.

"Most importantly, I have never written, texted, emailed to anybody at any time, anything related to football air pressure before this issue was raised at the AFC Championship game in January," he said. "There is no 'smoking gun' and this controversy is manufactured to distract from the fact they have zero evidence of wrongdoing."

At Wednesday's press conference, Kraft said he "unequivocally" supports Brady and other players and staff. Kraft also apologized to Brady and all Patriot fans, insisting the league "still has no hard evidence of anybody doing anything" (i.e. tampering with football inflation levels).

Kraft accepted the league's penalty against his team, thinking cooperation would help exonerate Brady. In fact, although the owner agreed to a $1 million fine and forfeiture of draft picks for the next two years, the NFL still suspended Brady for four games.

"I have come to the conclusion that this was never about doing what was fair and just," Kraft said.

The NFL Players Association filed an appeal on Brady's behalf on Wednesday, asking a Minnesota federal court to overturn the suspension, according to the union website. The NFL filed its complaint Tuesday against the NFLPA in New York federal court, asking a judge to uphold Brady's suspension. The union filed in Minnesota because the Vikings are headquartered there, and the league regularly conducts business there.

Goodell's investigators claim they asked Brady's lawyers for his cell phone several times, on and before February 28. The league heard reports that Brady instructed his assistant to break the phone on March 6, which coincidentally was the same day investigators interviewed him. Brady's attorneys waited until June 18 to inform the NFL the phone was broken—five days before an appeals hearing and almost four months after investigators claim they requested data. Brady said the phone was destroyed because that was his usual practice when he purchased a new mobile phone. His testimony came during a 10-hour hearing at NFL headquarters in New York.

"We presented the commissioner with an unprecedented amount of electronic data, all of which is incontrovertible," said Don Yee, Brady's lawyer. "I do not think that any private citizen would have agreed to provide anyone with the amount of information that Tom was willing to reveal to the commissioner." He said Goodell ignored electronic information, and "we don't know why."

The players' union also took a defiant stance on its website, noting "The fact that the NFL would resort to basing a suspension on a smoke screen of irrelevant text messages instead of admitting that they have all of the phone records they asked for is a new low, even for them, but it does nothing to correct their errors."

Brady also took a swipe at lawyer Ted Wells, who was empowered to lead the investigation. The league said Wells was an impartial party, but the quarterback claims the man was playing for the other team.

"It is disappointing that the commissioner upheld my suspension based upon a standard that it was 'probable' that I was 'generally aware' of misconduct," Brady said. "The fact is that neither I, nor any equipment person, did anything of which we have been accused."

Wells' huge report blamed the deflated balls on equipment assistant John Jastremski, along with Jim McNally, who carried the balls from the officials' locker room to the field. The Patriots summarily suspended both employees—indefinitely.

At a press conference with sports reporters on Thursday, Patriots' head coach Bill Belichick deflected questions about the Brady situation and attempted—sometimes unsuccessfully—to refocus the issue on team practice and team preparedness going into the first days and weeks of practice.

When pressed by several reporters to respond to the legal issues surrounding his star quarterback and the lawsuit by the players' union, Belichick finally said that he and his staff had been instructed not to comment on the subject. Belichick also told reporters to go back and read the transcript of Kraft's comments on the matter.

Related Thursday Review articles:

Inflation, Deflation & the NFL; Earl Perkins; Thursday Review; January 23, 2015.