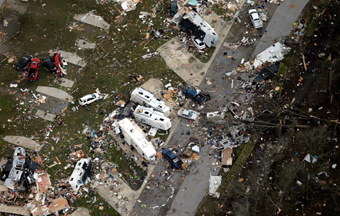 Tornado damage in Convent, LA/
courtesy of NBC News
Deadly Storms Strike Across South
| published February 25, 2016 |
By Earl Perkins, Thursday Review features editor
A deadly storm system swept across large parts of the South and slammed into eastern Virginia Wednesday, killing three people and knocking out power to homes and businesses throughout the region, according to the Associated Press and other media reports.

Some of the deaths were reported in the tiny farming town of Waverly, about an hour's drive south of Richmond. The victims were a 2-year-old child, along with two men, aged 40 and 26. The bodies were discovered approximately 300 yards from their mobile home. Roads leading into Waverly were closed because of downed trees, while debris was propelled airborne by 60 mph wind gusts, said Corinne Geller, state police spokeswoman.

Witnesses stated the storm descended on the town with little warning, wreaking havoc throughout the area. Timmy Williams was looking forward to a ride in his friend's new car, but the storm hit just as his buddy arrived to pick him up.

"It picked the car right off the ground, and put it right back on the ground," said Williams, 44. The pair remained in the car until the storm passed, and they were shaken but uninjured.

It blew down electrical wires "in a big ball of fire, thrashing all about each other," he said. "I'm just a little nervous and jittery, but overall I'm OK."

The system spawned about two dozen tornadoes along the Gulf Coast and the lower Deep South on Tuesday, killing at least three people and injuring dozens, while damaging hundreds of homes and businesses in Louisiana, Mississippi and Florida. Smaller tornadoes also touched down in parts of southern Alabama, and extremely high winds brought damage and destruction to parts of Dothan and Enterprise, Alabama, where trees toppled, utility poles snapped, and tree limbs sheared off to become dangerous projectiles.

Residents along the Gulf Coast posted photos on social media of downed oak trees, broken pine trees, smashed cars, and crushed porches and garages. On Facebook, residents of Dothan posted images of damage to homes and trailers when trees were toppled by wind gusts which exceeded 60 mph in places.

And the threat wasn't over as more than 88 million more people faced severe weather warnings on Wednesday. In the Midwest, heavy snow and frigid winds led to school closings in several states and numerous flight cancelations at Chicago airports. The storm system was propelled by an unusually strong El Nino effect, pushing narrow bands of extreme weather across more than a dozen states, and sending the same dangerous conditions toward the East Coast of the U.S.

That night, Virginia Gov. Terry McAuliffe declared a state of emergency, noting that Waverly, situated in the state's peanut-growing region, received the most destruction. At least five structures were damaged in the town of about 2,000, according to the Virginia State Police.

When the storm struck the Gulf Coast on Tuesday, one of the hardest-hit areas was an RV park in the town of Convent, in southern Louisiana. Recreation vehicles were strewn about, tossed atop wrecked cars and pickup trucks, and some larger campers were shredded completely. Metal debris from campers and RVs became dangerous projectiles in the intense winds. Two people were killed, while 31 injured were taken to area hospitals, according to St. James Parish Sheriff Willy Martin.

The twister cut a wide path of destruction, easily visible in news footage and drone imagery, but also identifiable on the ground as trail of devastation several hundred yards across. Utility polls in some places were snapped or bent, in other areas telephone poles lay across roads. The path of the tornado—according to National Weather Service tracking—ran from the town of Plaincourtville, roughly east-northeast, across the Mississippi River, through Convent, and then across I-10.

Although one person was unaccounted for, an all-night search of the park found no further injuries or fatalities, he said. Briaxton Lott was one of the lucky ones following the storm's aftermath. The 23-year-old was there when the tornado hit, and all he could do was gesture toward the concrete pad his trailer formerly sat upon. The remnants of his home were scattered about 100 feet away.

"The whole front end came up and slammed back down, and I grabbed up the baby and the next thing I know we just went rolling end over end," he said.

It was a surreal sight, as he surveyed the remains of his home, which now sits next to three trailers that appear untouched. Children's toys were scattered amongst the muck, as an alarm clock went off to arouse a former resident.

Around 20 to 24 tornados made landfall between Louisiana and Florida, with crews still surveying the damage Wednesday, according to Bill Bunting with Storm Prediction Center. The storms scattered several inches of rain on the area around Alabama and Georgia, leading to several flash-flood watches. Schools were closed in parts of Florida, Georgia and the Carolinas in anticipation of dangerous weather conditions.

The storm's other death was Dale Purvis, 73, who died from blunt-force trauma in a trailer west of Purvis, Mississippi, according to Lamar County Coroner Cody Creel.

Florida Gov. Rock Scott said a Pensacola area tornado impacted more than 70 homes and 24 apartments, while leaving three residents with minor injuries. He also visited The Moorings apartment complex, where winds ripped off the roofs from at least two buildings.

Those in Laplace, Louisiana, were picking up the pieces Wednesday after the tornado uprooted trees, which damaged almost 200 houses and tore roofs from numerous homes. Terrified residents surveyed the damage as workers fired up chain saws and generators, beginning the tasks of cutting trees, fixing damaged roofs and replacing broken windows. Here was a trampoline wrapped around a tree, while over there were houses with missing shingles and partial roofs.

Darren Miller, 52, had his work cut out for him as he helped his parents recover from the storm. An old oak tree had caved in the roof, allowing water to pour inside the house. He was there the day before when the twister struck. After returning to his car to retrieve a laptop, he looked up and couldn't see across the street. Running into the home, he yelled for his family to hit the ground, and then the windows exploded.

"It felt like a long time but I guess you could say within a minute. It was real quick," Miller said. "It will make your heart pump."

On the same street, Rose Fuselier, 80, surveyed a gaping hole where the front window once hung.

"The whole backyard is covered with trees and then my shed is torn up too. The roof is gone and the siding is partially gone," she said. Still, she claimed others suffered worse damage: "I lucked out. I lucked out."

Related Thursday Review articles:

Welcome to the Groundhog Day Blizzard; Earl Perkins; Thursday Review; February 1, 2016.

Winter Storm Kayla: What to Expect; Thursday Review editors and staff; Thursday Review; January 31, 2016.