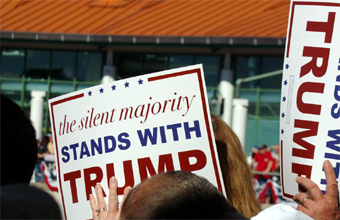 Photo by Thursday Review
Trump's Call to Ban Muslims Sparks Backlash
| published December 10, 2015 |
By R. Alan Clanton, Thursday Review editor
Donald Trump says he doesn't have a racist bone in his body, and told a reporter with CNN that his proposal to ban Muslims from entering the United States is just "common sense."

Trump told CNN's Don Lemon that his business acumen and street smarts are too easily conflated by the mainstream media into bigotry.

"I am the least racist person that you have ever met," Trump told Lemon, "I am the least racist." Asked by Lemon if he was a bigot—a label perhaps less inflammatory—Trump said "I don't think so." Trump's comments to Lemon echoed comments made only 24 hours before, when he appeared in an interview with ABC's Barbara Walters.

Trump, the Republican Party's front runner for the Presidential nomination in 2016, has come under intense fire—just as he has come under fire for previous statements—for his declarations over the weekend and again this week that he would put an immediate halt to Muslims entering the United States, for any reason. Trump has said until the U.S. can craft a reliable policy toward preventing terrorists from coming to the U.S., all Muslims must be banned from entry.

The ban Trump has proposed would extend to Muslims regardless of whether they are traveling on business, family matters, tourism or education. When asked to clarify how he would enforce this at airports and borders, Trump says federal officers must ask a person to declare their religious affiliation upon entry.

The proposal sparked a massive backlash in the media and in the political conversation, though—as has often been the case with Trump's sometimes boisterous and unfiltered comments since becoming a candidate for President—it is not clear that this will impact his poll numbers. Trump remains the front-runner in most polls, despite surges in September and October by retired neurosurgeon Dr. Ben Carson and recent surges by Florida Senator Marco Rubio and Texas Senator Ted Cruz.

In his interview with CNN's Lemon, Trump also suggests that his blunt, street-savvy sense makes him more qualified on issues of foreign policy and terrorism. Trump said that in his 2000 book, he accurately predicted the September 11, 2001 attacks, warning that al Qaeda and Osama bin Laden posed a grave threat to U.S. security. But a check of the facts surrounding Trump's book by numerous journalists shows no such prediction.

Racist or not, Trump's Republican rivals have sought to distance themselves from the front-runner's comments, pushing back at the idea of banning people from entering the country on the basis of their religion. Several Republican candidates have called Trump's proposal unconstitutional—a clear violation of the first amendment, which says that the government cannot choose sides when it comes to religious belief. Some GOP candidates have gone even further, suggesting that Trump is not fit to be a genuine candidate.

"Donald Trump is unhinged," former Florida Governor Jeb Bush told followers in a message posted on Twitter, "his 'policy' proposals are not serious."

South Carolina Senator Lindsey Graham, long a vocal critic of Trump, also lashed out at the billionaire businessman and real estate mogul.

"Donald Trump has gone from making absurd comments to being downright dangerous with his bombastic rhetoric," Graham told followers.

On Monday, Ohio Governor John Kasich weighed-in on Trump's plan to ban Muslim's from entering the United States.

"This is just more of the outrageous divisiveness that characterizes his [Trump's] every breath," Kasich said, "and another reason why he is entirely unsuited to lead the United States."

Trump may be creating a challenge also the Republican National Committee chair Reince Priebus, who has had to face some difficult questions regarding many of Trump's most outrageous statements. Priebus must walk a narrow line—asked by reporters to comment on Trump's frequent outrages while also being genial to Trump, per the "agreement" signed by all parties months ago when talk of a Trump third party run was beginning to consume the narrative for Republicans. Former RNC chair Michael Steele, now a frequent contributor to some news organizations, suggests that Trump's divisiveness could inflict long term damage to the GOP by offending the very groups that Republicans need to reach out to for collaboration and support. Trump's hostile barbs toward Latinos, or blacks, or women, or now Muslims, has sway over millions of people, with generally negative cumulative results.

"Voters see that as being about how you treat people, how you talk about people," Steele told Politico. "Others see that as an indication of your character."

So far, Trump's comments have not cost him much in terms of support, at least if the polls are to be believed. Trump still floats well above most of his Republican challengers, at least in some polls. In others he maintains a narrow lead over Cruz and Carson. With party support split between a dozen other candidates—including Carly Fiorina, Jeb Bush, Marco Rubio, John Kasich, Rand Paul, Chris Christie, George Pataki, and others, Trump has no one-on-one, single combat challenger, and there is no clear alternative for voters who may find themselves disgusted with Trump but unclear on the other options. The field has narrowed slightly over the last three months, and the recently departed include former Texas Governor Rick Perry, Wisconsin Governor Scott Walker, and former Louisiana Governor Bobby Jindal.

In the meantime, Trump remains defiant. Some pundits have tired of predicting when Trump's downfall becomes genuine. Though Carson, Rubio, and Cruz have all made inroads into front-runner territory over recent months, Trump remains more-or-less in first place. Some political analysts wonder if Trump has become bullet-proof to the blowback from his frequent politically-incorrect missives, and, armed with that layer of Teflon, he now knows he can inveigh on any issue—no matter how sensitive or nuanced—with impunity. This worries some Republican strategists who fear a Trump takeover of the GOP's message will alienate voters and pave a wide road for a Hillary Clinton victory in November 2016.

Trump's comments have sent waves of backlash into a variety of communities, including among the Muslim community in the U.S. Former boxer and one-time world heavyweight Muhammad Ali, arguably the most famous of all American Muslims, condemned Trump—albeit indirectly and without mentioning the hotel owner by name—in a statement released this week.

"We as Muslims have to stand up to those who use Islam to advance their own personal agenda," Ali said. "I am a Muslim and there is nothing Islamic about killing innocent people in Paris, San Bernardino, or anywhere else in the world. True Muslims know that the ruthless violence of the so-called Islamic Jihadists goes against the very tenets of our religion."

In the United Kingdom, outrage over Trump's latest talk has spurred an online campaign to ban Trump from entering Britain. The campaign has already attained more than 350,000 signatures, more than 200,000 more than needed to introduce parliamentary debate. British Prime Minister David Cameron—arguably the most conservative PM since Margaret Thatcher—told CBS News that Trump's comments were "divisive, unhelpful, and quite simply wrong." The Guardian was reporting that the website managing the signature process was getting about 25,000 hits per hour on Tuesday and Wednesday. Though it isn't clear that Parliament would actually vote to ban Trump from ever setting foot again in the U.K., discussion and debate will definitely take place in early January.

One Florida Mayor also jokingly said he was banning Trump. St. Petersburg mayor Rick Kriseman used his Twitter account to tell followers he was "hereby barring Donald Trump from entering St. Petersburg until we fully understand the dangerous threat posed by all Trumps." Later that day he told reporters that the tweet was in fact a joke meant to illustrate the "ridiculous" statements by Trump.

Related Thursday Review articles:

Syrian Refugee Crisis Sparks Intense U.S. Debate; R. Alan Clanton;Thursday Review; November 19, 20154.

Paris Attacks: Do They Change the ISIS Narrative?; R. Alan Clanton;Thursday Review; November 14, 2015.