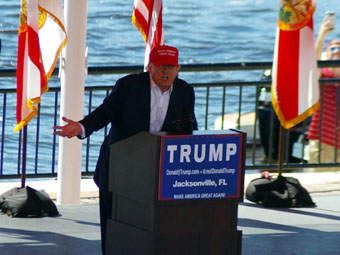 photo by Alan Clanton/Thursday Review
Trump: Polls, Can't Live With 'Em, Can't Live Without 'Em
| published October 25, 2015 |
By R. Alan Clanton, Thursday Review staff
He loves polls, he hates polls, he has conflicted feelings about polls. Republican presidential candidate Donald Trump has a lot to say about public opinion surveys, perhaps an odd state-of- affairs for the candidate who has been the GOP front-runner for more than 90 days.

Businessman and television host Trump also has a few negative words to say about Marco Rubio, Jeb Bush, Dr. Ben Carson, and others.

Speaking at a huge campaign rally in Jacksonville, Florida, attended by some 17,000 fans, Trump blasted what he called the mainstream media and a string of "bad press." Trump told those present that the press has an interest in muzzling his message of restoring the American dream, and he accuses reporters of being deliberately selective in citing polls numbers. Trump called reporters and the press "dishonest." Citing unfavorable articles and hostile opinion pieces in a recent Wall Street Journal, Trump held a copy of the newspaper aloft and tossed it aside on the stage. Trump also cited his grievances against members of the news media who would use polls to distort the gains of his political following.

"I love polls…you know I love polls," Trump said, "I'm in love with polls." But he disputes current numbers which show retired neurosurgeon and author Dr. Ben Carson gaining strength among likely Republican voters, and Trump is especially incensed that the press translates Carson's gains as coming at Trump's expense. Carson is leading Trump in several recently-conducted major polls in Iowa, which holds its caucuses in just 90 days—a critical early test for candidates running for President.

In front of a massive crowd at a downtown shopping center, and flanked by the teal and cobalt waters of the St. Johns River, Trump said Carson is a "low energy" candidate who makes even rival Jeb Bush seem exciting. Trump told the crowd he is baffled by reports that Carson is building steam and energy among Republican voters.

Trump also blasted Bush, referring to the recent news reports that Bush was cutting back on campaign staff, reducing salaries, and redirecting resources and money into the earliest primary and caucus states of Iowa, New Hampshire and South Carolina. Bush's reboot comes at a critical time for his flagging campaign: the former front-runner has dropped to fourth or fifth place in many polls, and is now facing a potential drought in new money coming into his coffers. Over the weekend, Bush met with family members, family confidantes, and top strategists to regather his thinking and retool the long view of his campaign—which was once the fundraising and cash leader among all the candidates, and enjoyed the support of the largest PAC.

Trump ridiculed Bush for the meetings with family.

"Right now," Trump said, "he's meeting with mommy and daddy to decide what to do next."

"Here's a guy who wants to run the country," Trump said of Bush, "but he can't even run his own campaign."

Bush is also facing intense competition from fellow Floridian Marco Rubio, who has been slowly but steadily gaining in most polls after better-than-expected debate performances in July and September. Trump took aim at the now-bitter fight between Floridian rivals Bush and Rubio, making light of their feud for control of fourth place in national polls.

"Those two guys are fighting like crazy," Trump said, "and I'm laughing and watching them fight."

As for Rubio, who now seems the closest traditional competitor from among the crowded field of candidates—and the person most likely to challenge the outsiders—Trump, for the third time in as many weeks, worries aloud about perspiration.

"Have you ever seen a guy who sweats that much?" Trump asked the crowd.

On the whole, Trump drew wild applause from the massive crowd, which exceeded the capacity of the downtown venue, and forced hundreds to watch the event on a large screen set up outside, in front of the downtown mall at the river's edge. Others were content to simply listen from inside the concourse of air conditioned mall. Though a few boos and catcalls could be heard when the real estate mogul occasionally tossed barbs at Carson and Rubio, the crowd was generally receptive to Trump's boisterous performance and his colorful attacks on his opponents. Fans were also happy to hear each time Trump bashed Washington politics and the business-as-usual of elected officials.

According to local police, much of the crowd had arrived hours earlier, many coming in the doors with lawn chairs and coolers as early as nine a.m. for the noon event. By the time Trump arrived, at about 12:15, police and security said the crowd had exceeded 17,000, and one mall security guard said it was the largest crowd for a political event that the venue had ever hosted.

Some of those who attended the rally said they were unsure if they intended to actually vote for Trump in the Florida primary, which will be held on March 15. Most we spoke to, however, loved the fact that Trump was challenging the establishment and shattering notions of political-correctness.

"I haven't made up my mind to vote for him, for sure," said Tamika Henderson, who drove from St. Augustine to attend the rally, "but I love that he is shaking up the system and rattling their cages. Someone needs to keep them honest."

Traditional and "establishment" candidates have taken a beating this election cycle among Republicans. Three GOP candidates—Trump, Carson, and former HP CEO Carly Fiorina—are the favorites of well over half of all likely Republican voters nationwide. Though Trump still leads in most national polls, he has slipped slightly in some surveys, losing ground in some cases to both Carson and Fiorina, but in other polls Trump has been steadily losing support as voters migrate toward Carson.

According to new polls released this weekend, conducted by the Associated Press-GfK, Carson maintains the highest level of favorable scores by GOP voters nationwide, with an astounding 65% positive rating (note that this does not mean he is the favorite of those voters—merely the one held in the highest esteem by those currently registered as Republicans). Trump gets a favorable rating of 58% in those same surveys, as compared to Fiorina's 47%. Trump, despite his high polls numbers and his relatively high favorability score, also receives the second highest negative score of all GOP candidates; Trump's unfavorable rating is 36%, with New Jersey Governor Chris Christie receiving the highest unfavorable score.

During his speech, Trump thanked the people of Jacksonville and included a shout-out to new mayor Lenny Curry, a Republican.

Trump also referenced the city for its marine construction and boat building industries.

"I had a casino yacht built here once," Trump said, "it did great: we sold it and made a lot of money, so I love Jacksonville." Trump also cited a weekend appearance by the Blue Angels—the Navy's flight demonstration squadron—which was performing that same day just a dozen miles away at Jacksonville Beach. "I love the Blue Angels," he said.

Though Trump was characteristically vague on specifics, when not bashing his opponents and expressing anger at polls he spent a great deal of his time on the stage assuring the crowd that he could turn the country around. Trump blasted Obamacare, took issue with current economic policy, and blasted U.S. foreign policy, especially the recently concluded deals between the United States and Iran. Trump suggested that Secretary of State John Kerry needed to learn a few of Trump's negotiating skills, and compared his own act of walking out of a meeting to negotiate the final price of the Miami Trump National Doral to a tactic which Kerry should have used against the Iranians.

Trump also said that U.S. trade policy is deeply flawed, and that U.S. subsidies and cash gifts to other countries are "a rip-off." Trump said that as President he would bring an immediate end to giving other countries cash and trade advantages.

"Everybody is ripping us off," he said, "every country is ripping us off. Every one of them. So we're not going to let it happen anymore."

The real estate mogul also assured the crowd that it was entirely possible—despite the protests of his Republican rivals and most Democrats—to make the government of Mexico pay the price of the construction of a new border wall to stop the flow of illegal immigration into the U.S. Trump again cited his negotiating strengths as proof that Americans would not have to foot the bill of a sophisticated 900 hundred mile long fence to keep out unwanted immigrants from Mexico and other Central American countries.

Trump's appearance in Jacksonville came just one day after an appearance in Miami, a sign—some political observers say—that he has no intention of discarding the Sunshine State despite Florida having produced two candidates for President.

Related Thursday Review articles:

Bush Vs. Rubio: Cash and Spending Feud; Keith H. Roberts; Thursday Review; October 18, 2015.

Carson Rakes-In Fundraising Totals; Thursday Review staff; Thursday Review; October 1, 2015.