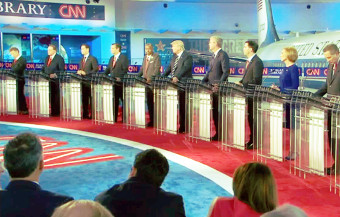 Image courtesy of CNN
Trump's Lead Slides; Fiorina in Second Place
| published September 20, 2015 |
By Thursday Review staff
Businessman Donald Trump's once-substantial lead in the Republican polls has fallen over the last week, according to a new poll conducted by CNN/OCR. Trump still leads the crowded GOP field, but he has fallen from a decisive 32% down to 24%, the first time Trump has seen downward movement in surveys nationally.

Most importantly is the shift for second place: whereas retired neurosurgeon and author Dr. Ben Carson once enjoyed a strong second place, even as recently as early September, Carson has been supplanted by former HP CEO Carly Fiorina, who now enjoys a strong 15% among all Republican voters surveyed. Carson is slightly behind Fiorina, with 14%.

The CNN/ORC poll—the results of which were released Sunday moring—was conducted over the course of late Thursday through Saturday, and included interviews with 1,006 adult Americans contacted by telephone. The margin or error is plus or minus 3 percentage points.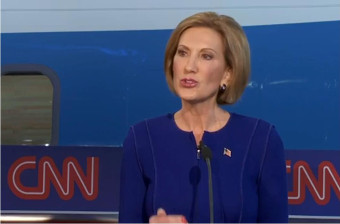 Image courtesy of CNN

Fiorina was widely considered one of the strong performers in last week's CNN-sponsored debate held at the Ronald Reagan Library in Simi Valley, California. Though all the candidates aggressively sought to get their messages out in what quickly became a raucous and freewheeling debate, Fiorina gained immediate traction with her often forceful and well-prepared responses to numerous questions. Recent polls by NBC News also show a surge for Fiorina and significant slippage by Trump. NBC's poll shows that among those who watched the debate, Fiorina and Florida Senator Marco Rubio were considered the big winners.

That same NBC News poll, however, still showed Ben Carson in second place with 14%, slightly ahead of Fiorina in third place with 11%.

Trump remains the front-runner by a substantial margin, but his slippage reveals what some analysts had expected all along: the novelty of the real estate mogul and TV entertainer is beginning to wear off with many Republicans. The CNN/ORC poll shows Trump as the leader among all 17 major candidates, but that same poll exposes Trump's biggest weakness: he is viewed unfavorably by some 40% of all Republican respondents.

That Trump, Fiorina and Carson still maintain the lion's share of support from all respondents in the new CNN/ORC poll reinforces what is a clear anti-Washington sentiment among all voters. Among Democratic respondents, Hillary Clinton's stock continues to fall, albeit slowly, as candidate Bernie Sanders (D-Vermont) and non-candidate Joe Biden continue to gain in polls. Currently Clinton trails Sanders in both Iowa and New Hampshire, though she continues to maintain a solid lead in South Carolina.

Trump's unfavorable score is 59% among Republicans, with the second highest unfavorable score going to former Florida Governor Jeb Bush at 46%. Among all the Republican candidates, Carson retains the highest favorable rating with 40%. Ohio Governor John Kasich is the least known: when CNN/ORC interviewers asked voters to offer favorable/unfavorable/don't-know responses, 39% of respondents said that they have never heard of Kasich.

Related Thursday Review articles:

Dr. Carson's Minimum Wage Proposal; Thursday Review; September 18, 2015.

Is There a Gipper in the House; R. Alan Clanton ;Thursday Review; September 17, 2015.