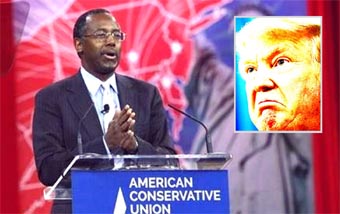 Carson photo courtesy of American Conservative Union
Trump Mocks Carson, Ridicules Iowa Supporters
| published November 13, 2015 |
By Keith H. Roberts, Thursday Review contributor
Republican candidate Donald Trump is engaged in a battle of words against co-front-runner Dr. Ben Carson over some of the claims made by Carson in his best-selling book, Gifted Hands.

In recent stump speeches and media interviews, Trump's comments about Carson sound a bit like a famous line from the Woody Allen comedy movie classic Annie Hall, in which Allen's character, Alvy, expresses complete distrust of anything a politician would say (…he's a politician. You know the ethics those guys have. It's like a notch underneath child molesters!)

So it goes with the Trumpster this week, as his war of rhetoric heats up in his fight for control of the top spot among the GOP faithful. Trump, who has been watching his poll numbers slowly decline as a direct result of Carson's steady rise, is now stepping up his direct attacks on Carson's believability and trustworthiness.

Speaking Thursday in Fort Dodge, Iowa, Trump declared Carson to be a liar, and said that voters were gullible to accept the word of Carson as that of the truth. Trump also blasted polls which show support for Carson increasing, even as the media digs deeply into Carson's claims about his past.

"How stupid are the people of Iowa?" Trump asked in his speech, "and how stupid are the people of the country to believe this crap?"

Carson has told reporters that the controversy is not only blown out of proportion to the facts, but that the entire brouhaha is little more than a witch hunt. During a Republican debate earlier in the week, Carson told the audience that he has no problem being vetted, but that his only problem comes when people tell outright lies about his own past. Carson's debate performance was solid and strong, and some political analysts suggested that the retired neurosurgeon and best-selling author may be able to soon put behind him the accusations of exaggeration and tall-tale-telling which have come as a result of intense scrutiny of his record.

But Trump clearly does not want the press to put to rest concerns about the accuracy of Carson's oft-told life story.

"So here's the good news," Trump thundered to those in attendance at his speech in Iowa, "he's now saying all that stuff happened…because otherwise, he's a liar!" Much of Trump's assertions about Carson's believability derive from a chapter in Carson's book Gifted Hands, in which Carson explains how he overcame a problem with uncontrolled anger and a sometimes violent temper as a child.

"I had what I can only label as a pathological temper—a disease—and this sickness controlled me, making me totally irrational," Carson writes in his book. Carson chalks up his change to a life-changing moment of clarity, brought on by his desire for spiritual growth, which altered the trajectory of his life. Among the things which Carson cites as examples of his temper: an attempted attack on his mother with a hammer, and an occasion when he attempted to stab a friend during a heated argument. Carson says the belt-buckle on the friend's waist saved his friend's life by blunting and breaking the knife blade.

Trump has taken to mocking these stories, especially the one involving the knife breaking on the belt buckle, and makes little secret that he—Trump—considers Carson's tale to be pure balderdash. Trump also refutes Carson's claim that his religious epiphany occurred in the bathroom after a few hours of solitude and introspection, an event which brought about the soft-spoken man he became.

"So he goes into the bathroom for a couple of hours and comes out a religious man?" Trump asked the audience, "And the people of Iowa believe him? Give me a break."

Trump has also mocked Carson's own early beliefs that his anger as a youth was "pathological" and a "disease," and likened it to other pathological disorders.

"I don't want to say what I said, but I'll tell you anyway," Trump said in his speech, "if you're a child molester—a sick puppy, you're a child molester—there's no cure for that. None. There's only one cure, and we don't want to talk about that cure. That's the ultimate cure. If you're a child molester, there's no cure. They can't stop you."

"So, he's a pathological, damaged camper," Trump added, "…he went after his mother…went after his mother with a hammer at a fairly young age…fourteen…fifteen years old."

Trump received some laughs from some in the audience, but he also received a few boos as well. All told, Trump's tirade against Carson and his lambasting of voters who would support the retired neurosurgeon lasted some 90 minutes (long even for a typical stump speech by Trump), and videos and clips of the harangue quickly went viral—circulating on You Tube, Facebook and Google, and sparking an avalanche of Twitter commentary.

Carson's campaign team struck back quickly, calling Trump's likening of Carson's teenage anger management issues to that of a child molester ridiculous, and suggesting that Trump's vitriol toward Carson is simply one of Trump's tools to cope with his own anger management problems. Carson also pointed out that teen anger problems are often overcome by adulthood—through either spiritual or professional guidance. And Carson's people in turn mocked Trump for his medically unfounded notion that people cannot change their behaviors, especially through faith.

On Friday, Carson's campaign manager told reporters that Carson asked people to "pray" for Trump, and blamed the rant on Trump simply being in the awkward position of not being the undisputed front-runner. Carson spokesman Armstrong Williams told CNN that Carson likes Trump personally, and holds no grudge.

"To see him [Trump] just imploding before your eyes…it's just sad to watch," Williams said.

As the Trump tirade gained traction in the media on Friday, other GOP candidates came to Carson's defense. South Carolina Senator Lindsey Graham expressed shock and dismay at Trump's comments, and called Carson a "good, decent man."

But the Trump versus Carson dustups could get worse in the next weeks, especially as both candidates watch Iowa and New Hampshire growing larger in their windshields. In the past, Trump has lashed out with boisterous and unfiltered comments about many other Republican candidates, including Carson, former Florida Governor Jeb Bush, former Texas Governor Rick Perry, Kentucky Senator Ran Paul, and former HP CEO Carly Fiorina.

Some polls show Carson with a slight edge over Trump nationwide, but other polls show Trump with the edge by almost the same percentage. Both candidates were judged to have performed well in this week's Republican debate held in Milwaukee, Wisconsin, though—on points—most pundits and analysts scored Florida Senator Marco Rubio the easy winner.

Many of the GOP candidates will be in Florida this week in conjunction with a statewide Republican fundraising gathering in Orlando. Some candidates will be campaigning in nearby areas either before or after their appearances or speeches at the meeting in Orlando. The event will also be a chance for both Rubio and Bush to try to shore up support from their home state network; each is trailing badly in the Sunshine State, with Carson and Trump taking the lion's share of support of Florida Republicans.

Related Thursday Review articles:

Fox Business Network Debate: Was Rubio the Winner on Points?; R. Alan Clanton; Thursday Review; November 11, 2015.

NBC News/WSJ Poll: Carson Leads Trump; R. Alan Clanton; Thursday Review; November 3, 2015.