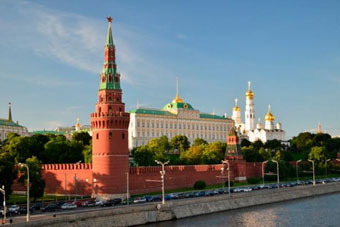 Image courtesy of Kremlin Tour.com
Kremlin Wants Apology From
Fox News
| published February 6, 2017 |
By R. Alan Clanton, Thursday Review editor
Officials in Moscow are demanding an apology from Fox News after a taped weekend interview between President Donald Trump and Fox News commentator Bill O'Reilly produced what Kremlin media spokespersons call "unacceptable" remarks about Russian President Vladimir Putin.

In a brief back-and-forth between Trump and O'Reilly—an exchange in which Trump seemed to defend Putin and the recent military actions of Russia—O'Reilly challenged Trump's assertion that Putin is "not so bad" by describing Putin as a brutal "killer," comments referencing perhaps the claims by human rights activists and Russian dissenters that Putin had a hand in the assassinations of several political opponents and adversarial journalists in Russia who had very public disagreements with Putin.

U.S. and British intelligence agencies, British law enforcement—along with a British court—concluded more than a year ago that Putin and his top cronies had a hand in planning and implementing the assassination Alexander Litvinenko, a former KGB agent who was poisoned by radioactive materials during a stay in a London hotel. Intelligence officials also believe that longtime Putin opponent Boris Nemtsov was assassinated by individuals with extremely close ties to Putin and his inner circle. Nemtsov, who was completing a massive and detailed report on Russian intervention in the civil war in the Ukraine, was shot at close range by several gunmen as he walked along a sidewalk only a few hundred yards from the Kremlin.

Kremlin officials call such assertions rubbish, and now say that nothing less than a public apology by Fox News will suffice for O'Reilly's comments during the Trump interview.

"We consider such words from the Fox TV company to be unacceptable and insulting," said Kremlin spokesperson Dmitry Peskov on Monday, "and honestly speaking we would prefer to get an apology from such a respected TV organization."

The interview between O'Reilly and Trump also spurred the President to suggest Putin's past behavior may not be worse than some of the foreign policy and domestic mistakes made by the United States, a comparison which angered many members of Congress—including Republicans who expressed concern over establishing equivalency between U.S. actions and those of Russia.

Moscow's demands for an apology came amidst a flurry of concerns by U.S. intelligence agencies and American law enforcement that Russian hackers—and hackers using distinctly Russian-authored code—are continuing to attempt to break into the computer systems and databases of major American companies and government departments in the U.S.

Those within Trump's inner circle have repeatedly said that one major foreign policy goal of the new administration is to reboot and repair the frayed and damaged relationship between Russia and the United States.

Related Thursday Review articles:

Government Agencies Prepare to Combat Election Disruptions; Thursday Review staff writers; Thursday Review; November 6, 2016.

Adam Schiff: Election Cyber Attacks Result of Russia; Keith H. Roberts; Thursday Review; October 4, 2016.