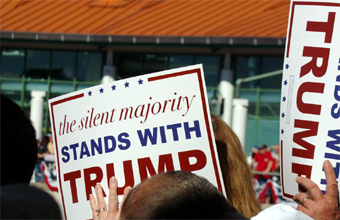 photo courtesy of Thursday Review
Trump Defiant as GOP Leaders Call For Ouster
| published October 8, 2016 |
By R. Alan Clanton, Thursday Review editor
Republican presidential nominee Donald Trump told reporters on Saturday that he is not considering any plan for him to withdraw from the top of the GOP ticket despite a surge of protest from scores of Republican lawmakers, officials and party elders.

After a video surfaced days ago showing Trump making sexist and vulgar comments about his penchant for uninvited groping, kissing and fondling of women—a video which included his stated belief that his star power gives him license to engage sexually—some Republicans in Washington have been demanding that Trump step aside and allow vice-Presidential nominee Mike Pence to assume the leadership role.

The video, which was shot with an open microphone in an interview with Billy Bush in 2005, includes Trump offering his opinions on women and his belief that his status as a celebrity empowers him even to grab women's genitals. In the short video, Trump also suggests that he deems it acceptable to cheat on his current wife, Melania, in the context of the many women who throw themselves at him in his role as a celebrity.

The controversy has tossed the Republican Party into deep chaos and uncertainty, and spawned an unprecedented rebellion within a party which had been reluctantly rallying around its boisterous and often unpredictable candidate.

Among those Republicans now calling for Trump's self-dismissal from the GOP ticket: Senator John Thune of South Dakota, Senator Kelly Ayotte of New Hampshire, Senator Mark Kirk of Illinois, and former Secretary of State Condoleezza Rice. Joining in the chorus to oust Trump from the ticket are Alabama Congresswoman Martha Roby, Nevada Representative Joe Heck, and Missouri Representative Ann Wagner. Senator Cory Gardner, Colorado Republican, has openly called for members of the GOP to make the official pivot toward Pence.

"I cannot and will not support someone," Gardner said in a media statement, "that brags about degrading and assaulting women."

All have demanded that the Republican National Committee strongly consider implementing emergency rules and contingencies which would allow the party to oust Trump from the ticket and replace his name with that of Indiana Governor Mike Pence. Such a move would require the reconvening of the Republican Party. About 50 top Congressional or Washington Republicans and about 150 in various state legislative roles across the country have "withdrawn" their endorsements of Trump.

RNC chairman Reince Priebus has called Trump's words "indefensible," but has not made any more extensive commentes. Priebus has cancelled several appearances on Sunday morning political discussion television shows to regroup and consider options for the party. Though experts regard an official dump-Trump action unlikely, several media sources were reporting Saturday night that the RNC was considering severing its fundraising relationships and its campaign collaborations with Trump and his command, essentially cutting itself loose from Trump in an effort to secure winning strategies for elections in the U.S. Senate and the U.S. House.

The video in which Trump makes lewd comments about his attraction to women and their alleged attraction toward him was leaked days ago and has sparked controversy across both the Democratic and Republican parties, and will surely lay a key role in Sunday night's town hall debate at Washington University in St. Louis, Missouri. Though Democratic candidate Hillary Clinton has offered no immediate reaction to the video, but the Clinton campaign has said that she will address the topic at some point during Sunday's debate.

Trump has offered a short video retort in which he offers an apology for the comments, explaining to supporters that he is neither perfect nor politically polished.

"I never said I am a perfect person," Trump said. He also offers that he has matured and changed over the years, and expressed remorse for having engaged in such talk. Trump ended his apology with a counter attack on Clinton, telling viewers that Bill Clinton's past sexual behavior was far worse.

Despite the growing calls for his resignation from the ticket, Trump says he intends to stay in the race "100%." The billionaire told the Washington Post that he would "never withdraw." Trump blames the controversy on the media.

"I will never drop out of the race," Trump tweeted on Saturday, "I will never let my supporters down."

Pence, who has remained steadfast in his support of Trump through many previous controversies, found himself in the awkward position by early Saturday of having to repudiate the words and meaning of Trump's comments in the 2005 video.

"As a husband and a father," Pence said in a statement, "I was offended by the words and actions described by Donald Trump in the eleven year old video released yesterday. I do not condone his remarks and cannot defend them."

Trump made a brief appearance just outside Trump Tower on Saturday, greeting a huge crowd of supporters, protesters and onlookers.

Later on Saturday, former New York Mayor Rudy Giuliani, a key Trump supporter, quashed discussion of Trump abandoning the ticket, telling reporters outside Trump Tower in Manhattan that there is no reason not to expect Trump to remain in the race to the finish.

Trump's wife Melania issued her own statement rejecting the comments of her husband.

"The words of my husband are unacceptable and offensive to me," Melania Trump said in a statement on Saturday, "This does not represent the man that I know. He has the heart and mind of a leader. I hope people will accept his apology, as I have, and focus on the important issues facing our nation and the world."

But with the GOP in outright rebellion, some analysts say it is unclear that the party can move forward effectively toward Election Day, now only about one month away. Most current polls still show Clinton with a slight lead over Trump, but those same polls have shown a high level of fluidity over the past weeks, with Trump sometimes rapidly closing the gap and with several swing states too close to call.

Meanwhile, the next debate looms just hours away with the distinct possibility that even more viewers will tune in to see what happens and how both candidates will address this latest controversy.

Related Thursday Review articles:

Clinton Versus Trump: Sparks Turn Into Explosions in First Debate; R. Alan Clanton; Thursday Review; September 27, 2016.

Will Presidential Debates Include Third Party Candidate?; R. Alan Clanton; Thursday Review; September 5, 2016.