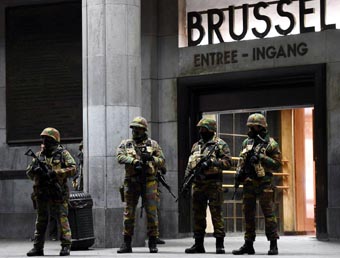 Image courtesy AFP/Getty
Twitter Faces Lawsuit Over ISIS-Inspired Terror
| published January 11, 2017 |
By Thursday Review editors
The families of several Americans killed by members of the Islamic State have filed a federal lawsuit charging that the social media application Twitter served as an accomplice for ISIS by giving the extremist militant group a worldwide platform on which to highlight their exploits and violence.

In the court papers, filed this week in the U.S. District Court for the Southern District of New York, the families and their attorney allege that Twitter played a unique and utilitarian role in both recruitment and execution of terrorist acts in Paris, Nice and Brussels which left hundreds dead and hundreds injured.

The lawsuit also describes Twitter as having played "a uniquely essential role in the development of ISIS's image," which greatly aided and abetted the radical group's ability to recruit new members and plan operations around the world.

Though a similar lawsuit was rejected in California after a pair of ISIS-inspired terrorists attacked a community center in San Bernardino, killing 14 people, a separate lawsuit—essential built along the same argument—is currently pending in Florida, where an ISIS follower attacked the Pulse nightclub in Orlando in what would become the worst act of terrorism since 9/11, and the worst mass shooting in U.S. history. That June 2016 attack left more than 40 people dead.

In all three lawsuits, attorneys for the plaintiffs have argued that social media groups such as Twitter, Facebook, Instagram, Snapchat, and others, have played a unique role in the development of terrorist organizations, especially ISIS, which has built its image largely through internet outreach and digital networking.

ISIS has, by some estimates, recruited some 30% of its fighting force from nations other than Syria and Iraq, where the militant group controls a large area of both countries; many of those foreign recruits were inspired by watching ISIS videos or following ISIS-authored material on social media. So-called homegrown attacks in France, Belgium, the United States, and other countries have been even more directly inspired by the effectiveness of social media to act as a conduit for recruitment and planning of terrorist activity.

The lawsuit in New York stresses that Twitter acted as a knowing accomplice to the acts of terrorism which left Americans dead in Belgium and France, and have charged the California-based company with violating specific provisions of Anti-Terrorism laws in the U.S. and Europe.

Twitter has said in the past it has taken steps to diminish the ability of terrorists to use its services for recruitment and planning, and in both 2015 and 2016 cancelled thousands of individual accounts which it deemed inappropriate or conducive to terrorist activities. In August of 2016, after intense criticism of Twitter for the alleged frequent use of Twitter by the Pulse nightclub shooter, Twitter dumped hundreds of thousands of accounts which its own checkers determined might encourage violence or serve as a conduit for extremist behavior.

Advocates of freedom of speech and expression suggest that such lawsuits are pointless, and, worse, reactionary. They point out that Twitter—like scores of other social media and digital platforms—is merely a tool like any other tool of communication, such as a cell phone or a landline phone. Suing the inventors and providers of such platforms serves no purpose but to inhibit the development of new technologies and quashes free speech for thousands of people simply looking for information, news or social interaction.

Attorneys for the plaintiffs say that ISIS-inspired terrorists used Twitter as a weapon, echoing the thesis of recent articles in The Atlantic and other magazines in which authors and researchers have described social media as the new front lines on the battlefield of digital communication.

Related Thursday Review articles:

NY and NJ Bomb Suspect Charged With Attempted Murder; Keith H. Roberts; Thursday Review; September 19, 2016.

Terror Attack in Nice Kills 84, Wounds Hundreds; R. Alan Clanton; Thursday Review; July 15, 2016.