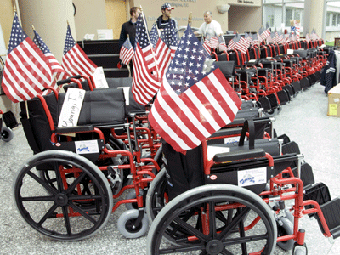 Photo courtesy of Veterans Administration
VA Accountability in Central Alabama
| published September 8, 2014 |
By Earl Perkins
Thursday Review features editor

The Central Alabama Veterans Health Care System director and chief of staff were placed on administrative leave, but that's just the beginning of what the local VA really needs, according to U.S. Rep. Martha Roby.

On Wednesday, she penned a letter to Veterans Affairs Secretary Robert McDonald seeking direct oversight from Washington concerning changes that are being implemented at CAVHCS.

Roby noted VA Southeast Network leaders played a role in malfeasance at local facilities, and were also associated with local and regional administrators' lack of communication with the public. The system, which has been troubled by a "culture of complacency and cronyism," requires more oversight than temporarily removing two top leaders, she wrote in the letter.

CAVHCS director James Talton and chief of staff Dr. Cliff Robinson retain access to VA email accounts and Montgomery and Tuskegee building facilities. The pair were placed on administrative leave Aug. 21, allowing the VA to probe accusations concerning administrative and clinical practices locally.

"In any case, the situation raises a serious red flag regarding the integrity of the department's investigation into this matter," she wrote. "If the individuals placed on leave pending review may access their offices or email accounts, what is to stop them from disposing of records that may be damaging to their case?"

Roby claims access to VA resources allows Talton and Robinson to also continue influencing decision making at the facilities.

The most damning accusation concerns thousands of x-rays that temporarily went missing. The regional chief medical officer used an official report to cover up information that showed the VA had known for years that this was an ongoing problem.

The Montgomery Advertiser in July obtained emails showing that the employee, Stephen Holt, told CAVHCS staff to rewrite official records to show local and regional VA leaders knew nothing concerning the missing x-rays in 2012. And they would have gotten away with the deception, but a doctor noticed the patient images were missing when he looked for them in April.

That's the same time the Advertiser uncovered leaked documents showing more than 2,000 missing patient images dating back five years. Roby's letter claims the regional medical chief tried to "whitewash" the x-ray report, thus covering up the problem. She's also positive Holt did not receive any disciplinary action.

A VA Southeast Network news release on leadership changes indicates Regional Director Charles Sepich will be responsible for the "overhaul" and investigation of CAVHCS facilities.

Roby hopes top VA advisers will oversee changes at CAVHCS, because she's concerned the regional VA may not be up to adequately handling the task. Her letter expresses concern about no communication, coupled with leaders retaining access, which creates a "chilling effect" for reform seekers.

The Advertiser made numerous written and phone requests seeking interviews with Sepich and Robin Jackson, acting director of CAVHCS, but VA leaders have thus far denied all access.

The paper also requested information concerning employees who were charged with crimes or found guilty of ethical violations for job-related incidents. Staff members responded with form paragraphs, which did not answer questions and provided no useful information.


Related Thursday Review articles:

Support the VA, Support Your Local Crack House; Earl Perkins; Thursday Review; August 19, 2014.

Truth & Lies at the VA, Part Two; Earl Perkins; Thursday Review; July 27, 2014.