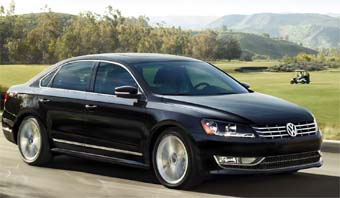 Image courtesy of Volkswagen
Volkswagen's Long Road Ahead
| published September 24, 2015 |
By Thursday Review staff
The so-called "Dieselgate" emissions scandal that rocked automaker Volkswagen this week has left millions of car owners and thousands of dealerships wondering aloud what's next. On Wednesday, Volkswagen CEO Martin Winterkorn resigned in what may become the biggest carmaker scandal since GM's massive recall and legal fight over faulty ignition switches.

But as auto experts and Detroit analysts have pointed out, at least GM's then-new CEO Mary Barra quickly formulated a plan to recall millions of cars in order to get that dangerous problem resolved. The process was slow at times, and not without problems, but GM took the direct path to resolve an issue which cost scores of lives: GM replaced the ignition cylinders—a relatively straightforward fix.

But in the case of Volkswagen, there is no clear path to resolution to an issue which may involve immensely expensive replacements to engine parts.

Federal and state regulators in the U.S. estimate that nearly a half million vehicles in the 50 states could be affected by the problem, with perhaps 11.5 million more cars worldwide. The scandal may also impact Audi owners as well, and may ultimately involve almost all four-cylinder engines deployed in VW's and Audis from mid-2009 to June of this year. VW has requested that dealerships immediately halt sales of any model VW or Audi involved in the scandal, a hollow gesture, some might point out, since sales of VW's have skidded unceremoniously to a halt.

At issue is a high-tech device and related software, designed intentionally and apparently installed deliberately at the factory, which tricks the emission system into producing false readings on emissions tests, and cheats the levels of nitrogen oxides produced by the diesel cars.

Until this month, VW was the largest seller of cars by total sales. The resulting scandal has rocked the 80-year-old company, and has also slammed the brakes on sales of Volkswagen cars across the U.S. and in Europe. Though not admitting involvement in the scandal, Winterkorn resigned this week amid heavy pressure from investors, governments, and regulators worldwide.

Winterkorn had helmed the company for eight years, and had presided over a period of stunning growth and increased profits.

"Volkswagen needs a fresh start, and also in terms of personnel," Winterkorn told board members and top executives on Wednesday, "I am clearing the way this fresh start with my resignation." Business analysts say it is not immediately clear who will be selected to run the company in Winterkorn's wake, but there are media reports that other top executives and top engineers may be fired—or asked to retire—within days. The unfolding scandal could take months or years to sort out, especially the internal processes which led to the cheating in the first place.

VW stock values have crashed, dropping more than 30% of value in just one week. And Volkswagen could face massive financial pain for years as regulators in several countries consider fines and legal action. The U.S. Environmental Protection Agency is considering fines of up to $18 billion, based on the extent and breadth of the fake emissions results and the number of cars affected.

Volkswagen admitted this week that its own initial investigations reveal at least 11 million engines manufactured between 2009 and 2015 that showed substantial deviations between the phony test results and actual highway emission levels. The majority of those engines may have been in cars sold during VW's best series of quarters, from late 2013 through the end of 2014. This means that there are millions of cars presumably still under standard factory warranty which will require an immediate fix.

But the question becomes how. Auto analysts say that the most direct solution—replacing the engine—would be so costly as to likely bankrupt the company. An alternative would be some form of retrofit, but it remains unclear how such a recall would be implemented and made feasible, as well as practical for reaching emission standards.

Winterkorn was widely regarded as an ideal CEO in the often difficult and complex world of automaking. He is also regarded by industry colleagues as impeccably scrupulous and decent, as well as a longtime advocate of ethical behavior and transparency. Most believe he did not know of the issue until it exploded in recent weeks. But pressure from both the German government, scores of European officials, and from investors, meant that he would be required to fall on his sword, if for no other reason than to expedite the house-cleaning which will inevitably follow. German Chancellor Angela Merkel has publicly urged VW to bring full accountability to the growing scandal in an effort to restore confidence in one of Germany's most beloved and profitable companies. Numerous media reports indicate that other top execs may be facing legal problems as the investigations proceed into how the VW culture allowed the deception to proceed.

Volkswagen dealerships in the U.S. have experienced a sharp decline in sales in the last few days. Dealers have also felt pressure from car owners wanting answers to a dozen key questions, including the obvious "will there be a recall?" and "will this require replacing the engine?" Service departments and managers do not yet have those answers, but hope to receive clarification from Volkswagen soon.

VW has lost about $30 billion in market value since the scandal became widely known to markets around the world, and as sales—especially in the United States and Europe grind to a halt. In a statement this week Volkswagen said it has set aside about $7.5-to-$8 billion for fines, lawsuits and other costs related to the fiasco, but many automobile business analysts suggest VW's long-term damage could be four times that amount.

For the U.S., the biggest impact will be felt in California, the state with the largest share of diesel-powered cars. Some 14% of all U.S.-owned VWs are registered in California, where environmentally-sensitive buyers have brought sales to a virtual halt. California's tougher emissions standards also mean increased headaches for dealerships and authorized repair centers in the Golden State.

Related Thursday Review articles:

Why Oil Prices Will Continue to Fall; Thursday Review; July 3, 2015.

Will Low Oil Prices Delay Electric's Rollout?; Keith H. Roberts; Thursday Review; May 6, 2015.