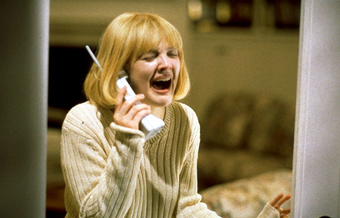 Image courtesy of Dimension Films/Woods Entertainment
Rest in Peace Horror, Wes Craven
| published August 31, 2015 |
By Lori Garrett
Thursday Review contributor
It was Halloween, 1985. I was three years old, and my parents decided it was time for me to see my first horror movie. I sat down on the floor, surrounded by my toughest stuffed animals—just in case I needed protection from whatever and whomever I was about to see.

My dad popped A Nightmare on Elm Street into the VCR, and I was instantly enthralled in the film. So enthralled, that I didn't notice that my dad's friend had come in the back door, dressed as Freddy Krueger. To say I was startled was putting it mildly. He chased me around the living room and out the front door where my screams of delighted terror could be heard by trick-or-treaters for blocks. Did I mention that at the time, we actually lived on Elm Street? Anyway, this began my life-long affair with the macabre, and I've loved every fright-wrought moment.

Wes Craven is a bona fide hero to me. I say 'is' because to me he'll never be gone, even in death. His life may have been taken by cancer on Sunday, but his work will live on for generations of horror fans. He launched Johnny Depp's career by casting him against type in his first major movie role. He relaunched Drew Barrymore's career by casting her as the first death in Scream. His directorial debut, Last House on the Left was a critically acclaimed blood bath box office hit. A Nightmare on Elm Street was literally the movie that put New Line Cinema on the map. He is a legend.

It is with great sadness and a heavy heart that I present to you the Top 5 Wes Craven Movies of All Time. Rest in Peace, or in horror.

5. Red Eye; 2005; starring Rachel McAdams and Cillian Murphy.

This is one of a few non-horror films directed by the great Wes Craven. Cillian Murphy plays an assassin who must get Rachel McAdams' character to move an important client of her hotel to a different room in order to kill him and his entire family. Most of this thriller takes place on a plane, making for cramped and fast paced story telling. I'm not a particular fan of the genre, but the explosives were kept to a minimum, and the chase scenes definitely had a more horror feel to them (likely because it was a person on person, not car on car chase scene like so many thrillers rely on).

4. The Hills Have Eyes; 1997; starring Susan Lanier, Michael Berryman and Dee Wallace.

Yes, the second one was pretty terrible. Yes, the remake was ok. This one, though…this one was the King of Cannibalistic Slasher films. Texas Chainsaw Massacre may as well have been Mary Poppins. Ok, maybe not Mary Poppins, but you get the point. If you've only seen the remake, please enlighten yourself to true cinematic horror.

3. Scream; 1996; Drew Barrymore, Neve Campbell and David Arquette.

This is the movie that launched a thousand spoofs, and got people interested in real horror again. It managed to be an homage to horror while staying true to itself at every turn. The Ghostface mask is still sold mass market every fall, and there is still a generation of people who shiver at the question "So, what's your favorite scary movie?" If you've lived under a rock for the last two decades, go ahead and check it out.

2. Wes Craven's A New Nightmare; 1994; starring Heather Langencamp, Wes Craven and Robert Englund.

I know a lot of people will disagree with me on this, but hear me out. A New Nightmare was far beyond it's time, and it marks only the third (and final) movie that Wes Craven either wrote or directed in the franchise. It goes on the premise that the previous six films were just that; films. They had taken on a life of their own, and began to affect the actors and other staff in real life. Many people skipped this installment, or wrote it off as non canonical; but really? I mean, to hate it more than part 2 is unsubstantiated.

1. A Nightmare on Elm Street 3: The Dream Warriors; 1987; starring Heather Langencamp, Patricia Arquette, and Craig Wasson.

You were betting it was going to be the first one, weren't you? Though I loved the original, this is by far my favorite installment. This one was not directed by Wes Craven, but he was the principle writer. This one boasts two of my favorite deaths in the series, and brings back Nancy from the first film to help the new flock of victims. This is the one in which Freddy gets funny; where his dark one liners take center stage and really set him apart from other supernatural killers such as Jason Voorhees and Michael Myers. Sometimes, you need to offset your horror with a few laughs, if only to get the audience comfortable enough for the next scare; and that's something Wes Craven knew better than most.

Some of his films were hits and some were misses. Some fell in the middle and are more or less forgettable; but there's one thing for certain: horror would not be what it is today if not for this man and his genius vision. He pushed envelopes and drew new lines in the sand. You can't really hope for anything more in this type of career. Hopefully he will rest well knowing that he has shared his nightmares with us all, and we have loved him for it.

Related Thursday Review articles:

Top 5 Most Rewatchable Movies ; Lori Garrett; Thursday Review; May 19, 2015.

Six Movies That Made me Wet My Pants Laughing; Keith H. Roberts; Thursday Review; August 13, 2015.