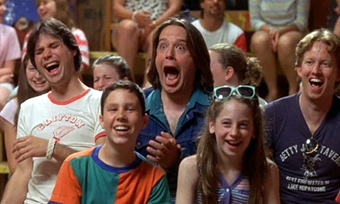 Image courtesy of Netflix
Wet Hot American Summer: First Day of Camp
| published August 26, 2015 |
By Lori Garrett Thursday Review contributor
Oh, camp. Every summer hundreds of thousands of parents send their precious kids to a cluster of remote cabins in the middle of the woods; put into the care of teens not much older than themselves. There, they are expected to learn new skills like swimming, crafting and archery. Maybe they'll make some friends. But most of all, they are expected to stay the entire eight weeks so the parents can have some much needed alone time. Don't lie: you parents know that's why you send them there to swat mosquitos and weave baskets.

But, I digress.

Wet Hot American Summer: First Day of Camp is an eight-episode revisit to the delightful crew of Camp Firewood. If you haven't seen the original WHAS on Netflix, not to worry! Since this is a prequel, it actually might inform some of the mysterious things from the original, so you can watch it in either order. But there are a few things you should probably know if you're all new to the WHAS scene.

First, for the folks out there not familiar with the movie or series (and maybe not this type of humor) at all, I feel I must inform you that no matter the actor's age, pretty much every character is 17 or younger. And yes, they are supposed to be engaged in a form of super over-acting. This is a spoof of, and homage, to both camp movies and actual teenagers. If you want to squint, you can take away some nice morsels of wisdom, but don't bother. You might miss something hilarious.

Second, be kind to the original. There are obvious flaws in the filmmaking—for instance the production schedule was only 28 days long, and it rained nearly every single day. There will be scenes were rain can be seen through the window and then they'll walk out into the sunshine. This is one thing the critics harped on when it came out back in 2000, and it was universally panned for these glitches. Of course, most of its target audience didn't even notice, or didn't care as the whole thing is full of absurdities. It quickly became a cult darling; which just goes to show that most critics have lost the ability to truly enjoy a film for what it is.

Third, this is rated R. There is a lot of foul language and sexual situations and drug use. They are absolutely taking these subjects lightly, and if that type of thing deeply offends you, you may want to avoid them. It is not a camp movie for kids. Of course, most camp movies—even dating back to the 1980s—are not for kids.

They were able to reunite nearly everyone in the cast for the Netflix original series. In the vein of its Arrested Development continuation, some of the actors only appear in one or two episodes, or they use little tricks to include an important character without actually showing their face. This is kind of amazing considering there are quite a few actors from WHAS that are more than a little famous these days. Alongside original favorites such as Amy Poehler, Paul Rudd, Elizabeth Banks, and Bradley Cooper, you can spot actors such as Chris Pine, Kristen Wiig, Jason Schwartzman, and John Slatterly among our wacky cast. It's a who's who of comedy greats.

It's 1981, and it is the first day of camp. The series starts before the campers have arrived, and they quickly reintroduce some old favorites and a few new friends. Bonus; you actually get to see H. John Benjamin's character in this instead of just hearing his voice. And they quickly give you a reminder that all the counselors are teenagers. Paul Rudd's over the top rebel-if-he-had-the-energy makes a typically 'bad boy' entrance, and we're on our way to fun!

Probably the best thing of all is that it has the same creative force behind it, so it stays true to the style of the original. It was shot in a frenetic quick-change scene sort of way that gives it a vibrant energy that is better able to hold the attention of the ADD generation. They leave no one's story untold, so every character gets to head out on the journey that culminates in the last day of camp; the day that ultimately started it all.

I really don't want to spoil it. If you're one of my regular readers, you may notice that I try not to ruin anything for you. If you are already a fan of the movie, you absolutely won't be disappointed in the show. If you're new to the series, I hope you enjoy it as much as I did. It was delightful from beginning to end, and probably one of the most fulfilling binge watching experiences I've ever had. Six total hours well spent, including rewatching the movie. If you're really really REALLY into it, Netflix also has a behind the scenes piece from the original movie, called Hurricane of Fun. I, of course, watched it, but unless you are a crazy movie fan like me, it's not necessary.

Related Thursday Review articles:

Orange is the New Black; TV review by Lori Garrett; Thursday Review; June 11, 2015.

The Breakfast Club's Missing Script; Thursday Review staff; Thursday Review; April 22, 2015.