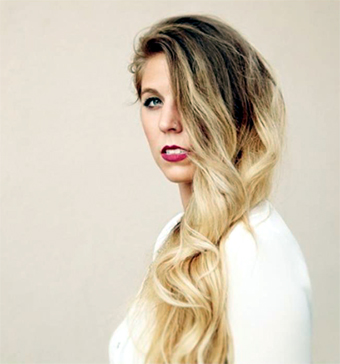 White Noise:
A Sultry, Soulful New Single
| published February 18, 2016 |
By R. Alan Clanton, Thursday Review editor
She performs under the name Swells, which is constructed from her name (Sophia Wells), and her new single, "White Noise," expresses neatly the complex layers of influences which shape the rich, swelling, arcing soul sounds with which she identifies.

Though her current home is in Oklahoma City, Swells brings with her a combination of Midwestern musical roots (she is originally from Missouri), which means the jazz sounds we so easily associate with places like Chicago, Minneapolis, and Kansas City. But in her music a listener can also find the DNA of many sounds and styles, most especially the classic and early R&B sounds of Otis Redding, Marvin Gaye, Luther Vandross, but especially the rich sounds of Etta James and Aretha Franklin, even a touch of the West Coast voiceprint of Linda Ronstadt.

"White Noise" is a soulful love song rich in the fusion of those heartfelt songs by James and Franklin, but also steeped in the innovations of recent decades of pop, rock and soul—which gives Swells' flowing, liquid voice both a timeless quality and a diction free of region or easy classification. In that sense, Swells' new single is a combination of soulful sounds ranging from Dusty Springfield to Celine Dion to Christina Aguilera. Add to the melting tone of all those soul influences the impact of the vibrant music scene in Oklahoma City, and one hears a wonderful and successful mix of classic R&B.

In short, "White Noise" is an evocative love song which proves that soulful, sultry, and sexy sounds can spring out of the heart and soul of the American heartland.

More about Swells: Sophia, who studied music in England as an alumnus of the Academy of Contemporary Music and she also studied at the Academy of Contemporary Music in OKC, has performed with numerous other acts, including Young the Giant, Jonathan Tyler and the Northern Lights, and "hippie soul" singer-songwriter Allen Stone. "White Noise" will be released on February 19 of this year.

Related Thursday Review articles:

MAYVE's "Animals: Indie-Pop-Dance at its Best; review by R. Alan Clanton; Thursday Review; February 8, 2016.

Broken Bells; After the Disco; review by Maggie Nichols; Thursday Review; March 18, 2014.