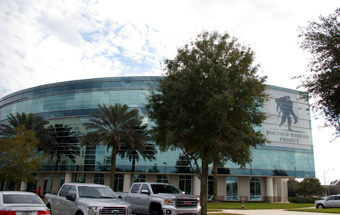 Photo by Thursday Review
Top Wounded Warrior Project
Execs Fired by Board
| published March 12, 2016 |
By Earl Perkins & Alan Clanton,
Thursday Review writers
After several months of journalistic investigations and at least two audits, the board of directors of the Wounded Warrior Project, a Jacksonville-based charitable organization has fired the group's CEO and COO.

Steven Nardizzi, CEO of Wounded Warrior Project, and Al Giordano, the organization's chief operating officer, were summoned to a meeting in New York City on Thursday, at which time they were asked to resign. The board will, in the meantime, take control of the controversial charity until replacements can be found for its two leading officers.

Wounded Warrior Project is a massive non-profit which began with the modest goal of providing small non-perishable gifts and perishable items—ranging from socks, underwear, t-shirts and shoes, to snacks, food, toothpaste, shaving cream and deodorant—to veterans who have returned home from the long wars in Afghanistan and Iraq, especially those who were wounded in action or those suffering with post-traumatic stress disorders.

Indeed, what started as a campaign to give gift bags and backpacks to veterans quickly grew into a major charitable organization—one of the largest in the country devoted to the needs of veterans. But Wounded Warrior Project, the 38th largest non-profit in the U.S., amassed more than $300 million in donations during 2014, and according to CBS News, News4Jax and other media outlets, the organization spent a goodly portion of that cash on lavish parties, jet-set travel, high-end training, marketing, and hefty bonuses for its leaders and top fundraisers.

By some estimates, including one recently conducted by its own internal audit, WWP spent in the range of 80% of its money in ways that never benefitted veterans. In addition, some of that money was spent—and is still being spent—on lawsuits against former employees who spoke out against the way the charity was operating. The lawsuits against the former employees—some of whom resigned, some of whom were fired—are primarily for violations of WWP proprietary agreements, and severance agreements and disclosures of severance packages.

The organization filed lawsuits in Duval County against two veterans, who chose not to speak with media outlets. Severance packages famously contain non-disclosure clauses which force employees to refrain from speaking ill of the employer.

Courthouse documents show a female disabled veteran violated her agreement by allowing a copy of her severance package to be forwarded to an Indiana charity, which is also being sued by WWP. The other disabled vet is being sued because a donor rescinded a $2,400 donation to the charity after discovering the vet was fired. The non-profit behemoth demanded more than $52,000 from the man, claiming damages should include his $50,000 severance plus damages and attorney fees.

Both wounded veterans, who suffered from PTSD, were almost certainly terminated in-part because of their health issues. Court records show both lawsuits pending, and company financial records state WWP expended $1.4 million in legal fees in 2014. A Nebraska-based charity was forced to pony up $1.7 million to the corporate bully for merely having the term "wounded warrior" in its name, although its existence predated WWP. Another similarly-named charity, Keystone Wounded Warriors, lost a protracted legal battle concerning its name and logo, almost going bankrupt en route to paying $80,000 in legal fees.

Former Wounded Warrior Project CEO Steven Nardizzi has been the target not only of several parallel journalistic investigations into the organizations practices and spending, but also a Change.org petition which has been circulating on the internet, demanding answers from a man who's possibly a little too boisterous, too high-profile, and apparently immodest and unrepentant to boot. Parading vets with missing body parts in front of cameras to bankroll partying is beyond unseemly, even in today's world where supposed leaders constantly shout down and threaten others.

Ironically, a man who spent the last eight years raising hundreds of thousands of dollars for WWP has been spearheading the petition calling for Nardizzi's ouster. Fred Kane's blood began to boil after seeing some of those first news reports presented by News4Jax in its investigative reports into WWP's questionable spending. Those local reports quickly escalated into the national news. A few years ago Kane and his wife Dianne created Tee off For A Cause, eventually raising more than $325,000, all of which they gave to WWP. The Myrtle Beach-based organization was created in 2008 specifically to aid deserving vets at the same time that his own two sons were deployed overseas. Kane thought the WPP was the right vehicle for channeling his golf tournament fundraising efforts into the larger cause of helping U.S. veterans all over the country.

But Kane was later shocked when he saw reports about how much money was wasted by WWP on lavish travel and training, in-house partying, gifts and internal spending, food and drink, and even musical entertainment. Examinations of WWP's spending habits revealed that money was routinely used for office parties, birthdays, holiday parties, a Mexican mariachi band brought in for special occasions, catered food, and even an elaborate annual publication for employees which resembles a high school yearbook.

Kane's petition had gathered nearly 300 signatures—and had been forwarded to several members of the U.S. Senate, Lindsey Graham (R-S.C.) among them—by the time last week that WWP's board asked for the resignation of Nardizzi and Giordano.

According to CBS News, more than 40 former or current employees of Wounded Warrior say that the culture of spending was deeply embedded within the charitable organization's headquarters. Lavish employee training conferences often involved expensive travel to luxury resorts. Parties were routine inside the posh Jacksonville offices, and high-end forms of training seemed constant in the charity's 24 other offices and branch locations.

Many employees recall occasions when air travel would be arranged only a day or two before a meeting was to be held, meaning WWP was paying a premium to fly an employee to training or to a conference. Parties and dinners outside the office often involved swank hotels, large quantities of alcohol, and there seemed to be no limit to how much money could be spent on entertainment and gifts. One notable and infamous moment came in 2014 at an employee gathering at a posh Colorado resort, when Nardizzi was filmed repelling down the façade of the main hotel building in an effort to create a grand entrance before his employees. According to employees present at the Colorado confab, tens of thousands of dollars were spent on food and alcohol alone. Some former employees have described the atmosphere at some WWP events as being "like a frat party."

Kane said it was all just too much extravagance at the expense of veterans who needed the help, and on the backs of well-meaning contributors who thought their money was going to a good cause.

"The Broadmoor trip, the yearbook spending, [all] that is just totally inappropriate use of donor dollars," Kane said pointing out that many of the donations come from people over the age of 65, and many of those are veterans too.

In recent years, WWP also engaged potential donors through expensive, well-produced television advertisements which feature real-life veterans as well as well-known celebrity spokespersons. Among the celebrity faces who have lent their name and persona to the non-profit are actors Bruce Willis and Matthew Modine, and country music superstars Trace Adkins and Toby Keith.

The board's decision comes after months of negative press have hounded the organization and impacted its donations, and as scores of former employees come forward to complain about how the organization was run with an obsessive overriding concern for raising money. Many current employees have also complained, but many have wished to keep their identities secret out of fear of retaliation within the workplace.

Adding to the concerns of those investigating the non-profit's books: WWP has spent hundreds of thousands of dollars in recent years, hiding behind public relations and lobbying efforts to deflect criticism of its excessive spending, and fighting legislative efforts which might restrict how much non-profit organizations spend on overhead (a recurring theme for some major non-profits over the years, ranging from United Way to Goodwill to Kids Wish Foundation).

According to the charity watchdog group Charity Navigator, Wounded Warrior Project spent about 40% of its 2014 donations on overhead, or about $124 million. In February the organization came under fire for its employee "yearbooks," which allegedly cost more than $20,000 to design and produce. Employees say that the books were a costly extravagance which few staffers thought particularly useful. The books include headshot photos of all employees, pictures of parties and holiday wingdings in the offices, and contains sections which include items of interest under categories like "Fun," "Innovation," and "Loyalty."

In the 2014 edition of the yearbook, the section titled "Fun" included 53 pages, as compared to the chapter on "Service," which fared far worse with only 32 pages, a strangely poetic if unintended revelation of WWP values.

Related Thursday Review articles:

Wounded Warrior Project: Wounded Confidence; Earl Perkins; Thursday Review; February 3, 2016.

USS Zumwalt Begins Sea Trials; R. Alan Clanton; Thursday Review; December 8, 2016.