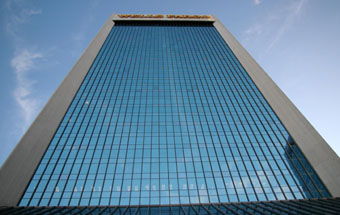 One Man Against his Bank
By Earl H. Perkins | Tuesday, January 7, 2014 |
Thursday Review Associate Editor
Ronald Yaffe needs a kidney to prolong his life. That fact usually wouldn't warrant a full-length story and concern on the part of the general populace. However, Yaffe has much bigger problems than a bad kidney and questions about his future.

He's 73 years old with major health issues, but he's been waging a yearlong battle with Wells Fargo Bank for the return of money he says he's owed.

"I'm mad. This has gotten personal, and I'm not going to let it go," Yaffe told John Romano of the Tampa Bay Times in a July 2013 article. "Who would ever think that if you give your money to a bank, they won't give it back to you when you ask for it?"

More than three decades ago, Yaffe decided to start setting aside money in a rainy-day an emergency fund which he planned, if things went well enough later in life, to spend instead on long sailing trips. So he purchased $11,800 in cashier's checks at Central Fidelity Bank in Richmond, Virginia, later storing them in a safety deposit box in Sarasota, Florida, when he retired.

With bills mounting and facing a possible kidney transplant or dialysis, Yaffe removed the cashier's checks and deposited the funds in a regular bank account, but Wells Fargo soon notified him the money orders were invalid. The bank claimed it was unable to find a paper trail on the funds, therefore they were not obligated to give him the money. Wachovia bought Central Fidelity in 1998, and that institution was acquired by Wells Fargo in 2009. Yaffe eventually received $1800 from the Virginia Department of Treasury, which discovered the checks in unclaimed funds. Treasury agents also said Central Fidelity reclaimed $10,000 in 1987, according to the Herald Tribune of Sarasota, Florida.

Yaffe then sued Wells Fargo, winning a judgment for $10,000 plus the interest that would have accrued from the time he attempted to deposit the checks. The bank filed an appeal, claiming Florida law has a five-year statute of limitations on cashier's checks.

"We are abiding by the law," said Wells Fargo spokeswoman Kathy Harrison. "The judge in this case elected to ignore the case law that supports it. It's an unfortunate situation, and now that it's in litigation there is not much more we can do or say."

The bank doesn't see Yaffe as a human being, just an instrument for them to steal money through a legal loophole. The reason the bank is stretching the appeal process is it knows his health is failing, and even if he wins, the attorneys will receive a sizable percentage of the funds for the protracted legal battle. Banks want you to know you won't be taking advantage of them, and if you win, you will still come out a loser.

It's not like everyone in the world loves Wells Fargo anyway. According to the website www.consumeraffairs.com, there have been 896 recent complaints against Wells Fargo. People would not be whining and crying and wasting vast amounts of time to disparage a lending institution if they had not been horribly wronged. It just doesn't make any sense. We all have better things to do than be tilting at windmills. What these people aren't considering is that banks spend billions of dollars for lawyers and lobbyists to influence decision makers in this country so they don't have to worry about the Ronald Yaffes of the world.

We all need to take this as a lesson and move our money into credit unions and other places, avoiding the big commercial banks if at all possible. The fees never stop, and they just continue inventing new ones when you don't scream loudly enough about the old ones.

You can also go back and research where the money went after certain banks were chosen for some of those humongous taxpayer-supported bailouts during the early months of the mortgage crisis and the Wall Street meltdowns of 2007 and 2008. In some cases, top executives had company lawyers craft handsome golden parachutes, and in some cases management bonuses were paid with that same money.

Several of the biggest banks (and Wells Fargo was among them) used their billions—gifts from an emergency deal made with then U.S. Treasury Secretary Hank Paulson and then-N.Y. Fed chairman Timothy Geithner—to just buy things, mostly other, smaller financial institutions. Very little of that mountain range of money ever found its way into the economy in ways that would benefit taxpayers or homeowners. The too-big-to-fail framework the mega banks begat even larger banks.

Predictably, perhaps, some of those financial institutions offered up extremely large political donations. Like I was told as a youngster, if you want fair, it comes to town once a year and they're selling tickets out at the fairgrounds.