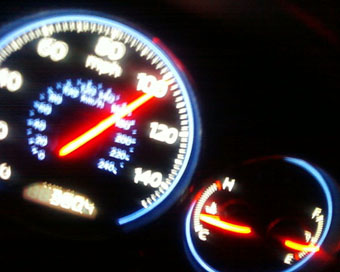 Addicted to High Speed? Try Gaming Instead.
By Keith Herrin, Thursday Review Contributor
Speed is a dangerous passenger. It's an addictive little devil that calls to you in the middle of the night and makes you jump out of bed to come and play. When the thought of speeding down your favorite curving, winding road pops into your head the time of day is irrelevant. While traveling at 100mph, knowing that lives are at risk won't stop a true speed junkie. It won't even slow them down. If anything, the dose of adrenaline one gets from this near death-defying experience pushes a person to drive even faster.

For the last two and a half years I have been the proud owner of a 35th anniversary, 1999 Ford Mustang. The heart of this particular car is home to a gentle 3.8 liter V-6 motor, which is certainly not the quickest of all the Mustangs. It may not be the fastest, but it surely is fast enough to get a speeding ticket and that is good enough for me. Within the first 6 months of owning this car I was pulled over and handed a $160 ticket while speeding to work on a sunny afternoon. It's hard not to speed when the driver's seat makes you feel like Jell-O.

Back in the olden days, street racing was the original and most pure form of speed available. Other less satisfying styles existed, such as roller skating, but the exclusive quality of street racing quickly became a risky activity for anyone searching for a thrill. Aside from being generally dangerous, law enforcement was now issuing strict penalties to anyone disobeying the law including high priced fines and even jail time. In the world we live in today, the advancements in technology give you the opportunity to satisfy even the most addicted of all the speed freaks.

Meanwhile, sophisticated hand-held gaming devices are now available anywhere in the world.

There are many advantages of video games when compared to real life street racing. Playing video games won't get you speeding tickets, broken machinery or death. Aside from the occasional slip of the clutch, street racing is nearly obsolete because of this new gaming craze. Along with amazingly detailed graphics and fully customizable vehicles, these video games are actually taking over. Video games now offer almost every vehicle known to the street racing culture; everywhere from the newest exotic sports cars to the classic power of American muscle. The predominant advantage of video games to street racing would be the cost. Even without calculating repairs sports cars can range anywhere from a few thousand to the million dollar range while video games are not likely to cost you more than a few hundred.

Friends don't let friends speed! It is way too dangerous and scary. Personally I would never speed because it's just too frightening. But if I was riding with a close friend and he began to speed, I would most certainly tell him to slow down and be more careful. Someone could get hurt! Nobody wants that. Hospitals are scary enough just visiting. Always be careful when driving and follow all the rules of the road, including the seat belt laws. Click it or ticket! And follow the golden rule of safe driving: slow down.