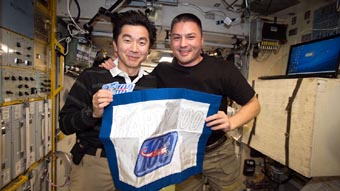 Photo courtesy of NASA
Celebrating 100 Days in Space | published November 12, 2015 |
By Thursday Review staff
Less than two weeks ago, two crew members of the International Space Station celebrated their 100th day in space aboard the space station. In this photo, Japanese astronaut Kimiya Yui and American astronaut Kjell Lindgren pose with a fabric banner celebrating their milestone.

Meanwhile, astronaut Scott Kelly and Russian cosmonaut Mikhael Kornienko are more than halfway through their grueling one year in space. Kelly, who has already broken several records for time spent in space, last week completed multiple space walks with co-worker Lindgren. Their extensive work outside included one major project which was overdue for completion—repairs and upgrades to a part of the ammonia cooling system for the space station. Lindgren and Kelly were able to bring the system back online several days ago.

A new cargo mission is scheduled for launch in early December, at which time a variety of supplies, materials and equipment will be delivered to the space station.

Russian cosmonauts Kornienko, Oleg Kononenko, and Sergey Volkov have been conducting a series of scientific and medical experiments, including one which measures the dexterity and piloting skills of crew members who have been in microgravity conditions for long durations. Much of the work of space station crew members is in preparation for the Orion missions, scheduled to begin within a few years—deep space voyages which will take the first humans to Mars in the late 2020s.

Related Thursday Review articles:

Spacewalk to Repair Cooling System; Thursday Review staff; Thursday Review; November 10, 2015.

Juggling Weightless Citrus in Space; Thursday Review staff; Thursday Review; October 20, 2015.