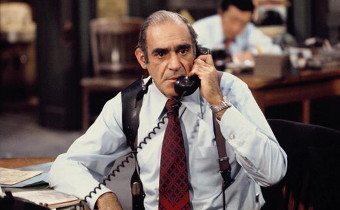 Image courtesy of ABC TV
Abe Vigoda, Godfather Actor, Passes Away at 94
| published January 27, 2016 |
By Thursday Review editors and staff
This time, as in his classic movie role in The Godfather, Tom could not get him "off the hook." Now he has shuffled off to a more peaceful place, which is a nicer way of saying he "sleeps with the fishes."

Actor Abe Vigoda, whose most famous roles included Sergeant Phil Fish in the popular ABC television sitcom Barney Miller, and the looming, sour-faced Salvatore Tessio in Francis Ford Coppola's The Godfather, died this week at the age of 94.

According to his nephew, a family spokesperson, Vigoda had been seriously ill for months and under hospice care. After discussion with his family and hospice nurses last week, he chose to stop taking medications, and died quietly in his sleep in the wee hours of Tuesday morning in his bedroom at his daughter's house in Woodland Park, N.J.

Vigoda's death was genuine this time, unlike a variety of previous hoax's regarding the passing of the legendary character actor. The first reports of his death came after a People magazine article in 1982 referred to him mistakenly as "the late Abe Vigoda." An editor and fact-checker had missed that one, but it became a running gag for decades. Some of the most famous "Vigoda is dead" gags took place in the 1990s, including a David Letterman sketch in which Letterman, using paranormal methods, attempted to communicate with the ghost of Vigoda. During the skit Vigoda walked onto the set and declared "I'm not dead, you pinhead!"

Vigoda was born to be a character actor. He stood slightly over six feet one inch in height, and possessed a face that was alternately described as dour, glooming, leering, drawn, haggard, and even doomsdayish. He had deep, sunken eyes which drooped across his long face, and a granite like chin and jowl which sometimes made him appear to be chiseled from stone. This worked well for his comic roles, in which he often played the part deadpan, and also for the serious roles, such as that of Sal Tessio in The Godfather.

His impervious and stonelike stares combined with his dry and sometimes caustic retorts on Barney Miller to create some of the most memorable laughs of the series. But it was his dour and grim-faced role in The Godfather which film buffs most remember. Vigoda answered an ad for walk-on auditions for the role, and was immediately snagged as the sort of guy Coppola needed for the part. Born in Brooklyn in 1921 to Russian-Jewish and Italian immigrant ancestors, he could not have been more naturally suited to the role, from his mannerisms to his speech to his appearance. The role of Tessio, one of two feared capos to the powerful mafia don—both father (Marlon Brando) and later his son (Al Pacino) became his most famous for the big screen.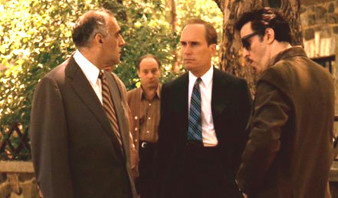 Abe Vigoda (left) with Robert Duval (center) in The Godfather (1972);
image courtesy Paramount Pictures
Vigoda briefly reprised the role two years later in The Godfather Part Two in a short flashback sequence near the end of the film. At the end of Part One, his character—after having participated in a plot involving disloyalty to the regime—has been escorted off by Michael Corleone's loyal henchmen, one of the concluding scenes of the film's famous sequence of recriminations and revenge murders in which Michael wraps up "all family business" and in effect consolidates his power over much East Coast Mafioso in a plot resolution Shakespearean in its violence. But Tessio's death is never witnessed by filmgoers. He complies almost peacefully to the edict that he be taken away, asking only of his fellow gangster Tom Hagen, family attorney and counselor (played by Robert Duval), that "for old time's sake" he be given a pass. The scene is brief, indeed only a few seconds, but its power is that it reveals the rueful pain each man feels as this longtime and once loyal confidante of Vito is quietly and soldierly escorted to his end.

The success of he Godfather, widely considered by film critics to be one of the best movies of the 20th century, proved a powerful injection to Vigoda's stock as an actor. The film raked-in more Oscar nominations and other awards than any American film to that date, including Best Picture, Best Actor, Best Director, and Best Screenplay (it won for Best Picture and Best Screenplay), along with a slew of Golden Globes and BAFTA awards.

This dramatic role was powerful and searing, but it often seemed strangely at odds with a character actor whose best gift was impeccable comedic timing. Thus his success in the long-running sitcom Barney Miller (1974-1980), in which he plays Detective Fish, an oddly appropriate name if there ever was one, given his famous retort to James Caan in The Godfather ("It's a Sicilian message…it means that Luca Brasi sleeps with the fishes.")

Vigoda appeared in hundreds of guest spots in television over a 40 year period, including as a guest star on shows ranging in style from Mannix to Dark Shadows, and from Hawaii Five-O to The Rockford Files. He also appeared as his beloved character Fish in a short-lived spinoff from the original Barney Miller. In the late 1980s he also became a semi-regular in the TV drama Santa Barbara, a popular knock-off of other "family dynasty" shows like Falcon Crest, Dallas and Knott's Landing.

He played opposite Tom Hanks and Meg Ryan in the black comedy Joe Versus the Volcano.

Abe Vigoda will be greatly missed.

Related Thursday Review articles:

Francis Ford Coppola's Best Year: 1974 (The Godfather Part Two Anniversary); R. Alan Clanton; Thursday Review; December 22, 2014.

Alan Rickman Dies at Age 69; R. Alan Clanton; Thursday Review; January 14, 2016.