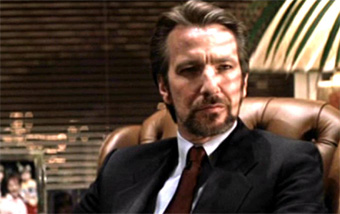 Images courtesy of 20th Century Fox/Gordon Productions/Silver Pictures
Alan Rickman Dies at Age 69
| published January 14, 2016 |
By R. Alan Clanton, Thursday Review editor
A great screen villain is dead. Among his various memorable roles, he played one of the most ruthless and imposing heavies ever seen on the screen—as terrorist leader turned thief Hans Gruber in the classic action-adventure movie Die Hard.

Thy icy, well-dressed and imposing Gruber turned out to not only provide the ideal foil to the rough-around-the-edges John McClain (Bruce Willis), a New York detective on vacation in Los Angeles at Christmas, but the villainous role also propelled the British actor to instant fame and recognition, and landed the stage and Shakespearean actor many more mainstream Hollywood roles.

The chilling and calculating Gruber was played by, of course, Alan Rickman, a man who didn't even study acting in college, but had studied art and graphic design instead. Only later did the young Rickman decide to shift his efforts in life toward the stage and performing arts, attending the Royal Academy of Dramatic Arts and—upon graduation—landing a series of jobs with theater companies in Britain.

Alan Rickman—actor, artist, director, writer, and classic villain—died this week at age 69 from complications due to cancer. A media release by his publicist said he died peacefully, surrounded by family and friends. Rickman was born Alan Sidney Patrick Rickman in 1946, in the Hammersmith neighborhood of London. After studying drama, his first roles were on British television, though those who have tracked his career often point to his award-winning performance in the stage presentation of Les Liaisons Dangereuses in 1985.

After a few years of more TV and stage roles, his biggest break came when director John McTiernan cast him as the master villain Hans Gruber, a former radical leftist terrorist whose cadre of loyal operatives has turned instead to outright thievery in 1988's Die Hard. Gruber and his gang of heavily-armed and mostly European henchmen seize control of a newly-constructed skyscraper in downtown Los Angeles on Christmas Eve, holding hostage several dozen partiers who were celebrating at a holiday event on one of the upper floors. With the help of a local hacker, Gruber's plan is to steal roughly $600 million in cash from the high tech vault of the building's flagship company, the fictional Nakatomi Corporation—a multi-billion-a-year Japanese conglomerate.

Among the hostages is McClain's (Willis') wife Holly. McLain, as it turns out, effectively disrupts and foils the heist, using a combination of New York street smarts and gritty determination in what is generally regarded as the classic rule-breaking-cop-versus-gang-of-criminal action movies.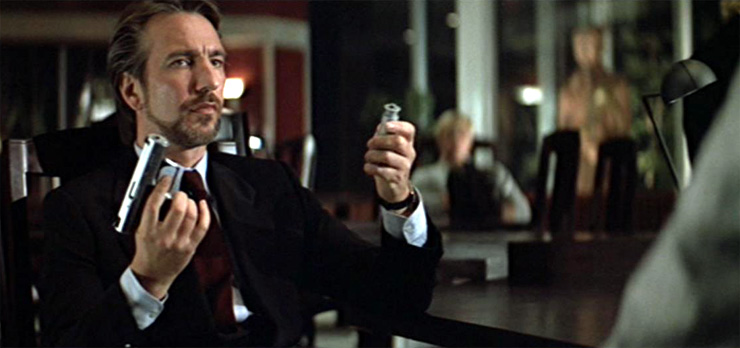 Rickman plays the part of the intelligent heavy so well that most film buffs suggest he instantly sealed his casting career as one of the perennial villains-to-be-reckoned-with forever. As Gruber, Rickman is well-dressed in exquisite London suits, knows his way around the broad strokes of industrial development, speaks multiple languages, and commands the allegiance of a formidable band of Euro-militants armed with Uzis, MAC10s, armor-piercing anti-vehicle rockets, and several duffle bags filled with military grade heavy explosives. Gruber wants the heist to look like a terror plot gone wrong, but in fact merely wants the cash and the other swag ensconced inside a sophisticated safe. His scheme was sound and well-planned, but our slick villain had not counted on McClain being locked inside the same skyscraper as his team of sophisticated militants and thieves.

Some film critics argued at the time that Rickman very nearly stole the scenes from Bruce Willis, an American TV star then well into his meteoric rise to the top of the Hollywood A-List. Indeed, some of Rickman's lines are among the most famous of the movie. Rickman, who at the time considered himself a serious actor, very nearly turned down the role, but at the last moment accepted. The decision changed the trajectory of his acting career, and he was soon landing the parts of more villains, including his next screen villain—the Sheriff of Nottingham in the movie Robin Hood: Prince of Thieves.

Rickman would later take on the role of Severus Snape, the potions master, in the Harry Potter series of films (for a total of seven reprisals) , as well as the role of the evil Judge Turpin in Sweeney Todd, which also starred Johnny Depp and Helena Bonham Carter. He portrayed real-life characters as well, including Dr. Alfred Blalock in Something the Lord Made, Ronald Reagan in The Butler, Steven Spurrier in Bottle Shock, and Eamon de Valera in Michael Collins.

He is also remembered as the voice of Absolem (the caterpillar) in the Tim Burton screen adaptation of Alice in Wonderland.

Die Hard, by the way, celebrates its 28th anniversary this past year (yes, time flies), and is typically ranked among the top ten action adventure yarns ever filmed—and a movie many regard as the prototype film of its kind, spawning hundreds of imitators and knock-offs.

In a poll conducted by the American Film Institute (AFI), Rickman was voted the 46th best screen villain in film history (well behind Anthony Hopkins as Dr. Hannibal Lecter, Anthony Perkins as Norman Bates, David Prowse as Darth Vader (voiced by James Earl Jones), and Robert Mitchum as Max Cady...but...only a few notches on the list behind Robert Englund as Freddy Krueger and Jack Nicholson as The Joker. Not bad company, unless you like bad company.

Related Thursday Review articles:

M*A*S*H Star Wayne Rogers Dies at 82; R. Alan Clanton; Thursday Review; January 1, 2016.

Leonard Nimoy, Rest in Peace; R. Alan Clanton; Thursday Review; February 28, 2015.