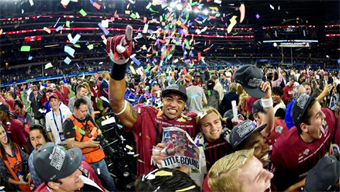 Image courtesy of CBS Sport
Crimson Tide Unleashes Tsunami Against Michigan State
| published January 1, 2016 |
By Thursday Review staff writers
In a rare case of waters flowing west, the Crimson Tide will roll toward Arizona for a chance to become college football national champs on January 11, 2016.

On New Year's Eve, Number 2 ranked Alabama rolled over Number 3 ranked Michigan State University in a lopsided game ending in a score of 38-0. This, despite plenty of advance promises by the Spartans that they intended to take the game directly to the Tide upon their arrival to the Cotton Bowl in Texas.

Michigan State's plan had been to effectively deploy its stifling defense—the principal weapon which brought the Spartans into the playoffs—to subdue and halt Alabama's explosive offense. The Spartans had also planned to double and triple-team Derrick Henry, whose blazing speed has already earned him a Heisman Trophy. Michigan State also promised—and fought valiantly—to puncture the Tide's imposing defense, but to no avail.

Instead, Nick Saban's Alabama players handed Michigan State its second loss this year, and delivered the first scoreless game to the Spartans since 2000. The game's outcome secured a chance for Alabama to again compete for the national title. The Crimson Tide will face Clemson in January in what many expect to be an epic offensive battle.

Clemson, which beat Florida State this week, will surely face a tough challenge when it comes to stopping Alabama and its momentum. Among Clemson's biggest strategic challenges: how to stop the multi-pronged Tide offense—a touchdown machine known to roll up the points with Derrick Henry usually at the apex of the offense.

The 21-year-old Henry, in case you've been asleep for the last few years, has already captured several all-time records and shattered a few others, including Herschel Walker's 1980 record of Single Season Rushing Yards in college. In high school in Yulee, Florida, he claimed 153 career touchdowns, amassed a statewide all-time record of 4,261 yards rushing in a single season, and as senior carved a notch in the history books as the high school player with the most single season rushing yards…ever.

But Alabama's win over Michigan State also proved to many experts and armchair coaches alike that Alabama can win without using Henry as its primary weapon. In fact, Henry was hardly pivotal to the outcome. Saban put into action nearly every offensive play in the book, and much of the scoring was achieved without Henry's footwork—including two touchdown passes from quarterback Jake Coker to Calvin Ridley and a 57-yard kickoff return by Cyrus Jones. Henry carried the ball for the first points placed on the board, as well as the last touchdown—an 11-yard run to make the score 37-0.

After Adam Griffith's extra point was secured, Alabama walked away with a 38-0 win.

For Alabama fans—those at the AT&T Stadium in Arlintgon, Texas and those at home in places like Montgomery, Huntsville and Dothan—it was a very Happy New Year.

Related Thursday Review articles:

Panthers Fail to Topple Dolphins' Landmark Record; Keith H. Roberts; Thursday Review; December 28, 2015.

Grayson Allen, Championship X-Factor; Earl Perkins; Thursday Review; April 20, 2015.