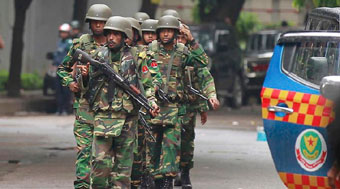 Image courtesy of Indian Express
ISIS Terrorists Kill 20 in Bangladesh,
150 in Baghdad
| published June 3, 2016 |
By Keith H. Roberts, Thursday Review contributor
The global repercussions of this week's terror attacks in Bangladesh, following so closely on the heels of similar attacks in Istanbul and Orlando (at least 150 people were killed overnight in multiple bombings in Baghdad), has law enforcement worldwide on edge as it becomes in increasingly clear that ISIS is using social media and the internet effectively to spark violence against anyone unwilling to acquiesce in the establishment of an Islamic caliphate built around a radical view of Islam.

At least 20 people are dead in Bangladesh after ISIS-linked militants stormed a popular upscale restaurant and pub in Dhaka, killing some civilians immediately but taking scores more as hostages.

A lengthy standoff with military and police ended when heavily-armed security forces numbering about 100 stormed the Holey Artisan Cafe, triggering reprisals from the militants, who killed at least a dozen as police tried to take control of the situation. In addition to the civilian deaths, another two police officers were killed along with all six terrorists.

The restaurant is in an area of the capital considered secure and well-maintained, and popular with foreigners and tourists, including Americans who work for the State Department, other U.S. agencies, or American contractors. Among the dead: Europeans and Asians, including nine Italians, seven Japanese, two Indians, and at least one person with dual American and Bangladeshi citizenship. The U.S. State Department said that most U.S. personnel were accounted for, and State Department spokesman John Kirby says that there is no evidence any U.S. government employees were killed in the bloody siege, one of the worst in Bangladesh's history.

ISIS immediately took credit for the attack, though neither international law enforcement agencies nor intelligence sources have been able to confirm that the Islamic State controlled or planned the attack. The assault fits the profile of other recent attacks, including the terrorist shootings and bombings at the Ataturk Airport in Istanbul one week earlier. Islamic State websites even went as far as to post photos of five of the six terrorists within minutes of the start of the attack.

The government of Bangladesh has for more than a year denied talk that ISIS has developed a terror stronghold within its borders, despite intelligence reports in the U.S. and Britain which showed that radical Islamic groups inside Bangladesh had begun pledging allegiance to Bakir al-Baghdadi, the political and military leader of the Islamic State in Syria and Iraq. The Dhaka restaurant attacks by heavily-armed militants already identified by ISIS as its own soldiers now forces officials Bangladesh to concede that Islamic terror has in fact taken root in the country.

At least five of the six terrorists were known to Bangladeshi authorities, and all had been previously targeted by law enforcement for possible arrest for extremism and militancy.

The attackers apparently chose the location of the restaurant for its ease of access and its popularity with various members of the diplomatic corps and European and American business people. The militants entered the café armed with a variety of high-powered guns, explosives, and long knives. Police say that many of the victims were killed by a combination of gunshot wounds and deep slashing. At least half of the hostages may have been killed before Bangladeshi police and military personnel moved in and stormed the building.

The siege and the killings have rocked Bangladesh, a country now facing an increasingly aggressive and virulent form of radical Islamic violence within its borders. But the attack also underscores—even in places as far away as New York, Boston, London and Rome—the apparent ease with which small terror groups and radicalized individuals can unleash extreme violence on unsuspecting civilians. The Dhaka terror attacks also illuminate the maddeningly difficult process of protecting so-called soft targets: even though the Dhaka militants were well-known to police, and even though the targeted restaurant was well within the so-called green zone, a group of heavily-armed militants was still able to launch a horrific attack.

In the United States, federal officials and police departments across the country plan to have an extended footprint in many areas where large crowds will gather and where celebrations have been planned to commemorate July 4. Though the FBI and Homeland Security analysts say that there are no credible threats looming on their radar screens, many officials concede that there is little that can be done to stop small cells or highly motivated individuals—radicalized by ISIS propaganda—from attempting to take advantage of the holiday weekend to launch terror attacks.

Weeks ago in Orlando, Florida, a single gunman—radicalized by ISIS outreach on social media and perhaps harboring a deep bitterness toward gays—entered a popular nightclub in Orlando and opened fire with automatic weapons. Before the siege was over, Omar Mateen had killed at least 49 people in what became the worst mass shooting in U.S. history. Mateen had called police dispatchers in the moments the attack began to tell authorities that he was pledging allegiance to ISIS.

In Baghdad, Iraq, militants unleashed a horrific wave of overnight car bomb attacks which—according to media reports and first responders—have killed at least 150 people, and have left more than 350 injured or maimed. Within minutes of the first car bomb—a powerful set of explosives packed into a refrigerated delivery truck—ISIS took credit for the attack, posting information about the bombings on its various websites and social media sites.

The attacks in both Dhaka and Baghdad came during the final days of Ramadan, though in the Baghdad incidents the attacks were clearly planned and targeted to hit Shiite Muslim areas at the very hour when thousands would be celebrating Ramadan by eating out late—part of a tradition linked to fasting during the day. In Baghdad, the Karrada area markets, restaurants and cafes were busy, packed with people, and with hundreds more walking or browsing the streets nearby, when the bombs went off. The bombs were so powerful that numerous structures and buildings were heavily damaged by the blasts, and police and emergency workers fear dozens more could be trapped under piles of debris.

The ISIS attacks in Baghdad came just a week after coalition forces finally pushed ISIS units from Fallujah, a militant stronghold long believed to have been the source of scores of attacks in and around Baghdad.

Related Thursday Review articles:

Dozens Arrested After Ataturk Arport Attacks; R. Alan Clanton; Thursday Review; July 1, 2016.

Terror Attacks in Turkey Kill at Least 42; Keith H. Roberts; Thursday Review; June 29, 2016.