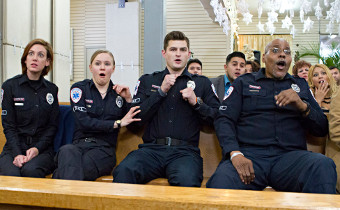 Bill Nunn (right) and cast members of Sirens;
image courtesy of USA Network
Bill Nunn, Actor in Do The
Right Thing and Spiderman,
Dead at 63
| published September 26, 2016 |
By Keith H. Roberts, Thursday Review contributor
Bill Nunn was one of those character actors everyone knew and loved, even if you didn't connect his name to his familiar and likeable face.

Nunn—who appeared in scores of movies, dozens of TV shows, and numerous stage plays—died this weekend at the age of 63. Nunn was probably best known for his role as Radio Raheem in Spike Lee's Do The Right Thing, and as Robbie Robertson in several Spiderman films.

Director-writer-producer Lee described Nunn as a friend and a gifted actor. Lee and Nunn had been close friends since their first meetings in school, when they were students at Atlanta's Moorehouse College.

"Radio Raheem is now resting in power," Lee said in a statement on Sunday.

Nunn's versatility and skill made him a frequent supporting cast member in some 60 movies, including the Lee films School Daze, Do the Right Thing, and Mo' Better Blues. Nunn also appeared in Regarding Henry alongside Harrison Ford, three Spiderman films alongside Tobey Maguire, and in Kiss the Girls alongside Morgan Freeman.

Born in Pittsburgh in 1952, Nunn's father was a newspaper writer and editor who worked for decades as a senior writer and editor for the Pittsburgh Gazette, and later became a top-notch scout and recruiter for the NFL. While still in high school, the younger Nunn worked as a ball boy for the Pittsburgh Steelers in the heyday of that team's immense success. Nunn and another ball boy, Art Rooney, once famously stole a custom-outfitted Lincoln Town Car belonging to Steeler player Mean Joe Greene; seeking only to take it for a brief joyride, they did no damage to the car, and returned it unmolested to where it had been parked. Only years later did the pair admit to Greene what they had done.

One of his first appearances in a film was as a nightclub bouncer in Sharky's Machine (1980), the police-action movie filmed in and around Atlanta and starring Burt Reynolds, Charles Durning and Brian Keith. Nunn appears uncredited.

In his career as an actor, Nunn also appeared in The Runaway Jury (based on the John Grisham novel), Lethal Weapon, Sister Act, New Jack City, and Things to do In Denver When You're Dead.

But it was as Radio Raheem in Do The Right Thing (1989) that Nunn gained his traction as an actor. In a pivotal scene, a violent fight street breaks out between the Italian owners of a pizza joint and the black residents of a mixed-race neighborhood. When the police arrive to break up the altercation, one officer places Raheem in a chokehold, holding him in that stranglehold until he dies of asphyxiation, then placing his body in the back of a squad car. In the film, the incident sparks frustration and rage in the neighborhood, exposing sharp differences in how each culture and race interprets economic empowerment and police enforcement of the law.

Nunn was most recently cast in the made for cable show Sirens.

Related Thursday Review articles:

Kenny Baker, R2D2 Actor Dies; Keith H. Roberts; Thursday Review; August 14, 2016.

Abe Vigoda, Godfather Actor, Passes Away at 91; Thursday Review editors; Thursday Review; January 27, 2016.