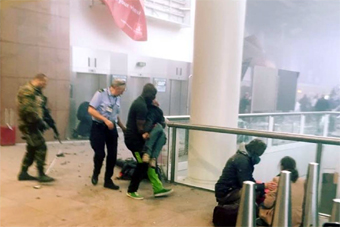 Photo by Ketevan Kardava/Georgian Public Broadcaster
Brussels Terror Attacks Leave
31 Dead, Hundreds Wounded
| published March 22, 2016 |
By Thursday Review staff
Terrorist attacks in Brussels have killed at least 31 people in a wave assaults which began early on Tuesday. The attacks included blasts triggered by suicide bombers at the Brussels airport and explosions on a busy rush-hour train.

Early reports that about 24 died were updated by Brussels officials and by Belgian media throughout the day as bodies are recovered or as those who were earlier reported as injured succumb to their wounds. Among the nearly 200 injured: three Americans, Mormon missionaries from Utah who were travelling with another missionary to the airport. The three are currently in the hospital in Brussels.

ISIS has claimed full responsibility, posting announcements on its media sites, websites and news services.

"Islamic State fighters carried out a series of bombings," the first press reports from al Amaq, a news agency with close ties to ISIS said, "using explosive belts and detonation devices on Tuesday, targeting an airport and a central metro station."

The bombings may have been preceded by gunfire at the metro station, though firsthand accounts vary. The explosions in Brussels prompted security alerts and heightened military presence all across Europe, and spurred officials in a dozen countries to quickly ramp security efforts at airports, train stations, bus terminals and border checkpoints.

The explosions came just days after the violent capture of Salah Abdeslam, now believed by many investigative authorities in Europe to have been one of the masterminds of the Paris attacks in November—a horrific night of terror which left 130 dead and approximately 300 wounded. The Paris attacks also put all of Europe on edge, and set in motion a massive manhunt for others who might have been involved.

Abdeslam was captured on Saturday after police and security tracked him to an apartment in Brussels, sealing off the entire neighborhood and surrounding him at his hideout. He was shot in the leg after he attempted to flee along the sidewalk. In the hours and days since his capture, word has made it to the press that Abdeslam is cooperating with investigators who want to know more about the terror network which made the Paris attacks happen.

Since Saturday, amidst heightened concerns over reprisals and follow-up attacks, and in light of substantial intelligence data which showed a major attack was in the in the making, security across Belgium was increased noticeably. Likewise, security levels were raised in Germany, France and the Netherlands. In London, though there were no specific threats on the boards, officials nevertheless used the growing intelligence concerns to ratchet-up security. British officials had worried openly just days ago that the possibility of a Paris-style attack may be looming on the horizon, and some British intelligence analysts had expressed concern for a multi-pronged attack similar to what unfolded in Brussels on Tuesday.

After the arrest of Abdeslam, those fears reached a new level. Brussels, especially, was on the highest alert—with hundreds of heavily armed troops and police onto the streets, and with additional security checkpoints established all over the city.

Still, it was not enough. Terror experts theorize that the capture of Abdeslam, and word that he was cooperating with authorities, may have greatly accelerated the timetable for an attack in Brussels, where would-be jihadists may have concluded that they should execute an attack quickly before law enforcement could make addtional arrests. The Tuesday attacks took place in crowded areas which lay just outside security screening zones and in areas where luggage and backpacks are not routinely searched, and where those arriving to the airport have not yet passed through security checkpoints or metal detectors.

The attacks brought about the virtual shutdown of the crowded, bustling city: public transportation, including trains and buses, were halted; many busy areas near shops and malls were cleared of citizens; city officials implored people to stay off of overloaded landline and cell phone systems; foreigners in hotels were told to stay off the streets; city officials insisted that people stay at home, and asked that only those with key city or government jobs show up for work. Many businesses closed early so that employees could quickly return home.

At the airport, witnesses say that they heard men shouting briefly in Arabic seconds before the first of several explosions, and in the immediate aftermath at least one undetonated explosive vest—deemed to be extremely powerful—was found on the ground by police, apparently abandoned by it intended user. Also found was a Kalashnikov rifle lying alongside the body of one of the apparent attackers. At least one of the bombs was detonated by someone near a check-in counter, an area far outside the zone where metal detectors and security screeners are working. The other blast may have taken place in a common area with restaurants, coffee and gift shops, and newsstands.

Witnesses at the airport—even those in areas far away from the explosions—say that the first blast was extremely powerful and rocked the buildings, shattering glass and causing pieces of the ceiling to collapse. Cell phone and smart phone video recorded by witnesses and survivors show heavy smoke and scattered debris in the areas near the blasts, along with scores of casualties.

Video also reveals that many of the most badly injured have serious wounds in the legs and feet, indicating to bomb experts that at least one explosion came by way of a large bomb hidden inside a piece of luggage. Such bombs can be detonated by a timer or by the use of a cell phone. Initial police reports suggest that some of the fatalities came from catastrophic wounds to the thighs and legs, suggesting metal shrapnel from the bomb believed to have been in a bag on the floor.

The bombs at the Metro Station near Maelbeek—a congested and busy commuter train hub—killed at least 14 people and injured another 90. Passengers on trains moving nearby tell of a powerful gust of wind, followed by the vibration of the blast, then, the acrid fumes and smoke. Passengers were herded out of trains in the darkness, and then walked to safety through the tunnels. Cell phone photos and smart phone video shows at least one commuter train car completely destroyed, and dozens lying in pools of blood on the platform nearby. Metal and glass debris can be seen everywhere amid the smoke and chaos. The specific location of the rail blast may indicate a desire by the terrorist to strike at the heart of European security: the Maelbeek Station is on a line heavily travelled by people who work at various locations for the European Union offices, government buildings, and offices of NATO, which is headquartered in the city.

In addition to the shutdown of rail lines, subways and buses, Belgian officials have suspended flights into the Brussels airport until late tonight. Brussels city officials are urging that citizens stay home and off the streets until further notice, and have asked that any schools now open close as soon as it is practical for children to return quickly home. By early evening, Brussels officials were allowing some city transportation to return to normal.

Witnesses in hospitals in Brussels describe emergency rooms as looking like war zones, with scores of injured people being moved about on stretchers and gurneys while medical teams treat the most seriously wounded.

In the meantime, the presence of the undetonated explosive belt has triggered a massive manhunt, with military personnel, police and security teams searching houses and apartments all over Brussels—especially those location which had previously been under surveillance or under investigative suspicion. Like the Paris attacks, it may be that accomplices or other active participants are on the loose.

Though ISIS has claimed responsibility, European law enforcement will neither confirm nor deny the claim. Airport security cameras captured images of three men pushing luggage carts at Zaventem Airport. Police believe that two of the men in the footage blew themselves up minutes later, but that a third man may have been the one who abandoned his suicide vest and fled the scene. Belgian police and military have launched a manhunt for the man in the video, who some experts believe may have worn a disguise.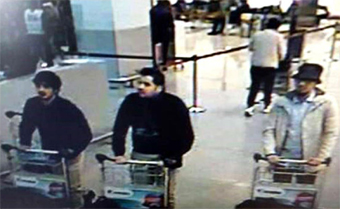 Photo Brussels Police/
Belgian Security/
Zaventem Airport
The footage—already being analyzed by police and bomb experts—seems to indicate that the men were pushing carts laden with heavier-than-normal luggage and bags. In addition, a cab driver reported to police that he gave a ride to three men who brought with them extremely heavy luggage, which they had great difficulty removing from the trunk of the car when they reached the airport. This has led some Belgian officials to speculate that the bombs may have been larger and heavier than what could be comfortably used embedded in a vest or jacket.

The three American injured are recovering in the hospital, according to new sources, and have been able to contact their families in the U.S. They were accompanying another missionary, Fanny Rachel Clain, 20, a French national, to her flight, which was bound for the U.S. that morning. According to airport and airline officials, Clain had already passed through security and boarded her plane when the blasts occurred.

There were also reports that at least one—possibly three—U.S. military members may have sustained minor injuries in the blasts at the airport. The Pentagon has not confirmed the service member's names, but only that one or more had been injured. Others reports indicate that at least one of those military members was travelling with his American family.

Worrisome to U.S. officials: the Brussels attack come just days after a flight attendant for Jet Blue was caught attempting to smuggle a large quantity of cocaine onto her flight by attempting to bypass a random security screening checkpoint. Homeland Security officials and terror experts were in agreement that if flight attendants and other airline personnel are able to smuggle drugs by easily bypassing security, it may only be a matter of time before a weapon or bomb is smuggled into a commercial airliner by an employee of an airline or the airport.

Related Thursday Review articles:

Terror Concerns Still Haunt Europe; R. Alan Clanton; Thursday Review; November 23, 2015.

Paris Death Toll Rises to 130; Thursday Review staff; Thursday Review; November 20, 2015.