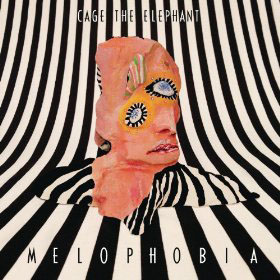 Cage the Elephant; Melophobia
By Maggie Nichols | published Monday, January 27, 2014 |
Thursday Review Contributor
Driven by the success of the single "Come a Little Closer" and the alternative rock radio traction of "It's Just Forever," Cage the Elephant has struck audio gold with their October release of Melophobia (RCA Records).

I would describe this new album by Cage the Elephant as insistent and driving, and in the same school of rock as The Strokes, which is to say that they love their quirky fusion of cool 80s and early 90s sounds. I would also describe them as versatile, which is to say that they are not afraid of a little tonal and rhythmic experimentation. Though their voiceprint is consistent and familiar on each cut, no two songs seem the same, nor do the tunes feel as if they were produced out of the same cookie-cutter recording studio (and try saying that about some of the rock groups out there these days).

Cage the Elephant is also gifted at blunting slickness and overproduction—aside from the raw sound and the occasional fuzzy distortions, which give it a warm, vinyl feel, these tunes are loose and almost improvisational. Some bands are meant for the studio, like Airborne Toxic Event (and I don't mean that in a negative way!), and some bands have a raw texture that feels like live performance.

Highlights of this album include: the opening cut "Spiderhead"; the completely infectious "Teeth," a song meant to be played loudly if ever there was one; and the post-punk-post-aught "Black Widow," which showcases a pleasing mix of grungy guitar and vocal distortion.

For more information, go to: Cage the Elephant's website.

Their website includes instructions for adding your own digital art to their video, shot entirely in front of a green screen, and customizable by fans.