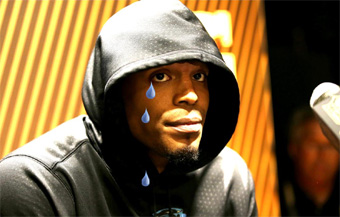 Image courtesy of CBS Sports
The Cam Newton Drama & Follies
| published February 13, 2016 |
By Earl Perkins, Thursday Review features editor
I have heard just about all I can stand to hear—or watch, or read—about Cam Newton, along with his apologists and detractors concerning his attitude at the Super Bowl after the Carolina Panthers' loss to the Denver Broncos.

He stole a laptop while a student at the University of Florida, and he was also caught cheating three times on exams, according to website NewsOne. Multiple arrests, strippers, the usual; but colleges, universities and the National Football League generate millions of dollars on the backs of athletes—some of whom are spoiled rotten by the time they reach national stardom—so teams, leagues and conferences don't get too deeply concerned until fallout blows back on their cherished bottom line.

Pastor Cecil Newton, Cam's father, along with the owner of a scouting service, attempted to create a bidding war between several southern colleges, offering his son's services for payment in the low six figures, according to the NCAA, Yahoo, ESPN and numerous other media outlets. Cam would attend their institution of "higher learning" and play football. Call it extortion, pay-for-play or a gentleman's agreement, but the father was quick to say his son was going to Auburn University because its boosters paid more.

If that's all the Muckrakers could dig up on him, then they need to just let it go. And lest you think I'm being hard on Newton because he's black, I couldn't care less about his skin pigment. It's a fact that amateur athletes have been manipulated and paid under the table for several generations, predating when Jim Thorpe had his Olympic Gold Medals taken back. Those payments transcend matters of skin color, religion, political belief, region, economic background. The acquisition of that skill has made several of the NCAA's biggest conferences into multi-billion dollar operations, bigger than some of the banks and Wall Street firms that presidential candidates rail about.

In today's world, if you have great athletic talent, you are worshiped like a god and allowed to do almost anything. Conviction for murder or manslaughter might draw a severe punishment, but other than that... It's a fact that several star athletes have ducked punishment for either committing those acts or being complicit with others who actually did the deed.

Those in charge are finally being forced to take rape seriously, as the University of Tennessee brouhaha hits the front pages. Players are coddled and worshiped from childhood because of their athletic ability, and then everybody concerned is shocked when society is forced to not overlook their egregious acts. These people didn't become this way overnight, which means the Volunteers need to clean house, starting with administrators, players and staff.

It's not bad enough that six unnamed female UT students filed a Title IX lawsuit, with five of them alleging they were sexually assaulted while attending the school, according to the Knoxville News Sentinel. The latest accusation claims a former UT player was "jumped" by teammates who "had a hit on him," because he drove an alleged victim to the hospital following the act and supported her decision to report the incident.

Linebacker A.J. Johnson and defensive back Michael Williams plead not guilty to aggravated rape charges stemming from a November 2014 encounter in a Knoxville apartment. The pair claim the sex was consensual, but they still face criminal trial in Nashville federal court.

The suit claims former wide receiver Drae Bowles faced retaliation and was forced to transfer, eventually surfacing at UT-Chattanooga. It also says the day after the incident, another plaintiff saw several players attacking Bowles in the cafeteria where coaches were present. A second attack evidently followed days later at the team facility. A quote attributed to one of the players was also appalling enough to shock almost any jury.

The plaintiffs are accusing school administrators of "deliberately indifferent" actions and creating a "hostile sexual environment."

I am not connecting alleged incidents at Tennessee with Newton and his actions, but it's important to study the cultures in which these "students" are allowed to operate. Young women are hired to be "extra nice" to recruits when they visit campus before committing, so you can only imagine the shenanigans that occur after they actually enroll.

I was a fan back when Cam became a human highlight reel before his college days. As a junior quarterback at Atlanta West Lake High School the future NFL MVP threw for 2,500 yards and 23 touchdowns, along with running for nine TDs. And I am still a fan. He's boisterous. Dynamic. Charismatic. Great Smile. A great leader. Active in the community. Loves kids. He's the total package.

But then he constantly calls attention to himself, often bringing up the subject of race. And he gets all defensive and accusatory if reporters ask questions prompted by his statements. If I felt something he said was newsworthy, then I'd probably print what he said and leave it alone. Bringing up the topic of race in 2016 is such a lightning rod.

Although being made available to answer questions from the media is in player contracts, I didn't negatively judge Newton when he walked during the middle of a press conference following the Super Bowl in which his favored Panthers took a beating at the hands of Denver. Allegedly Newton overheard a Denver defensive player telling how the Broncos' defense was able to harass Newton throughout the contest. Then he didn't fall on a loose ball late in the game, and on and on. But at a minimum, he could have said the boilerplate stuff: the Panthers had key injuries on the line, Denver is a great team, we made a few critical mistakes. All subsequent follow-up questions could be handled with some variation of the above. Who can really argue with that?

Not putting a hand over his heart during the national anthem was more irritating to me than anything else he has ever said or done. Being a true leader should demand a certain amount of class, leadership and sportsmanship when comporting yourself in high-profile public settings.

I don't have a big problem with regular folks not putting a hand over their heart or saluting all the time, because many people have been to hundreds of public events through the years and frankly, times have drastically changed. However, it shouldn't be that hard to stand up and try to not look overly bored. When the national anthem is played, it's an opportunity for people to show respect for those who volunteered to fight or die for this nation. If you can't handle the thought of producing one scintilla of respect and patriotism for a couple minutes, then I'm sure there are numerous other nations that would appreciate your presence.

Then he repeatedly said "you show me a good loser, and I'll show you a loser." That characterization would include be all his teammates and coaches, along with Abraham Lincoln, Thomas Edison, Nicola Tesla, Franklin Roosevelt, Ronald Reagan and a whole lot of the most successful people on Earth. Loss comes naturally along the path to success, especially the part where we learn from mistakes. If you can't learn how to show dignity and class following a loss, then you're just setting a bad example that others might be inclined to follow. Being insolent used to not be considered a positive character trait.

Yes, he was being a petulant child—as many of the sportswriters and editorialists have said—which is truly unfortunate for a 26-year-old man who has played five seasons of professional football.

But I also don't care for the circus atmosphere surrounding these events. The NFL and other major sports organizations need to revamp the way press conferences are handled. Instead of the zoo-like process everyone is forced to endure, perhaps reporters should submit questions several minutes in advance so players and coaches can consider forming cogent answers. Let them pick the best questions and produce some great sound bites, allowing everyone to avoid all the yelling and screaming. Then maybe have a couple live follow-up questions to flesh out quotes and background.

Scripted perhaps, but then again this isn't public affairs and PBS; it is not the political stage, the House or Senate, or the measured opinions of Supreme Court justices. This is sports, after all—an arena where "sportsmanship" sometimes seems a quaint, even archaic term.

Related Thursday Review articles:

A Chorus of Boos for the Banned Stanford Band; Earl Perkins; Thursday Review; January 3, 2016.

The NFL: Has Boorish Behavior Become the Norm?; Keith H. Roberts; Thursday Review; January 21, 2016.