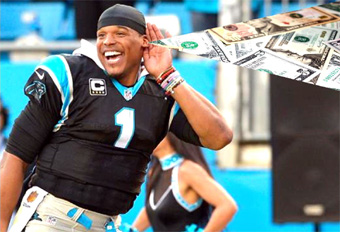 Photo Carolina Panthers
The NFL: Has Boorish Behavior Become the Norm?
| published January 21, 2016 |
By Keith H. Roberts, Thursday Review contributor
Carolina quarterback Cam Newton took a 12th-man flag from a fan from the stadium stands, wadded it up, and threw it onto the field. It was a major sign of disrespect toward Seattle and its fans, although the action was in the heat of the moment, according to the Atlanta Journal-Constitution.

Newton was celebrating with fans and high-fiving them during a victory lap, when a Carolina fan handed down a flag that a Seahawks fan had left behind in the seats. Although it was an instinctual act of exuberance, Newton came off as a petulant youngster. The Panthers had just defeated Seattle 31-24 to win an NFC Divisional Championship Sunday in Charlotte. Newton has developed a habit of engaging in snatch-and-grab of any opposing banner or signage he finds irritating to his eyes. He's executed the stunt in games against Green Bay, Tampa Bay, and others.

Maybe I'm just a throwback to when players were expected to play the game, calling a minimal amount of attention to themselves when it came to personal behavior or raucous celebration and concentrating the skills on winning the game. I haven't changed, but the latest generation has now taken over. Ironically, Newton's flag-throwing is so tame compared to things occurring on football fields today that it is almost laughable. Beating on their chests and demanding attention on a constant basis, players feel a burning need to exhibit over-the-top pride and to show disrespect for others. Skin color doesn't matter—white, black, Samoan, Latino—they just come off as gladiators who live under the specter of a No Rules Life, whether on the football field, in a department store or restaurant, or in a strip bar.

Sportsmanship used to be important, but now it's fallen by the wayside. Drugs, prostitutes, money-grubbing materialism are taking over American society, and the National Football League is more than happy to play along with whatever the fans want, so long as the money continues rolling in at a breakneck pace. The NFL Players Association is one of the strongest unions on Earth, and drug testing players is hardly anything more than a superficial physical until you start failing tests.

You know things are going downhill when your defensive back is spotted outside the Foxborough Public Safety Building with no shirt on and in a confused state. That's right, New England defensive end Chandler Jones had a bad reaction to synthetic marijuana, causing him to actively pray on his knees outside the police station until officers investigated. Then he told them he'd "been told" to come there and seek help.

"I want to apologize to all the fans and for their support but this weekend I'm focusing on having probably the biggest game of my life and clear this," Jones said. The standout defender had evidently been partying at tight end Rob Gronkowski's house when things went bad for him. The Gronk was also missing from the Pats practice on Monday, and was held out of Tuesday's full-pads practice.

Luckily for Jones, his coach is Bill Belichick, a man famous for being short with the media. Hoping the week would bring numerous questions concerning the Patriots' Saturday playoff game against the Kansas City Chiefs, you can only guess where that press conference headed.

"I mean, are there any more questions about the Chiefs here?" he said before fielding a question concerning Kansas City tight end Travis Kelce. And, of course, nobody had the guts to ask about the coach's black eye.

"Beyond that, Chandler has spoken publicly about that situation now, and he said he did something really stupid, apologized, acted contrite, and I think I'm going to leave it at that." And needless to say, Chandler will continue with the Patriots' playoff run, because smoking synthetic marijuana is not illegal in Massachusetts and he's New England's best defender.

The symptoms of a bad trip on synthetic marijuana often include acting erratically, increased anxiety and hallucinations. The substance gives users a high from simulated cannabinoids which mimics the effects of THC.

Exhibit B for this week of weirdness is The Pittsburgh-Cincinnati donnybrook where the referees refused to take charge, allowing the players to spit on each other and fight like it was WWE a wrestling match with no script. Saturday night's AFC wildcard matchup was marred by constant flagrant fouls throughout the game, and the NFL would later fine four players and two coaches a total of $83,665 for their actions.

Bengals cornerback Adam "Pacman" Jones was fined $28,940 for contact with an official, which moved the Steelers much closer for a game-winning field goal in the game's closing seconds. The penalty seemed more like a life-time achievement award for previous bad acts, but it helped Pittsburgh move on to meet Denver in an AFC matchup.

Fellow Bengals Wallace Gilberry (unsportsmanlike conduct) and Domata Peko (unnecessary roughness) were each fined $8,681, while Steelers guard Ramon Foster was fined $17,363 for unnecessary roughness.

The league suspended Bengals linebacker Vontaze Burfict, forcing him to sit out the first three games of next season without pay for delivering a forearm shiver to the upper body of Pittsburgh's Antonio Brown. The wide receiver received a concussion on the hit and was carted from the field. Following the game, Jones said Brown was faking the injury, accusing him of winking, but would later recant the accusation after realizing Brown was truly hurt.

Pittsburgh assistant coaches Mike Munchak and Joey Porter were each fined $10,000. Munchak was chided for pulling safety Reggie Nelson's hair on the sideline following the conclusion of a play. Porter received a fine for being on the field when Jones drew his unsportsmanlike conduct penalty in the game's closing seconds. You might see Porter receive an extra bonus for getting in Jones' face, which brought on the conduct penalty.

There were numerous incidents when the referees either called penalties or refused to do so. What kind of officiating crew allows an opposing coach to run all over the field and then flags the player the coach was screaming at? The problems were exacerbated because the teams were allowed to run rampant when they met earlier in the season.

And then we return to the case of one Cam Newton. I have a ton of respect for his talent and he may rank among the great quarterbacks of all time eventually, but Newton's actions extend way beyond tacky. Coupled with numerous bad acts strung across the last decade, many are forced to consider his body of work more on boorish behavior than sportsmanship.

Fan Mike Dobs told the Observer he paid $500 for the banner and hung it in his home, before bringing it to the game which was held at Bank of America Stadium in Charlotte. He and his family paid $3,800 for five tickets behind one end zone and hung the banner in front of their front-row seats, with permission from the Panthers, according to Dobs.

During warmups, Newton tore down the banner and carried it on through the tunnel. Dobs, a Wisconsin native, notified law enforcement at the stadium that the banner was stolen and lodged a complaint with the team, hoping they would return his banner.

Now if you're willing to go back a few years in Newton's career, you can research the allegations that Mississippi State and Auburn, and possibly other colleges, were financially bidding for the standout quarterback's services, according to the website Newsone.

Back in November 2008, before Auburn University and the Heisman Trophy, before the cash solicitations and alleged academic misconduct, Newton admitted to possession of a computer stolen from a fellow University of Florida student, according the website The Smoking Gun.

A backup to Florida QB Tim Tebow, he was charged with grand theft, burglary and obstructing justice in connection with the stealing of Paul Loschak's Dell laptop. Newton admitted to possession of the stolen computer and was placed into a pre-trial intervention program which ended that December, eventually resulting in all charges being dropped.

Investigators from the University of Florida Police Department tracked the stolen laptop to Newton, and he tossed it out his dorm window to hide it from police. A friend grabbed the computer and hid it behind a dumpster at a nearby school building.

As the police were about to search Newton's room, they overheard him on a cellphone telling someone, "There was a computer and I took it." He told the person he'd thrown the laptop out the window, then remarked, "Huh! Cuz, they 'bout to search my room."

He was then placed under arrest, handcuffed and walked to a patrol car. So I guess you couldn't call Newton's accomplice, Cesar Perez, the world's biggest snitch. How could he have known that Newton's phone was seized as evidence? That's right; the phone started vibrating, followed by a series of text messages.

Perez assured Newton the cops, "did not have shit and if they did, he would be under arrest." Perez advised that Newton should "keep denying it."

On an almost unrelated note, other legal documents note Newton and his father complained about a grand theft charge being filed against Newton. A prosecutor penned a note to Newton's lawyer reminding him that his client had already received "many concessions," including the fact that the government dropped a felony burglary charge and agreed to let Newton enter a pre-trial intervention program.

Ah, the beauty of helping those with special talents, while everyone else just gets locked up.

If Coach Steve Spurrier and the Florida administrators would have looked the other way, the Gators probably would have won a couple more titles and had another Heisman Trophy for a doorstop. What would you give up for some titles and trophies? Maybe assault, battery, a few murders?

Related Thursday Review articles:

Rams Returning to LA: Inglewood to Build $1.86 Billion Stadium; Earl Perkins; Thursday Review; January 15, 2016.

Inflation, Deflation & The NFL; Earl Perkins; Thursday Review; January 23, 2015.