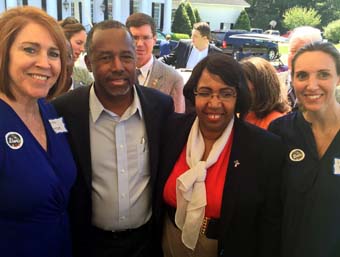 Dr. Ben Carson with his wife and supporters at an event in Montgomery, AL;
photo courtesy of Vanita Sansom.
Ben Carson in Virtual Tie With Donald Trump
| published September 28, 2015 |
By Thursday Review staff
Though debate is intense over whether the steam is truly slipping out of Donald Trump's campaign, slowly deflating the front-runner's once-unchallenged place at the top of the polls, one thing is clear: others are now seeking to seriously challenge the businessman and TV personality.

According to a new NBC News/Wall Street Journal poll, retired neurosurgeon and author Dr. Ben Carson has jumped into a decisive second-place spot among Republican voters, and is now in a virtual tie with Trump. The NBC News/Wall Street Journal poll shows Trump with 21% support among likely Republican voters, and Carson only one point behind, with 20%.

The same poll shows former HP CEO Carly Fiorina and Florida Senator Marco Rubio tied for third place, with 11% apiece. One time front-runner, former Florida Governor Jeb Bush, is now mired in fifth place with about 7% support among Republicans.

Trump and his campaign spokespersons have been waging a bitter fight in the media over the meaning and depth of the recent polls. Trump has called press coverage of the polls unfair and dishonest, and frequently points to alternate polls to show that he remains unchallenged among GOP voters. Last week Trump told Business Insider that "it's knowingly dishonest" to create a media frenzy based on only certain polls and not others, and he cited recent surveys by Zogby and Huffington Post which present differing numbers.

Still, the NBC News/WSJ poll—which uses a highly respected set of metrics to arrive at its conclusions—is one of several recent polls which point to a slowdown in support for Trump, or, in some cases, the start of shrinkage in backing by Republican voters. Last week a CNN/ORC poll also showed a substantial drop in support for Trump, while also showing a spike in support for both Fiorina and Rubio—both of whom were widely scored as the "winner" of the CNN Republican Debate earlier in September.

The Republican Party's most "establishment"-perceived candidates have taken a beating in recent months. Bush was the GOP fundraising leader only six months ago, and in most polls topped all other candidates or was tied with Wisconsin Governor Scott Walker. Last week, facing sinking poll numbers and a shortage of cash, Walker stunned many in the GOP by dropping out of the race for the nomination, citing what he described as a GOP off-message. It is not clear that any single candidate will benefit from Walker's exit from the race. Walker is the second candidate to step out of contention; a week earlier former Texas Governor Rick Perry also suspended his campaign.

Bush has seen his poll numbers drop, on average, seven points since mid-July. But Bush and his campaign staff have said the former Sunshine State governor will battle onward.

The most recent polls show a stunning repudiation of "establishment" candidates and those who have ever held elected office. None of the top three candidates—Trump, Carson, Fiorina—has ever held office or held a political post. Together the three candidates pull-in support from more than half of all GOP voters, or from those independents who describe themselves as either conservative or leaning toward the Republican Party. Many of the recent polls show widespread dissatisfaction and frustration with politicians in general, which most analysts believe is fueling the anti-Washington trend among support for the current field of candidates.

A similar dynamic may be at work among Democrats, though for now all the major Democratic candidates come from a background of elected-office. Hillary Clinton, while still the front-runner, has seen her polling fortunes fall dramatically in recent months—largely as a result of the ongoing controversy over her use of a private email account while she served as Secretary of State from 2009 to 2013. In both Iowa and New Hampshire, Vermont Senator Bernie Sanders leads Clinton by a substantial margin. Nationally, Clinton has lost ground to both Sanders and Vice-President Joe Biden, and the race has essentially levelled into a three-way battle for the top spot.

Carson's rise has been slow but steady. His debate performances in August and again in September were sometimes scored as average-to-weak by political analysts and reporters, but his soft-spoken, thoughtful style turned out to have a much wider appeal to likely Republican voters than media analysts expected. Carson is also benefitting greatly from the anti-incumbent, anti-Washington sentiment, and alongside Fiorina, may gain the most traction if Trump begins to fall further. Carson has consistently sought to distance himself from most of the others in the GOP field by presenting himself as someone with an outsider's view of politics.

Politically, Carson sees himself as a genuine problem solver, and considers his deep background as a neurosurgeon, as well as his commitment to education as a tool for advancement, as examples of his determination to approach challenges in unconventional ways.

Carson has been a favorite of some conservatives and some Tea Party faithful for several years, and his books have become best sellers. He is also an outspoken critic of President Barack Obama and a longtime opponent of Obamacare (The Affordable Care Act). Carson, who established himself famously at the 2013 National Prayer Breakfast by making remarks critical of Obama—who was sitting just a few feet away—has also cultivated frequent appearances on television news shows (as has Huckabee, who recently left Fox News to launch his candidacy). Ever since, Carson has drawn fans from a variety of center-right streams: social conservatives, fiscal conservatives, Tea Partiers, and anti-Obamacare foot soldiers.

Meanwhile, Trump continues to disavow the recent polls which show his candidacy in a slight decline. Some GOP strategists now believe that a few other candidates will need to step aside in the upcoming weeks in order to clear the field and make the choice more compartmentalized for Republican voters. At least 14 major candidates remain in the race.

Related Thursday Review articles:

Trump Thumps O'Reilly, Kelly, Rubio, et al; R. Alan Clanton; Thursday Review; September 25, 2015.

After Walker: Will the GOP Reclaim its Core Message?; R. Alan Clanton ; Thursday Review; September 22, 2015.